Reid/Angle Race Remains Tight
The latest poll out of Nevada continues to show that the Senate race between Harry Reid and Sharron Angle is as tight as a drum:
U.S. Sen. Harry Reid and GOP challenger Sharron Angle tied with 43 percent of the vote in a new poll that suggests most Nevadans won't gamble on half a dozen other little known contenders.

The survey — the first to test the strength of all the contenders — showed the field drawing negligible support away from Tea Party darling Angle or from Reid, even with another self-described "Tea Party" candidate in the general election race.
This poll is the first to include "None Of The Above," which will appear on the ballot in November, as an option. Along with the undecided vote, it could prove decisive:
Harry Reid — 43%
Sharron Angle 43%
None Of The Above — 8%
Undecided — 8%
Scott Ashjian ("Tea Party") — 1%
Tim Fasano ("Independent American Party") — 1%
What's striking about this race to me is when you compare the Senate polls: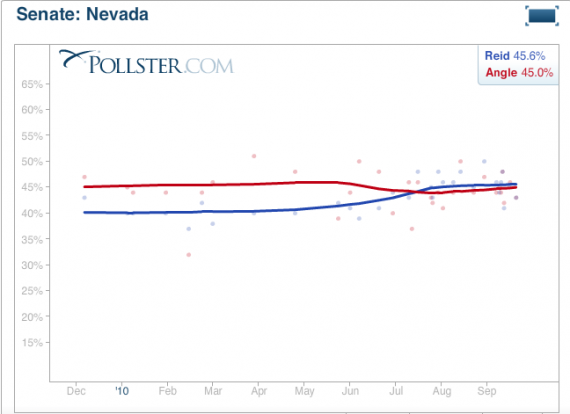 To the polls in the Governor's race: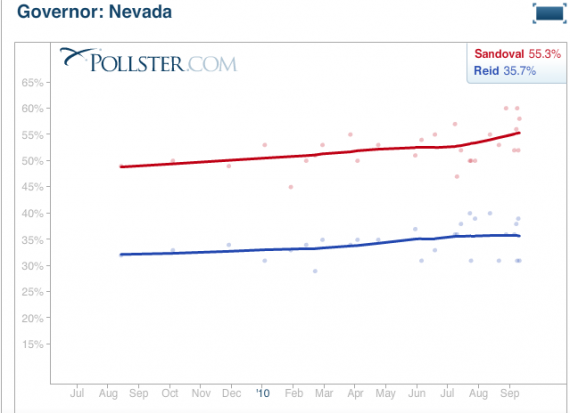 There is clearly a Republican surge going on in Nevada that's not translating over to the Senate race. Ideally, the Republican candidate for Senate should have a clear lead over Reid, even if it's not the insurmountable one that Sandoval has in the Governor's race. Clearly, Sharron Angle's faults, and Harry Reid's negative campaign are what is keeping this race tight, and what may keep Harry Reid in the Senate after all.