Worst. Debate. Ever. But, Advantage Angle
Last night's one and only Nevada Senate Debate was an embarrassing affair all around, but it most likely sealed the electoral doom of Senate Majority Leader Harry Reid.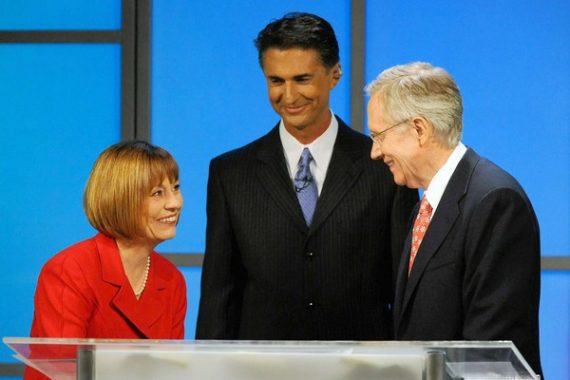 Last night's one and only debate between Sharron Angle and Senator Majority Leader Harry Reid will be remembered more for its mistakes and overall awkwardness than for the performance of either of it's participants:
LAS VEGAS – Republican Sharron Angle lashed Senate Majority Leader Harry Reid in the only debate of the Nevada Senate race Thursday night, telling the Democrat to "man up" at one point and questioning how he got wealthy during his years in Congress. Reid repeatedly called Angle "extreme" and touted his work on behalf of the economically beleaguered state.

While neither gaffe-prone candidate committed a major error, both struggled throughout the hour-long forum at a PBS station to convey their message and defend their past statements. The much-anticipated showdown here had more flubs than fireworks.

Angle repeatedly found herself in verbal cul-de-sacs which she only escaped by returning to well-rehearsed talking points – all the while blurring over some of her controversial statements or ignoring questions about them altogether.

Reid was also inarticulate, frequently using the parlance of the Senate and offering kind words about former President George W. Bush and Supreme Court Justice Antonin Scalia—hardly the way to motivate his Democratic base.

Even more puzzling, with the polls deadlocked and his career on the line, the four-term senator largely avoided engaging Angle. For a hard-nosed politician who prides himself on his youthful boxing exploits, he threw surprisingly few punches.

The former state assemblywoman and tea party favorite was, in her halting fashion, the aggressor of the evening, going after the incumbent with a series of tough attacks.
Reid also seemed to think that he was debating on a Senate floor rather than in a television studio on Las Vegas:
Reid also frequently sounded as if he was talking to colleagues inside the Senate caucus instead of communicating with Nevada voters watching on statewide TV.

In defending his record on veterans he twice cited "Wounded Warrior" legislation with no explanation of what it was. In discussing Social Security, he referred to "the CBO" and "the trust fund." With abortion, it was "the Hyde Amendment."

Discussing the policy on gays in the military, Reid said: "I would respectfully suggest to my opponent that she simply doesn't understand what went on in Washington."
In the end, though, neither candidate acquitted themselves very well last night. However, this was Harry Reid's debate to win or lose. As a five-term incumbent, he shouldn't even be in this fight for his political life and the question going in to the debate was whether he would be able to give Nevada voters a reason to vote for him rather than Angle. He failed.
For one thing, Reid came across as unprepared, detached, and, at times, just really weird, as in this moment when he somehow turned a question about health care reform into an opportunity to describe the details of a colonoscopy:
Or, in a moment reminiscent of Admiral James Stockdale in 1992, when he was asked to give a closing statement:
Ugh.
Angle should not even be competitive in this race, and the fact that she is is a reflection of just how strongly Nevada voters dislike Harry Reid at this point in his career (just take a look at his favorable and job approval ratings). He doesn't seem to have done anything last night to give them a reason to vote for him anyway. Barring any flubs by Angle in the last two weeks of the campaign, I suspect that she may just eke out a victory here.
Veteran Nevada political reporter Jon Ralston, who has been particularly tough on Angle recently over her refusal to answer press questions, agrees that Reid lost last night:
Let's get the easy part out of the way first:

Sharron Angle won The Big Debate.

Angle won because she looked relatively credible, appearing not to be the Wicked Witch of the West (Christine O'Donnell is the good witch of the Tea Party) and scoring many more rhetorical points. And she won because Senate Majority Leader Harry Reid looked as if he could barely stay on a linear argument, abruptly switching gears and failing to effectively parry or thrust.

Whether the debate affects the outcome — I believe very few Nevadans are undecided — it also perfectly encapsulated the race: An aging senator who has mastered the inside political game but fundamentally does not seem to care about his public role (and is terrible at it) versus an ever-smiling political climber who can deliver message points but sometimes changes her message or denies a previous one even existed.

(…)

I still find it incredible that more has not been made of Angle's most egregious statement this campaign — and it didn't even come up Thursday — which was her assertion in Mesquite this month that Sharia law had been imposed in two American cities, one of which doesn't even exist. This Muslim-baiting, noxious construction has been ignored by all but a few news outlets (kudos to CNN), and her answer is almost more astounding: She read it somewhere so she repeated it.

That is crazy, folks. But that's not how she came across Thursday, as Reid failed to call her on that and many other topics, making it more likely he has to make an unthinkable call to her on Election Night
If I was a Nevada voter, I'd exercise my option to vote for None Of The Above. For Nevada voters on the margins, though, I think last night's debate may have just been enough to seal Harry Reid's fate.