Remember Libya?
Libya continues to teeter on the brink of chaos.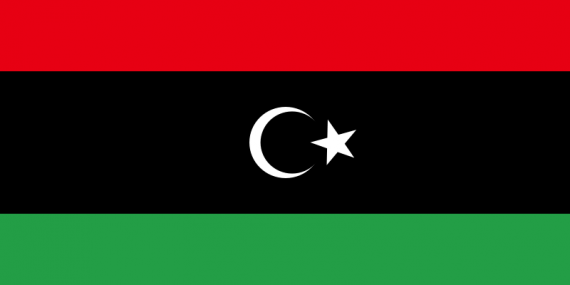 Post-civil war matters remain unsettled in Libya, to say the least. Although things are quieter in Tripoli than they were in the immediate aftermath of Qaddafi's ouster, militias remain a problem:
Two years after the end of the 2011 uprising, the new Libya is still in the making and still suffers from instability and violence. The past few weeks have seen continued violence in various places, including Tripoli. On 8 June, clashes between protesters and militia in Benghazi left at least 30 people dead, leading to the resignation of Libya's army chief of staff, Yousef Mangoush. Militias continue to operate while the central government seems unable to stop them.
The situation in Benghazi is particularly perilous:
Gunmen staged overnight attacks on at least six security buildings and outposts throughout Libya's eastern city of Benghazi, killing five soldiers, military officials said Saturday.

The brazen assaults, which included snipers, rocket-propelled grenades and explosives thrown onto rooftops, comes after a number of smaller targeted attacks and assassinations of security officials in the city over the past several months.

Spokesman for the army's chief of staff Ali el-Sheikhy said no group has claimed responsibility for attacks. Officials have also not announced any arrests.

An elite military unit known as Saaqa claimed on its Facebook page that Islamic extremists were responsible. It gave no further details.

Security officials say 11 people have been wounded. The figure includes assailants, as well.

Tensions have been boiling in Benghazi over militias, particularly after clashes a week ago killed 31 people, mostly demonstrators, during anti-militia protests. The military has since taken over several militia bases in the city, which was the birthplace of the 2011 uprising that toppled longtime dictator Moammar Gadhafi from power.
The government, such as it is, retains only the most tenuous control over Libya's major cities. The situation outside the major cities is even worse:
The long-neglected region, with borders stretching more than 2,000 kms and home to major oil fields, has grown more lawless as the country's new rulers – hundreds of miles away in Tripoli – struggle to impose order on a country awash with weapons.

The south has seen rising violence, weapons and drug trafficking and an influx of illegal immigrants, leading the national assembly to declare the region a military zone, a decree the weak government has little power to enforce.

"The south is dying and the government is ignoring us. Crime is rampant, there are tribal animosities, smuggling and we are worried that what is happening in Mali will spread here," said a local government official, who declined to be identified.

"We are free of Gaddafi but we are prisoners to chaos."
The country struggles to keep oil production up:
TRIPOLI — Libya is struggling to keep its oil output stable, let alone increase it, as protests cut crude exports in the sector that supplies 95 percent of state revenue.

In the past year, disgruntled Libyans have protested at oilfields and export ports, clouding initial optimism over a speedy return to output levels of nearly 1.6 million barrels per day (bpd) following the 2011 war that ousted Moammar Gaddafi.

The state National Oil Corporation (NOC) said on its website output had slumped to less than one million bpd following "irresponsible acts by some individuals" who shut down two export terminals and a major oilfield.

"The industry is suffering and this cannot go on as it is," a senior Libyan oil industry source said. "These kind of problems keep recurring and this is hurting the whole of Libya."
Oil, which accounts for most of Libya's foreign exchange, is of vital importance to the fledgling regime. Although production has rebounded from the depths it sounded after Qaddafi's overthrow, it remains below the production level that was maintained from 2005 through 2011.
How things will turn out in Libya is anybody's guess. The most that can be said is that citing Libya as a victory is premature.