Replacing the Republican Party?
Jennifer Rubin wants to build a new political party from scratch.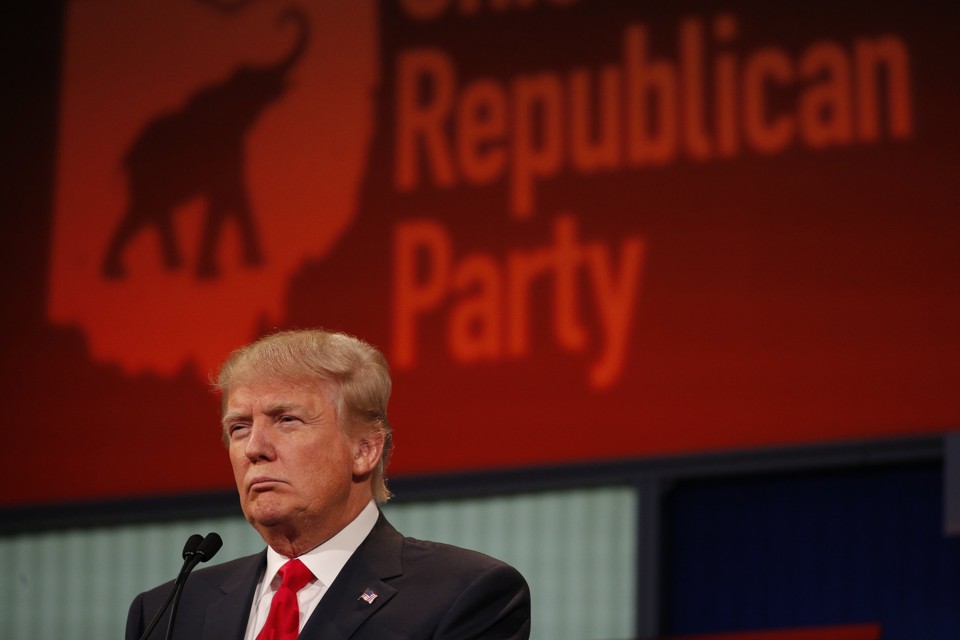 Inspired by George W. Bush's eulogy at John McCain's funeral, Jennifer Rubin muses, "If the GOP isn't McCain's party, why not build a new one?"
In particular, I continue to mull these remarks from former president George W. Bush about McCain:

He was courageous — with a courage that frightened his captors and inspired his countrymen.
He was honest, no matter whom it offended. Presidents were not spared. (Laughter.)
He was honorable — always recognizing that his opponents were still patriots and human beings.
He loved freedom, with the passion of a man who knew its absence.
He respected the dignity inherent in every life — a dignity that does not stop at borders and cannot be erased by dictators.
Perhaps above all, John detested the abuse of power. He could not abide bigots and swaggering despots. There was something deep inside him that made him stand up for the little guy — to speak for forgotten people in forgotten places.

Sadly, none of that describes the current Republican Party, which seems set on systematically uprooting all these values. In the past, Republicans such as Ronald Reagan and Teddy Roosevelt — and McCain — exemplified those virtues. However, it's getting more difficult by the day to imagine that the current GOP is the heir to the party of Reagan, TR and McCain — let alone Abraham Lincoln. Watching GOP lawmakers bemoan McCain's loss but do nothing to rein in, admonish, restrain or check the man who threatens the values McCain stood for leaves one despondent about the prospects for the GOP's future.
While I agree that  Lincoln, TR, Reagan, and McCain frequently exemplified the values in that passage, they're not uniquely Republican or conservative. Beyond that, parties don't maintain much consistency over long periods. Lincoln's Republican Party represented the left wing of American politics at the time. Half a century later, Teddy Roosevelt was a Progressive, carving out vast swaths of land for environmental preservation, breaking up large corporations, and vastly expanding the regulatory power of the federal government. Reagan's GOP, by contrast, was ostensibly about de-regulation and rolling back the power of the central government.
At any rate, Rubin's new party would be different from the one that's currently aiding and abetting Donald Trump:
Four principles come straight from the McCain playbook:

American leadership based on American values: Support democratic allies and the international economic system that has existed for 70 years. Stand with freedom-seeking peoples struggling against oppression.
Defense of the rule of law and civil liberties: Protect the apolitical nature of the Justice Department, an independent judiciary, a professional civil service, access to voting and the freedom to criticize our government. This takes effort and vigilance.
Truth in all things: Whether it is scientific studies, crime statistics or Russian interference in our elections, there can be no alternative facts. Truth is truth, and Americans should have the most accurate and complete information regarding what their government is up to (e.g., visitor logs, a Supreme Court nominee's papers, responses to Freedom of Information Act requests). Unless release of information implicates national security, the public should be able to see it all — these people are our employees.
Public virtue, public service: A tough new standard for eliminating conflicts of interest and self-dealing is long overdue. A new national service initiative (perhaps in conjunction with student loan forgiveness) would be timely. No longer can we discount the important of character in picking leaders.

These four items cannot be separated from one another. America cannot lead on the world stage if we do not defend the rule of law and civil liberties at home. We cannot uphold the rule of law at home if we accept bald-faced lies and disinformation as truth — or come to believe there is no such thing as truth. We cannot address tough policy issues (e.g., income inequality, trade, immigration, climate change) if we live in a fantasy world where inconvenient facts are ignored and know-nothingism is prized. If we do not embody civility, empathy, kindness, tolerance and courage and show a willingness to defend and serve the country, then we will earn the enmity of other Americans and other nations.
We already have a political party that stands for those things: the Democratic Party. Until recently, the GOP stood for those things, too, with the possible exception of faith in the scientific consensus.
Rubin might argue that the Democrats fail in "American leadership" and "public service" because they're more skeptical of military spending. Rhetorically, that might be true. As a practical matter, though, we've spent enormous sums on defense under Presidents of both parties. And she'd likely argue that President Obama's tepid response to the atrocities in Syria, in particular, was problematic. But I don't see sufficient groundswell for that sort of interventionism to spawn a new major party.
Rubin continues:
I would add a fifth item, which is required if we are to accomplish the other four: shared prosperity, without which, we've learned, the underpinnings of liberal democracies come undone, demagogues point to outsiders as the cause of trouble, and faith in government erodes. That means no more reverse Robin Hood schemes (e.g., freezing civil service employees' wages while mulling indexing capital gains) and giving priority to the people who need it most, not the ones (e.g., seniors) who vote the most. It requires government to reassess regulations (e.g., zoning, professional licensing) that make the rich richer and the powerful more powerful. We need to promote and subsidize work, narrow the economic gap between rural and urban America, encourage robust legal immigration (which creates jobs, pays for entitlements and infuses our economy dynamism in every generation) and expand trade (with adequate help for those displaced).
There's not enough detail to go on there but, arguably, neither party is doing much on those fronts.
Rubin's party is arguably one I could vote for. Especially if the Democratic Party decides that growing antipathy for Trump is tantamount to support of a hard turn left.