Report: State Department May Have Interfered With Investigations Of Misconduct
Allegations of wrongdoing and cover-up at Foggy Bottom.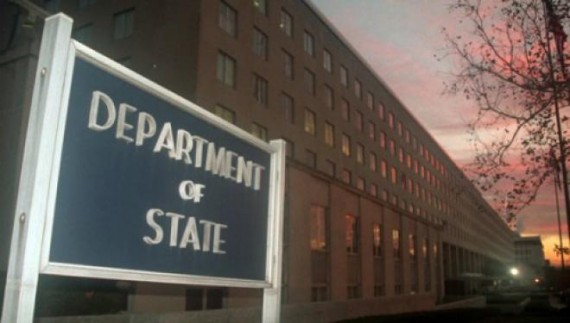 CBS News is out today with a report that claims that officials inside the State Department may have interfered with Inspector General investigations of internal misconduct ranging from drug rings to solicitation of prostitutes by an American Ambassador:
Uncovered documents show the U.S. State Department may have covered up allegations of illegal behavior ranging from sexual assaults to an underground drug ring.

CBS News reports that is has unearthed documents from the Diplomatic Security Service (DSS), an internal watchdog agency, that implicate the State Department in a series of misconducts worldwide.

The memo, reported by CBS News' John Miller, cited eight specific examples, including allegations that a State Department security official in Beirut "engaged in sexual assaults" with foreign nationals hired as embassy guards and the charge and that members of former Secretary of State Hillary Clinton's security detail "engaged prostitutes while on official trips in foreign countries" — a problem the report says was "endemic."

Former State Department internal investigator Aurelia Fedenisn told CBS News, "We also uncovered several allegations of criminal wrongdoing in cases, some of which never became cases."

Often times, other DSS agents were simply told to back off of investigations of high-ranking State Department members. Fedenisn told CBS that "hostile intelligence services" allow criminal behavior to continue.

In one such cover-up, investigators were told to stop probing the case of a U.S. ambassador who was suspected of patronizing prostitutes in a public park. The memo states that the ambassador was permitted to return to his post despite having, "routinely ditched…his protective security detail" in order to "solicit sexual favors from prostitutes."

A draft of the Inspector General's report on the performance of the Diplomatic Security Service, obtained by CBS News, states, "Hindering such cases calls into question the integrity of the investigative process, can result in counterintelligence vulnerabilities and can allow criminal behavior to continue."
Another segment of the report mentions the drug ring allegations:
The memo also reveals details about an "underground drug ring" was operating near the U.S. Embassy in Baghdad and supplied State Department security contractors with drugs.

Aurelia Fedenisn, a former investigator with the State Department's internal watchdog agency, the Inspector General, told Miller, "We also uncovered several allegations of criminal wrongdoing in cases, some of which never became cases."

In such cases, DSS agents told the Inspector General's inverstigators that senior State Department officials told them to back off, a charge that Fedenisn says is "very" upsetting.

"We were very upset. We expect to see influence, but the degree to which that influence existed and how high up it went, was very disturbing," she said.
Here's Miller's report as broadcast on CBS:
Quite obviously, we'll need to wait until the Inspector General's report is released to see what the actual findings are. However, Miller has generally been a reporter with excellent sources who rarely sticks his neck out when reporting on things like this. In either case, even the mere allegation that people inside Foggy Bottom may have been using their influence to protect wrongdoers at various diplomatic outposts around the world around the world is quite serious. Not only is there the fact that wrongdoing, if it occurs, should be dealt with via appropriate disciplinary action and, if necessary criminal charges. There's also the possibility that these people have been endanger of being compromised and blackmailed by foreign intelligence operatives.
In any case, though, this is likely to be yet another headache for a State Department that has already been under siege over the Benghazi story. As with that matter, I suspect the IG's report will likely lead to Congressional hearings of some kind, both because of the nature of the allegations and because it is another convenient cudgel that Republicans can use to chip away at both the President and Hillary Clinton. In other words, it looks like we're headed for one of Washington's patented summer of Congressional hearings. Whether they actually go anywhere is, of course a completely different question.