Republican Base To Republican Legislators: Oppose Path To Citizenship
As I've noted before, Republican Senators and Congressman find themselves being pulled in two different directions when it comes to immigration reform. On the one hand, there are national polls showing them that national voters as a whole, and Latino voters in particular, are broadly supportive of the provisions set forth in the immigration bill currently being debated in the Senate, including the so-called path to citizenship. On the other hand, they have a Republican base that it is mostly openly hostile to the very idea of immigration reform and, as a new National Journal poll shows us, especially to the idea of any bill that includes a path to citizenship:
The conservative rank-and-file have a loud and clear message for Republican officials: Support citizenship for illegal immigrants at your own peril.

A sizable plurality of registered GOP voters say they will be less likely to support their incumbent lawmaker if he or she votes for immigration reform that includes a pathway to citizenship for those currently living illegally in the United States, according to the latest United Technologies/National Journal Congressional Connection Poll. The findings show that even as national Republican leaders tout the Senate's reform measure as a political necessity for the party, it remains a risky vote for individual GOP lawmakers wary of a primary challenger.

Among all adults surveyed, immigration is something of a moot issue: 42 percent of them said a vote either for or against immigration reform would not greatly affect their support for their senator or representative. Thirty-three percent said it would make them less likely to support him or her, and 21 percent said such a vote would make them more likely to back the incumbent.

But among Republicans, the issue elicits much more passion, none of it good for immigration-reform advocates within the GOP. Nearly half, 49 percent, said lawmakers who back a proposal offering a pathway to citizenship will lose their support. Only 15 percent said it would make them more likely to back their incumbent; 30 percent said it would not make a difference in their vote.
The chart tells the whole story: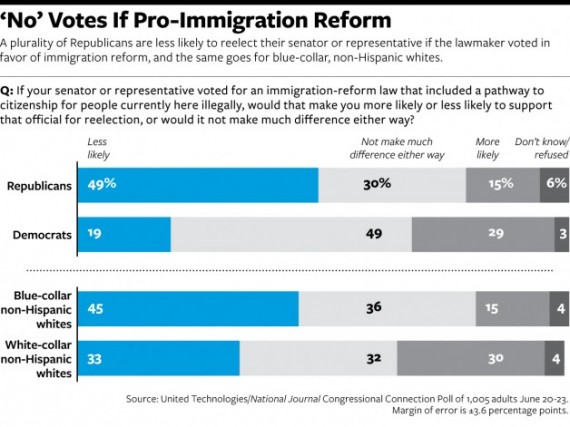 As the chart shows, the antipathy for a "path to citizenship" is strongest among blue-collar white voters, which in many ways have become one of the most important GOP voting blocs in recent years, but it goes beyond that:
The antipathy runs deepest among the most conservative bloc of voters–blue-collar whites–and in places where many Republicans draw their support, rural areas. Forty-five percent of whites without a college degree said they are less likely to support lawmakers voting for the measure. Just 15 percent said they would be more likely to back them, while 33 percent said it wouldn't make a difference.

Among rural voters, 45 percent said they'd be less likely to back the incumbent, while 41 percent of them said it wouldn't make a difference. Just 12 percent said supporting the measure would improve the sitting lawmaker's chance of drawing their vote.
Looking ahead to a General Election, even Independents tend to oppose the idea, although not nearly as strongly:
Independents side with Republicans on the question, although with less fervency. Thirty-five percent of them said they will be less likely to back a lawmaker who supports comprehensive immigration reform, while only 19 percent said it would make them more likely to support the incumbent. Still, a plurality, 44 percent, said the issue won't weigh on their decision during next year's midterms.

The relative lack of interest from Democrats, combined with the GOP-leaning position among independents, creates further disincentive for Republicans, who are unlikely to find much general-election reward for their vote if they survive a primary.
In this poll you have the dilemma that Republican legislators are faced with. If they back a bill that includes a path to citizenship, something that polls show the majority of Americans support, they risk arousing the ire of the people most likely to vote in Republican primaries. This is why it's unlikely you're going to see many members of the House or the Senate sticking their neck out on this issue.