Rick Perry Hates Activist Judges, Except When He Needs Them
For a guy who says he dislikes "activist judges," Rick Perry sure wants a certain Federal Judge in Virginia to be an activist.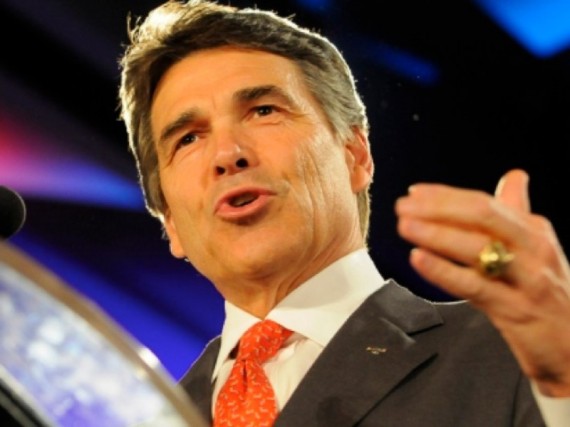 As I've noted before, Rick Perry has made many comments during the course of the campaign denouncing so-called "activist judges," a term which I'm personally convinced means "judges who make decisions the person using the term personally disagrees with."  As I noted earlier this week, though, Perry has filed a Federal lawsuit seeking to have his name placed on the Virginia ballot even though he admits he failed to gather the required number of signatures. That lawsuit leads Garrett Epps to make this observation:
In his suit, Perry makes two claims. One has some support in the case law — he says that by requiring the signature gatherers to be eligible Virginia voters, the state violates a line of cases that say the First Amendment protects the right to use out-of-state personnel to gather signatures on some ballot petitions.
But the second claim comes screaming out of the clear blue Texas sky. "Virginia's requirement that a presidential primary candidate collect signatures from 10,000 qualified voters, including 400 qualified voters from each Congressional district in the Commonwealth… violates freedom of speech and association protected by the First and Fourteenth Amendments to the Constitution," Perry's complaint alleges.

I'm no election-law specialist, but I don't know any case law supporting this. Perry sure doesn't cite any. In the context of minor-party ballot access, the Supreme Court has repeatedly held that (as it determined in Anderson v. Celebrezze) states have "undoubted right to require candidates to make a preliminary showing of substantial support in order to qualify for a place on the ballot…." In 1986, it approved a requirement that the Socialist Workers Party get signatures amounting to 1 percent of the voters in the state to qualify for the ballot. Perry was required to get 2 percent of the ballots cast — or, to put it another way, one-fifth of 1 percent of the eligible voters. His signers had to state that they intended to vote in the Republican primary, which limits the field somewhat, but the opportunity was still there.

Why is 10,000 too many but 6,000 is not? What's the rule? Texas requires 4,500, meaning 300 each from at least 15 congressional districts. Is that reasonable, but 10,000, including 400 from each of 11 congressional districts, is not? Perry's suit is a request — a desperate plea — for a court to invent a rule. Even if you or I might see a problem with the signature requirement (I admit I don't), this is precisely the kind of federal court meddling in local affairs that he thumps his chest against when it benefits criminal defendants, gay men and lesbians, or religious dissenters.

Why is there never an activist judge when you need one?
If yesterday's hearing on Perry's "emergency motion" is any indication, it doesn't look like Perry is going to have much luck in his effort to attempt judicial usurpation of Virginia law:
A federal judge will hear arguments on Jan. 13 in Texas Gov. Rick Perry's fight against the State Board of Elections and the Republican Party of Virginia to get his name on the March 6 primary ballot.

In an emergency motion filed Wednesday in Richmond, Perry asked that the board and party chairman Pat Mullins be barred from enforcing the state residency requirement for people who collect signatures for ballot access.

The board determined Wednesday morning that Texas Rep. Ron Paul's name will appear first on the primary ballot, followed by former Massachusetts Gov. Mitt Romney, the only other candidate that the state GOP certified for the ballot.

In a hearing in Richmond this morning, U.S. District Judge John A. Gibney Jr., among other things, ordered Perry's lawyers to contact the other Republican candidates and alert them to the case on the chance they may wish to intervene on either side.

(…)

Gibney said he had three issues he would like to see addressed: is requiring state residency for people who collect ballot access signatures a reasonable policing mechanism; whether Perry has waited too long to make a fair claim; and in the event Perry wins, what can the court do about it?

"How can I put Mr. Perry on the ballot when he has not demonstrated that he has 10,000 signatures" as required, asked Gibney.

Earlier Gibney, noting the deference Perry gives states over the federal government, asked, "Why is this case now in federal court?"

"It looks to me like it's asking the federal government to get involved in state affairs," he said. "Our state courts in Virginia are obligated to enforce federal law and they act quite promptly," said the judge.

Joseph M. Nixon, of Houston, one of Perry's lawyers, said the case could more efficiently be handled in federal, rather than state court. He also said the case concerns an issue that "is the cornerstone of democracy."

"This is a federal issue . . . that may have national implications," said Nixon. Nixon also argued that current state requirements, "preclude Virginians from meaningfully participating" in the electoral process.

Getchell indicated to Gibney that in order to comply with the law, the ballots have to be printed by Jan. 9. Gibney said, "Well, I don't think we're going to have it all wrapped up by then."
All of this leads to a few observations. First, Judge Gibney seems fairly skeptical of the legal position Perry's attorney's are adopting here, especially the question of whether they waited too long to file a suit challenging the Constitutionality of the residency requirement for signature gatherers. This was an issue I raised in my post earlier this week, and it seems fairly clear to me that Perry waived his claims on the Constitutionality of the residency requirement by failing to challenge it before the December 22nd deadline. Second, Gibney is unsure how he would have authority to put Perry on the ballot given that he has admitted in his pleadings that he did not gather the 10,000 signatures required under Virginia law (the complaint says he gathered 6,000) In fact, absent some showing of fraud or invidious discrimination, neither of which Perry can show here based on the facts alleged, there is absolutely no authority under the law or the Constitution for Gibney to order Perry's name put on the ballot notwithstanding his failure to collect enough signatures. In fact, if Judge Gibney did what Perry wants him to do he would be the very kind of "activist judge" that Perry so frequently condemns. Finally, the Judge set the hearing on Perry's case for four days after the Virginia ballots will be printed. This is not only a pretty obvious slap in the face to Perry and his lawyers, but a sign that what we're likely to see here is a ruling that says that the Court is powerless to grant the relief requested. In other words, by dismissing Perry's claim, Gibney would be precisely the kind of Judge that Perry says he prefers.
Funny how that rhetoric about activist judges flies out the window when you're trying to make up for your own incompetence, eh Rick?