Right Attacks Obama For Marines Holding Umbrellas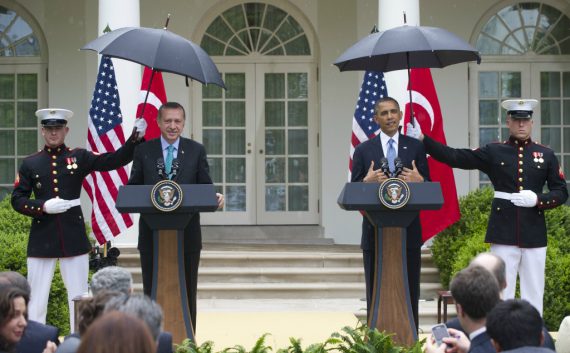 On Thursday afternoon, President Obama held a press conference with Turkish Prime Minister Recep Tayyip Erdogan. As is customary at this time of year, the joint appearance was set up to take place in the White House Rose Garden. Unfortunately, as the press conference went on, it started to rain and that's where the source of the latest conservative outrage comes in:
Slogging through a drizzly Rose Garden news conference Thursday with Turkish Prime Minister Recep Tayyip Erdogan, President Obama took a break to ask for some rain protection.

"I am going to go ahead and ask folks, why don't we get a couple of Marines — they're going to look good next to us — just because I've got a change of suits but I don't know about our prime minister," he said as two Marines appeared at the lecterns with umbrellas. "There we go. That's good." He gestured to the soggy press corps, adding, "You guys I'm sorry about."

It was a lighthearted moment in the midst of a grim few days for the White House. But in a week of Benghazi e-mails, Justice Department subpoenas and Internal Revenue Service targeting, some of the administration's critics saw another example of overreach.

"Obama breaches Marine umbrella protocol," read the headline on one conservative blog.

Per Marine Corps uniform regulations, the men are not allowed to carry or use umbrellas while in uniform. Female Marines can carry "an all-black, plain standard, or collapsible umbrella at their option during inclement weather" but not with combat uniforms.

All of which means that when Marines stand sentry outside the White House, they often get wet.

"Marines are always out getting rained on. That's sort of what we do," said Capt. Eric Flanagan, a Marines spokesman. A request from the president to a Marine who serves at the White House, however, would be an "extenuating circumstance," he said.

Flanagan also pointed to Title 10 of the U.S. Code, which states that members of the Marine Corps shall "perform such other duties as the President may direct."

In this case, Obama had clearly directed the Marines to be ready with umbrellas if necessary.

(…)

Seeing a trained Marine holding the president's umbrella just rubs some observers the wrong way.

"Obama expects our troops to hold damn umbrellas rather than go inside: It's disrespectful, inconsiderate, classless," tweeted Lou Dobbs.

"Mr. President, when it rains it pours, but most Americans hold their own umbrellas," former Alaska governor Sarah Palin addedon Facebook.

The conservative Move America Forward PAC likened the umbrella-holding to what conservatives view as Obama's weak response to September's attack in Benghazi, Libya. A fundraising e-mail from the group read, "Rain: 'Hold My Umbrella.' Benghazi: 'Stand Down.' "
Apparently, this constitutes a huge controversy among conservatives.