Rob Ford Will Run For Re-Election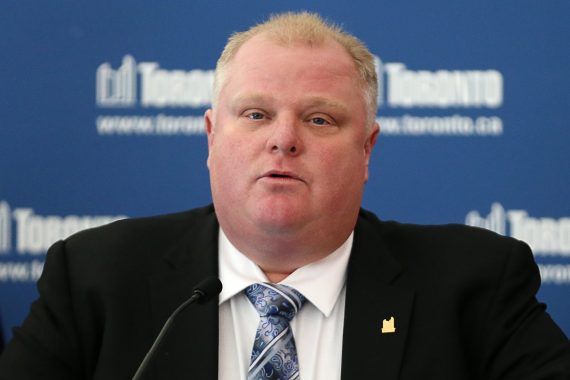 Toronto Mayor Rob Ford, best known for. well, I'm pretty sure you know that already, is running for re-election:
TORONTO — Toronto Mayor Rob Ford has put his name on the ballot to run for another term, defying repeated calls for him to step down after admitting he smoked crack "in a drunken stupor."

Ford was the first candidate to show up at City Hall when registration opened Thursday for the city's municipal election Oct. 27.

He promised "Ford more years," the Toronto Star reported. He also called himself the "best mayor" the city has ever had.

"If you want to get personal, that's fine," he told reporters, according to the Star. "I'm sticking to my record, and talk is cheap. You're going to see action like you've never seen before."

He was more restrained on Twitter, tweeting a photo of himself signing up to run again and saying simply, "Just filed my paperwork for the 2014 election. Vote on October 27th."

The conservative mayor of Canada's largest city has said he would run again, even after the revelations last year about his drug use.

Ford has faced intense pressure to resign over that and other erratic behavior that has embarrassed many Canadians.

The Toronto City Council has stripped Ford of most of his powers, but he continues to receive support from some in the city's more conservative suburbs. He first won as mayor by promising to "stop the gravy train" of government spending.
Amazingly or not, indications are that Ford would have a fairly good chance at re-election in ten months time.
On a side note, I can report that it exceedingly hard to ind a picture of Rob Ford looking "normal" on Google Image Search