Robert Bork Dead at 85
Robert Bork, the controversial jurist whose failed Supreme Court bid ushered in a new climate in American politics, has died at 85.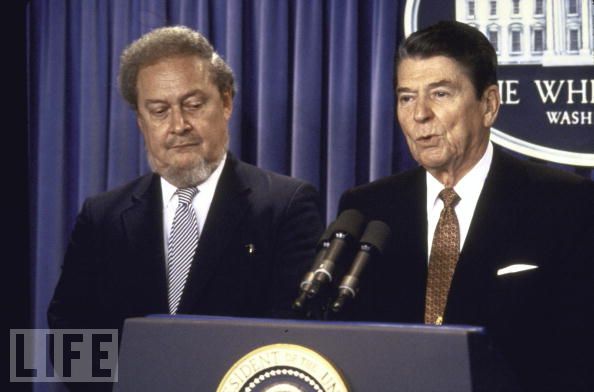 Robert Bork, the controversial jurist whose failed Supreme Court bid ushered in a new climate in American politics, has died at 85. A brilliant legal mind, his legacy is clouded by his role in the Saturday Night Massacre and some rather kooky writings after the Senate rejected his confirmation.
Here's the opener to several major obituaries.
Washington Post ("Judge Robert H. Bork, conservative icon, dies at 85"):
Robert H. Bork, the conservative jurist who fired Watergate special prosecutor Archibald Cox during the "Saturday Night Massacre" in 1973 and whose failed nomination to the U.S. Supreme Court in 1987 sparked an enduring political schism over judicial nominations, died early Wednesday at Virginia Hospital Center in Arlington of complications from heart disease. He was 85.

The death was confirmed by Mr. Bork's daughter-in-law, Diana Culp Bork.

For decades, Judge Bork was a major architect of the conservative rebuttal to what he considered liberal judicial activism. He criticized civil rights legislation and rulings in cases involving the "one man, one vote" principle and the constitutional right to privacy.

His unrelenting calls for judicial restraint and his opposition to "imperialistic" liberal judges, who he said read their values into the Constitution, made him an iconic figure in conservative legal circles.

In his writings and in debates on legal doctrine, the burly, bearded, chain-smoking ex-Marine was sharply confrontational. But friends and enemies alike found him a man of great charm, compassion and intellect, with a wit so sharp a close friend once called it dangerous.
New York Times ("Robert H. Bork, Conservative Jurist, Dies at 85"):
Robert H. Bork, a former solicitor general, federal judge and conservative legal theorist whose 1987 nomination to the United States Supreme Court was rejected by the Senate in a historic political battle whose impact is still being felt, died on Wednesday in Arlington, Va. He was 85.

Judge Bork's death, of complications of heart disease, was confirmed by his son Robert H. Bork Jr.

Judge Bork, who was senior judicial adviser this year to the presidential campaign of Gov. Mitt Romney, played a small but crucial role in the Watergate crisis as the solicitor general under President Richard M. Nixon. He carried out orders to fire a special prosecutor in what became known as "the Saturday Night Massacre." He also handed down notable decisions from the federal appeals court bench. But it was as a symbol of the nation's culture wars that Judge Bork made his name.

It is rare for the Senate in its constitutional "advice and consent" role to turn down a president's Supreme Court nominee, and rarer still for that rejection to be based not on qualifications but on judicial philosophy and temperament. That turned Judge Bork's defeat into a watershed event and his name into a verb: getting "borked" is what happens to a nominee rejected for what supporters consider political motives.

The success of the anti-Bork campaign is widely seen to have shifted the tone and emphasis of Supreme Court nominations since then, giving them an often strong political cast and making it hard, many argue, for a nominee with firmly held views ever to get confirmed.

Till the end of his life, Judge Bork argued that American judges, acting to please a liberal elite, have hijacked the struggle over national values by overstepping their role, especially in many of the most important decisions on civil rights and liberties, personal autonomy and regulation of business.

He advocated a view of judging known as "strict constructionism," or "originalism," because it seeks to limit constitutional values to those explicitly enunciated by the Framers and to reject those that evolved in later generations. He dismissed the view that the courts had rightly come to the aid of those neglected by the majority. By contrast, he felt that majorities, through legislatures, should be empowered to make all decisions not specifically addressed in the Constitution.

He most famously took issue with the Supreme Court's assertion in the 1960s and '70s that the Constitution implicitly recognizes a right of privacy that bars states from outlawing abortion or the use of contraceptives by married couples.

That position along with his rejection of court-mandated help to minority groups led a coalition of liberal groups to push successfully for his Senate defeat, motivated in no small part by their sense that he cared more about abstract legal reasoning than the people affected by it. They contended that his confirmation would produce a radical shift on a closely divided Supreme Court and "turn back the clock" on civil and individual rights.
Fox News ("Robert Bork, former Supreme Court nominee, dies") has a somewhat more flattering take:
Robert Bork, the former federal judge whose Reagan-era nomination to the Supreme Court touched off one of the roughest confirmation battles in modern U.S. history, has died.

Family members said Bork, 85, died early Wednesday morning. He had a history of heart problems and chronic obstructive pulmonary disease, a lung condition.

His funeral is scheduled for Saturday, and family members said there would be a memorial but did not say whether it would be open to the public.

Bork was among the most polarizing figures in American law and conservative politics for more than four decades. When Bork was solicitor general in 1973, he fired Archibald Cox as a special prosecutor on the order of President Richard Nixon to help in the Watergate cover-up.

President Ronald Reagan nominated Bork to the U.S. Supreme Court in 1987. In a 58-to-42 vote, the Senate rejected his nomination — it was by one of the widest margins in U.S. history.

Critics called Bork a free-speech censor and a danger to the principle of separation of church and state. Bork's opponents used his prolific writings against him, and some called him a hypocrite when he seemed to waffle on previous strongly worded positions.

Stoic and stubborn throughout, Bork refused to withdraw when his defeat seemed assured. The fight has defined every high-profile judicial nomination since, and largely established the opposing roles of vocal and well-funded interest groups in Senate nomination fights.

Republicans have long said his defeat was a completely partisan move and have said Bork was one of the greatest conservative figures in history.

"The highest court in our land will not enjoy the services of one of the finest men every put forward for a place on its bench," Reagan said after Bork's defeat. "Judge Bork will be vindicated in history."
Los Angeles Times ("Robert Bork, failed Supreme Court nominee, dies at age 85"):
Robert H. Bork, whose failed Supreme Court nomination in 1987 infuriated conservatives and politicized the confirmation process for the ensuing decades, died Wednesday at the age of 85.

The former Yale law professor and judge on the U.S. Court of Appeals for the D.C. Circuit had a history of heart problems and had been in poor health for some time.

But Bork was a towering figure for an early generation of conservatives. In the 1960s and '70s, he argued that a liberal-dominated Supreme Court was abusing its power and remaking American life by ending prayers in public schools, by extending new rights to criminals, by ordering cross-town busing and by voiding the laws against abortion.

He was an influential legal advisor in the Nixon administration and served as a footnote to history in the Watergate scandal. When the embattled president ordered the firing of special counsel Archibald Cox, the attorney general and his deputy resigned in protest. Bork, who was in the No. 3 post as U.S. solicitor general, then carried out Nixon's order.

But Bork's biggest moment came during the Reagan administration in the 1980s. He left Yale and came to Washington when Reagan appointed him to the U.S. court of appeals in the District of Columbia. The job was seen as a steppingstone to the high court.

In 1986, Bork was passed over for a younger colleague when Reagan named Judge Antonin Scalia to the Supreme Court. A year later, Bork's turn came when Justice Lewis Powell, the swing vote on the closely divided court, announced his retirement.

Democrats, led by Sen. Edward Kennedy, launched an all-out attack on Bork's nomination, saying he would set back the cause of civil rights, women's rights and civil liberties.

The summer of 1987 saw campaign-style attacks on Bork's reputation. In televised hearings, the bearded, heavy-set professor tried to explain his views, but he won few converts. The Senate defeated his nomination by a 58-42 vote.
The last of those, incidentally, strikes me as the fairest, most accurate presentation, if not the nicest headline. WaPo's leading with the Archibald Cox firing, which wasn't even central in his losing the nomination, is somewhat unfair.
Not all that long ago, I shared the conventional Republican view that Bork was railroaded. Even in hindsight, he strikes me as a more brilliant legal mind than Anthony Kennedy, who eventually got the vacancy. But, while I still don't think the process was right—and still find Teddy Kennedy's tirade during the hearings positively shameful—the Senate likely did us a favor in rejecting Bork. As cantankerous as Scalia can be, he's ultimately a sound jurist and one who cares very much about the legacy of the Court. Bork, by contrast, was an ideologue first and foremost.