Romney Lie Technically True, Just Intentionally Misleading
The Weekly Standard is proud that Mitt Romney's intentionally false Jeep ad was technically true.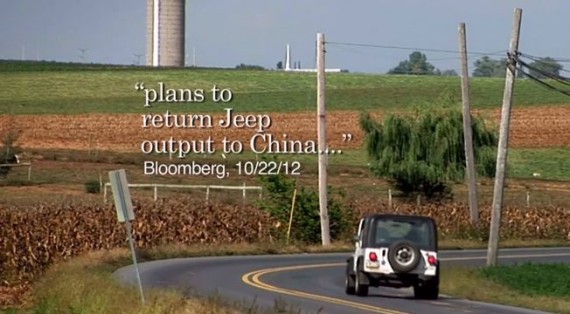 Via Memeorandum, I saw the headline "PolitiFact Concedes Their 'Lie of the Year' is the 'Literal Truth'" at The Weekly Standard. Hoping this was just a really poorly worded headline but fearing it was not, I clicked through.
Earlier today, I wrote a lengthy critique pointing out the inconvenient fact that PolitiFact's Lie of the Year — "The Romney campaign's ad on Jeeps made in China" — turns out to be true. It involves a lot of complicated back and forth, so I encouage you to read that post if you're not familiar with what's going on. But the thrust of the matter is that the Romney campaign ran an ad saying that Jeep, the recipient of a taxpayer bailout, was going to start producing cars in China. Well, now PolitiFact has responded to my criticism, albeit obliquely, and their response leaves a lot to be desired:

Our story focused on the clear message of the Romney campaign's ad, that jobs in the United States were being moved to China, or perhaps that Jeep was moving its entire operations to China. That is not the case and has never been the case.

Emphasis added. Now if the message of the ad was "clear," why does PolitiFact say "perhaps" the ad meant to say "Jeep was moving its entire operations to China"? The ad, which you can watch here, never said that Jeep was moving U.S. jobs to China, let alone its entire operations to China. All the ad says, and this is correct, is that the Obama administration played a hand in selling Chrysler to "Italians who are going to build Jeeps in China." In fact, later in PolitiFact's response they make this concession:

The Romney campaign was crafty with its word choice, so campaign aides could claim to be speaking the literal truth, but the ad left a false impression that all Jeep production was being moved to China.
Now, I agree with the author, Mark Hemingway, that using weasel words to give a false impression about something as relatively trivial as where Chrysler is building Jeeps probably doesn't qualify as the Lie of the Year. Hell, it probably wasn't in the Top 10 Lies Mitt Romney Told for the year.
Politics ain't beanbag and selective picking of facts, particularly in advertising, is part and parcel of campaigning. This is one of those cases where everybody indeed does it. But the ad in question was egregious even by political campaign standards. No jobs were being moved to China; employing Chinese workers to make Jeeps in country was a precondition of Chrysler selling Jeeps in China. (Almost certainly a violation of China's WTO membership, by the way, but nonetheless the case.) Team Romney knew that and intentionally created the opposite impression with the ad. Indeed, the ad makes no sense interpreted any other way.
NewsBusters mounts essentially the same defense.
It's bizarre, indeed, to see conservatives proudly tout PolitiFact's "concession" that something that's intentionally misleading is technically true. Offering that defense to my parents, even as a small child, served to increase the punishment. And, certainly, neither the Weekly Standard no I bought that argument when Bill Clinton offered it to excuse his lies about Monica Lewinski.
As an aside, I'm a bit perplexed as to why this is showing up in conservative circles at all at this point. The story's more than a month old, the campaign has been over for more than two months, and the controversy over the ad itself is even older than that. This seems like a particularly bizarre hill to defend at this juncture.