Romney Praises Israeli Health Care System
Since Israel's system is far more "socialist" by American rhetorical standards, I am not sure what his point was.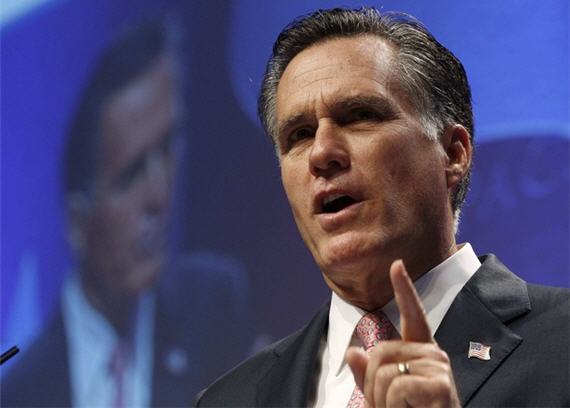 Via Buzzfeed:
"When our health care costs are completely out of control. Do you realize what health care spending is as a percentage of the GDP in Israel? 8 percent. You spend 8 percent of GDP on health care. And you're a pretty healthy nation," Romney told donors at a fundraiser at the King David Hotel in Jerusalem, speaking of a health care system that is compulsory for Israelis and funded by the government. "We spend 18 percent of our GDP on health care. 10 percentage points more. That gap, that 10 percent cost, let me compare that with the size of our military. Our military budget is 4 percent. Our gap with Israel is 10 points of GDP. We have to find ways, not just to provide health care to more people, but to find ways to finally manage our health care costs."
This is, by the way, on target.  I happen to have handy the following table from the book I am currently working on, which only goes through 2009/10, but the basic numbers comport with Romney's point: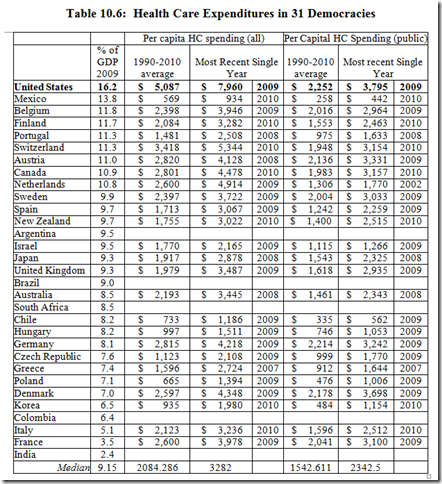 So, Romney is correct:  there is a rather remarkable gap between spending in the US and Israel (and, indeed, the US and everywhere—we top out in this list on percentage of GDP, private spending per capita, and public spending per capita).
And, to toss in a little more for the discussion, a few quick facts:
Life expectancy at birth is 81.07 in Israel and 78.49 in the US.
Infant Mortality per 1,000 live births in Israelis 4.07 in Israel and 5.98 in the US.
Maternal mortality rate per 100,000 pregnancies is 7 in Israel and 24 in the US.
So, clearly, the Israelis are doing something right.
The baffling thing about Romney's statement is that he is praising a system that is unambiguously "socialistic" by his party's standards.  To quote an article from Health Affairs (h/t: : Jonathan Cohn)
The national government exerts direct operational control over a large proportion of total health care expenditures, through a range of mechanisms, including caps on hospital revenue and national contracts with salaried physicians. The Ministry of Finance has been able to persuade the national government to agree to relatively small increases in the health care budget because the system has performed well, with a very high level of public satisfaction.
Beyond the issue of what might be perceived as gotcha politics, it begs the question as to what it is that Romney thinks is a good idea about health care.    First, why praise a system if it is impossible to even talk about such a model within one's own party?  Second, does this entire conversation not underscore what is wrong with the US debate over healthcare (and has been for decades) which is:  we have viable models to look at, and yet they are all considered impossible to emulate because of socialism, or something.  All snark aside, it may well be that a given model will not work in the US, but the bottom line is that in terms of a major political debate, we never discuss other models.  Most citizens seem to think that the option are our system of free market, privatized health care v. the worst stereotype of the British National Health Service. This is wrong on so many levels–such as the fact that our current system is hardly free market and is even fully privatized and the fact that the world holds a number of different models to examine.
One last stat, Israel collected an average of 35.71% of GDP in taxes during the 1990-2010 period and the US collected 27.39% (and yes, that's all levels of government)—so more socialism, I guess.
Here's some more from the Health Affairs article:
The plans are required to provide coverage to  all Israeli citizens and permanent residents for a relatively broad package of services, which the government updates each year. A committee—which includes representatives of health plans, provider groups, and the government, as well as academic experts and public figures outside the health care sector—recommends additional services each year to be paid for by the government's annual allocation of new funds.
Most of the funds for the plans come from payroll and general tax revenues, which are channeled to the plans in the form of capitation payments. These payments accounted for 77 percent of health plan revenues in 2009. Additional funds come from individuals' copayments for pharmaceuticals, physician visits, and certain diagnostic tests; these constituted about 6 percent of health plan revenue in 2009. In 2009 the remaining 17 percent of plan revenues came from sources including supplemental health insurance and the sale of products such as over the- counter medications in plan facilities such as clinics.
The piece makes the following comparative note that questions the applicability to the US:
THE UNITED STATES: The Israeli experience has limited relevance to the United States, given the differences in the structure and scale of the two countries' health care systems, and in the political and commercial environments in which they operate. The local health insurance exchanges created by the Affordable Care Act of 2010 may loosely resemble the Israeli health care system in terms of financial arrangements. However, just implementing the exchanges is
unlikely to slow the increase in US health care spending very much, in the absence of a political consensus on the acceptability of "rationing" care—especially the need to limit covered services. In fact, Medicare is now forbidden to consider cost as a relevant factor in deciding whether or not to cover a service.

Until there is a political will to limit the resources used by the US health care system, in spite of any consequences in terms of access and quality, it is irrelevant which specific cost control mechanisms are in place. A debate on reducing spending for entitlements may force the American public to accept limits. However, although the debate is occurring, a political endorsement of limits in any broad sense remains unlikely.
Two quick concluding remarks:
1.  I find Romney's praise of Israel's system to be strange insofar as why praise something that cannot even be discussed in the US?  Further, it does demonstrate the place that Israel holds in the GOP heart, because if a Democrat praised a similar European health care system, said Democrat would be accused of touting socialism and the Europeanization of America.  However, if Israel does it, it can't be socialism, right? (BTW, noting that Israel has  "committees" that determine services puts one in the mind of Death Panels.  Does Sarah Palin know?).
2.  It is a shame that we cannot have a full and honest discussion on the topic of health care costs and ways to deal with it.
—–
Sources for table: CIA World FactBook (https://www.cia.gov/library/publications/the-world-factbook/rankorder/2225rank.html ) and OECD Heath Data (http://www.oecd-ilibrary.org/social-issues-migration-health/health-key-tables-from-oecd_20758480).
Health care figures also from CIA WorldFactbook.
Tax figures from  OECD Tax Database (http://www.oecd.org/document/60/0,3746,en_2649_34533_1942460_1_1_1_1,00.html) and Revenue Statistics in Latin America (http://www.oecd.org/document/54/0,3746,en_2649_37427_49402742_1_1_1_37427,00.html)
Strong Government Influence Over The Israeli Health Care System Has Led To Low Rates Of Spending Growth. Health Affairs September 2011 30:91779-1785;