Ron Paul And Rick Perry's Off-Camera Confrontation At Reagan Library Debate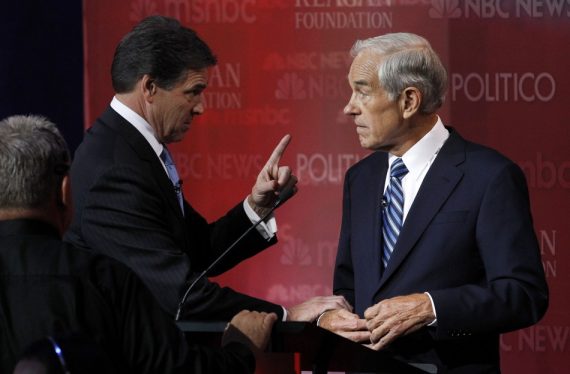 A photographer caught an interesting moment between Texas Governor Rick Perry and Texas Congressman Ron Paul last night during a commercial break from the Reagan Library Debate:
During the Sept. 7 Republican debate, Ron Paul clashed with fellow Texan Rick Perry once again.

This time, things got physical.

During a commercial break, Perry walked up to Paul's podium, physically grabbed Paul's wrist, and pointed at Paul's face with his other hand
The confrontation took place shortly after this portion of the debate, where things got testy between Paul and Perry:
As Tommy Christopher notes at Mediaite, the Ron Paul fans are already alleging the Perry "assaulted" Paul"
During a commercial break at Wednesday's Republican debate, Rick Perry and Ron Paul continued their spirited exchange on stage. Suddenly, Perry grabbed Ron Paul's forearm while aggressively pointing his index finger towards the Congressman's face. Alerted by Perry's menacing gestures, Ron Paul's bodyguard (front left) was standing by, ready to protect the Congressman.
As Christopher notes, we really don't know what Perry was saying to Paul, although I doubt that he was asking him for barbeque tips. Whatever happened, though, there were a few other photos taken during the confrontation, including this one that makes it seem like Jon Huntsman was trying to play peacemaker: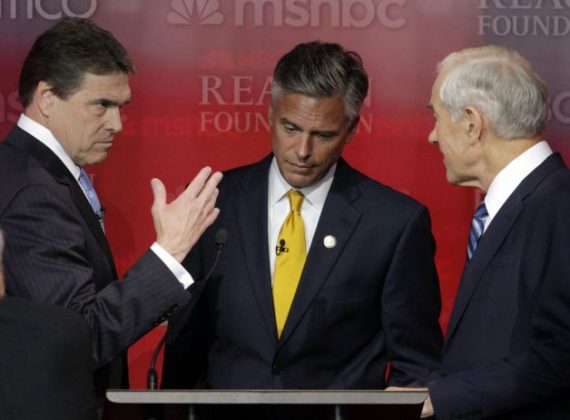 Well, Huntsman does have diplomatic experience, perhaps he thought he could help.