Running from the Press: The Curious Case of Sharron Angle
If one wants to be a US Senator, one is going to have to learn to talk to the press.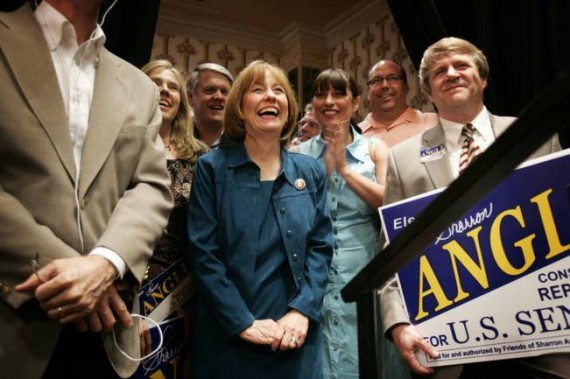 Via the NYT:  In Nevada, Running for Senate and From Cameras
Ms. Angle, a Nevada Senate candidate and Tea Party darling, has steadfastly refused to talk to reporters here, leading to some unusually aggressive behavior by local television stations. In a segment fit for TMZ, one intrepid reporter chased her on foot outside a restaurant this month, repeatedly asking why she had once said that "if this Congress keeps going the way it is, people are really looking toward those Second Amendment remedies." She ignored the questioner and tried to outpace him, in a video clip replayed across the state.

[…]

Ms. Angle's campaign strategy — if it is indeed a strategy; a spokesman did not respond to a request for comment — is representative of a pick-and-choose media landscape. Since the primary victory, she has showed up on Fox News and sat down with several conservative radio hosts, including Bill Manders of KOH, the dominant talk station in Reno. "She answers every question I ask her," Mr. Manders said, although he said he had advised her to give more interviews.
Of course, what this approach does is allow contact with voters who are already likely to be your supporters in the first place.  Focusing on conservative media during the primary makes sense, doing so in general election campaign does not.
Angle may believe that the poor economy and Harry Reid's low popularity numbers will be enough to propel her to victory in November, but I have my doubts that such a strategy will work if she essentially avoids broad press exposure between now and November.
The whole point of running for office is that one puts one's ideas out to the public for them to decide which candidate's ideas they prefer.  If one is afraid that exposure will lead to less voters liking one's candidacy, then that strikes me a rather serious problem for said candidate.
And this is not just someone avoiding "gotcha journalism" or cleverly eschewing the mainstream press via some new media campaign strategy.  This very much appears to be a candidate who isn't ready for prime time and knows that she is going to have a very hard time defending her own statements to a more mainstream audience.
As I have noted before:  Sharron Angle is the best thing that could have happened to Harry Reid.