Trump Thinks Russia Should Be Readmitted To The G-7
Once again, President Trump is doing Vladimir Putin's bidding.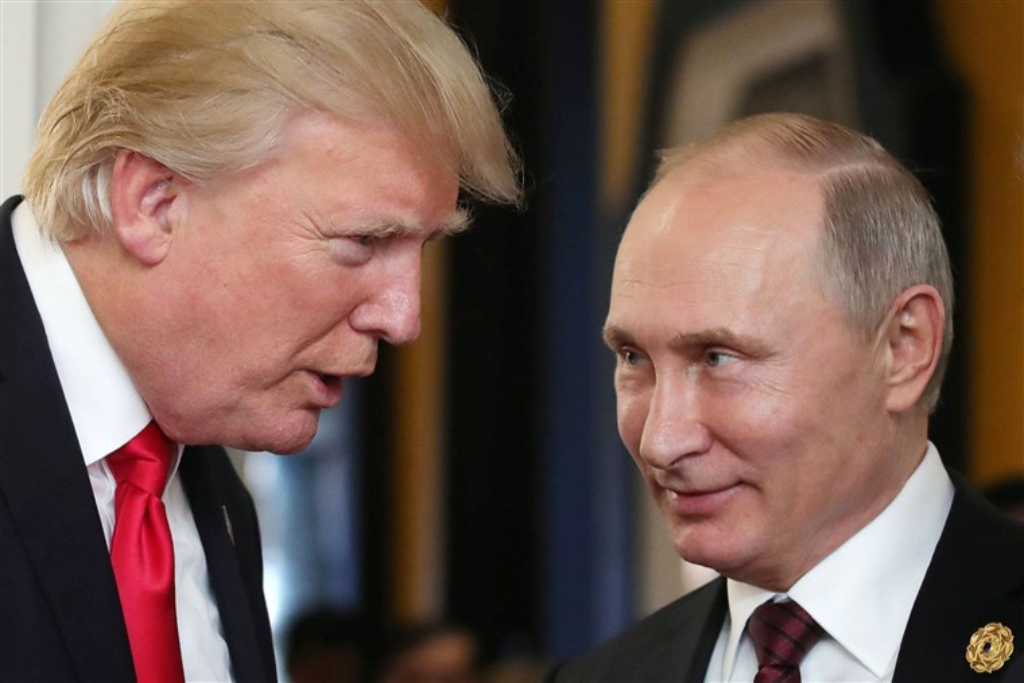 Just days before he's scheduled to head to France for this years G-7 Summit, President Trump is saying that he'd support reversing the group's decision in 2014 and readmitting Russia to what would once again become the G-8:
WASHINGTON — President Trump said on Tuesday that Russia should be readmitted to the Group of 7 industrialized nations, a call for ending Moscow's pariah status on the world stage that is likely to earn a cool reception when the group's annual summit opens this weekend.

Speaking a few days before his planned departure for the summit, in Biarritz, France, Mr. Trump said that Moscow's exclusion since 2014 from the group of leading economic powers should be reversed and, ignoring Russia's aggression in Ukraine, contended that the true reason for it was President Barack Obama's wounded pride.

"I think it's much more appropriate to have Russia in," Mr. Trump told reporters in the Oval Office before a meeting with President Klaus Iohannis of Romania. "I could certainly see it being the G8 again."
One reason, Mr. Trump said, was "because a lot of the things we talk about have to do with Russia."

Russia was disinvited from gatherings of the former Group of 8 after the country's annexation of Crimea, which in a joint statement the remaining group members called a violation of international law that could have "grave implications for the legal order that protects the unity and sovereignty of all states."

Mr. Trump, who made similar comments before last year's Group of 7 meeting in Canada, did not attach any conditions to his proposal, which could signal that the international community has moved on from Russia's aggression toward Ukraine. It was the latest of several suggestions by Mr. Trump — whose 2016 campaign's contacts with Kremlin-affiliated Russians were the subject of a long federal investigation, and who has personally courted the Russian president, Vladimir V. Putin — that Russia has been unfairly treated by the United States and its allies.

That was in contrast to the view of France's president, Emmanuel Macron, who a day earlier told a visiting Mr. Putin that Russia could rejoin the elite gathering if it helped end the continuing conflict in Ukraine. Moscow has supported a bloody rebellion by pro-Russian separatists in eastern Ukraine that the United Nations estimates has claimed more than 13,000 lives since it began five years ago.
In a news conference with Mr. Putin, Mr. Macron called resolving the international "dispute" over Russia's policy toward Ukraine "the key" to Russian readmission into a reconstituted Group of 8.

Steven Pifer, a former United States ambassador to Ukraine, said he could envision a Russian return to the annual meetings, which aim for consensus action on issues like trade, terrorism, energy and the environment. But that should happen only if Russia earns its readmission by helping bring peace to Ukraine, he said.

"On one level, I agree with President Trump that it would be nice to get to a new U.S.-Russia relationship," said Mr. Pifer, now a William Perry fellow at Stanford University. "But he never seems to suggest that Russia has to make some changes to its policies to get to that point."

(…)

In his remarks on Tuesday, Mr. Trump made no reference to Russia's annexation of the strategically valuable Crimean Peninsula, which began with a military intervention after Ukraine's 2014 revolution ousted a pro-Russia leader and was consummated in a referendum widely condemned as illegitimate.

Instead, Mr. Trump, who has shown little concern about the fate of Crimea and has even suggested that it may rightfully belong to Russia, implied that Moscow's real offense had been to embarrass his predecessor, Mr. Obama, who had unsuccessfully warned Russia against seizing the region.

"I guess President Obama, because Putin outsmarted him, President Obama thought it wasn't a good thing to have Russia in," Mr. Trump said.

"So he wanted Russia out."

"Well, that's not the way it really should work," he added.

The president addressed the issue on Tuesday in response to a question from a reporter, who noted that the United States will host next year's Group of 7 summit. Mr. Trump hinted that he would not press the issue himself, however.

"If somebody would make that motion," the president said, "I would certainly be disposed to think about it very favorably."
As a preliminary matter, it is important to point out that Trump is, unsurprisingly, completely misstating the circumstances under which Russia was kicked out of what was then the Group of Eight. It began in 2014 shortly after the Winter Olympics in Sochi when Russia moved suddenly and without warning to send forces into the Crimean Peninsula, then a part of Ukraine that also happened to be the site of a major Russian naval base in Odessa, one of its only naval bases on the Black Sea within distance of the Bosphorus Straits and, beyond them, the Mediterranean Sea. Shortly after that occupation, allegedly in response to civil unrest, Russia held an obviously phony referendum in which voters overwhelmingly voted in favor of annexation by Russia, returning the region to the status it had enjoyed before 1954 when Stalin had, somewhat inexplicably, given the Ukrainian Soviet Socialist Republic control of the peninsula.
At nearly the same time that it seized the peninsula, Russia began a campaign in the eastern part of Ukraine that led to a rebellion and civil war that has continued for the past five years. It didn't take much work for this to succeed, of course, due to the fact that the eastern part of Ukraine has a large ethnic Russian population and the fact that the pro-western government that seized power in Kiev at roughly the same time that remains deeply unpopular in the east. There have also been reports that Russian forces regularly cross the border to assist the rebels and that they were involved in events such as the shooting down of a Malaysian Airlines 777 by a Russian missile system that was either given to the Ukrainian rebels or manned by Russian forces at the time the missile was fired.
As a result of those actions and the refusal of the Russian government to halt its operations in Ukraine, the Group of Seven was disinvited from the 2014 summit meeting, which was originally scheduled to be held in Sochi, in Brussels and the group unanimously voted to sanction Russia by kicking it out of the organization, a resolution which has stood in the five years that have followed.
In addition to its intervention in Ukraine, of course, Russia has engaged in a number of other activities that are contrary to the interests of the Group of Seven and their citizens. This includes its efforts to interfere in elections that include not only the U.S. Presidential election in 2016 and midterm elections in 2018 but also efforts tied to the recent French elections, the recent "yellow vest" protests in France. the German elections, and the British Brexit vote, and the recent European Parliament elections. There have even been reports that Russian bots and trolls on social media have been involved in spreading anti-vaccination propaganda in the United States and elsewhere in the Western world. The fact that this has happened and that it will likely happen again has been established by the heads of all the major intelligence agencies, by the Federal Bureau of Investigation and other law enforcement agencies, and by the report issued by former Special Counsel Robert Mueller. Given this, the sanctions that have been placed on the Putin government, including its removal from the Group of Seven, seems not only appropriate but utterly necessary in sending a signal to Vladimir Putin that Russia will be considered a pariah state as long as it continues to engage in these activities.
This isn't the first time that Trump has suggested that Russia be readmitted to the Group of Seven, of course. He made a similar suggestion in advance of last year's summit in Canada. It's unclear if the matter was seriously discussed at that meeting, but there was no action taken on the issue and it's unlikely that there will be any action taken at the meeting this weekend. It was at the conclusion of that meeting, of course, that Trump left in an apparent huff after what was, by all accounts, a diplomatic disaster for him.
What we're looking at here, of course, is yet again displaying his obvious obsequiousness toward Vladimir Putin that has been a pattern on his part since before he became President. While the President has repeatedly claimed that no other President has been tougher on Russia than he has, the reality has been quite different. Perhaps the best example of that can be seen in his efforts to undermine the investigation into Russian interference in the election and his persistent refusal to acknowledge the fact that Russia did in fact interfere in that election. That obsequiousness became even more apparent after the 2018 summit meeting in Helsinki between Trump and Putin after which Trump essentially took Putin's word that Russia did not interfere as gospel notwithstanding overwhelming evidence to the contrary. Finally, the President has spent the better part of his two and a half years in office doing everything that he can to ruin our relationships with allies such as the United Kingdom, France, Germany, and Japan, something that I have made note of several times here at OTB — see here, here, here, and here — and the extent to which he has succeeded in driving a wedge between the United States and its most important allies. Additionally, he has repudiated international agreements that were working as they were intended to such as the Trans-Pacific Partnership, the Paris Climate Accords, and the Joint Comprehensive Plan of Action, and thereby sent the message that the United States simply cannot be trusted to keep its agreements or to be the force for international stability. This suggestion that Russia be readmitted to the Group of Seven is merely another example of that and another indication of where Trump's admiration lies.