France To Investigate Reports Of Russian Instigation In "Yellow Vest" Protests
French authorities are investigating reports that Russian interference may be helping to exploit and expand the five-week-old "yellow vest" protests.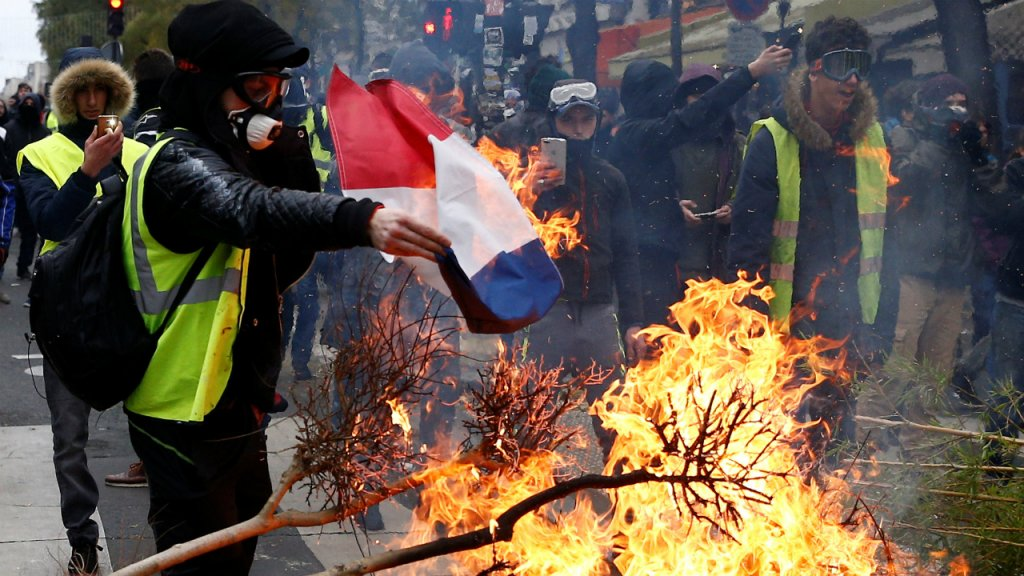 As James Joyner noted yesterday, France has been rocked for five weeks now by the so-called "yellow vest" protests, named such due to the fact that protesters have taken to wearing the yellow emergency vest that everyone in France is required to keep in their car in case of a roadside emergency. Ostensibly, these protests originated in public dissatisfaction over increases in fuel taxes imposed by the government of President Emmanuel Macron in part to enforce the nation's commitments pursuant to the Paris Climate Accords. After several weeks of protests, Macron agreed to at least delay those taxes and reconsider other methods of compliance with the agreement. That didn't stop the protests, though, and they seemed to turn even more violent yesterday although it's now unclear exactly what it is the protesters want, or if they even know what they want. France's Finance Minister, meanwhile, is warning that the continued protests are threatening to have an impact on the French economy, thus increasing the pressure on Macron to act in response to the protests, perhaps with a crackdown that could end up backfiring. Additionally, as James noted in a subsequent post, there have been credible allegations that Russia has been helping to stoke the fires of those protests, an allegation that French officials now say they intend to investigate:
France opened a probe into possible Russian interference behind the country's Yellow Vest protests, after reports that social-media accounts linked to Moscow have increasingly targeted the movement.

According to the Alliance for Securing Democracy, about 600 Twitter accounts known to promote Kremlin views have begun focusing on France, boosting their use of the hashtag #giletsjaunes, the French name for the Yellow Vest movement. French security services are looking at the situation, Foreign Minister Jean-Yves Le Drian said Sunday in a radio interview with RTL.

Russia has been criticized for using social media to influence elections in the U.S. and elsewhere. Attempts to use fake news reports and cyberattacks to undercut the 2017 campaign of French President Emmanuel Macron failed, but Russian-linked sites have pushed questionable reports of a mutiny among police, and of officers' support for the protests.

"An investigation is now underway," Le Drian said. "I will not make comments before the investigation has brought conclusions.

The Twitter accounts monitored by the alliance usually feature U.S. or British news. But the French protests "have been at or near the top" of their activity for at least a week, according to Bret Schafer, the alliance's Washington-based social media analyst. "That's a pretty strong indication that there is interest in amplifying the conflict" for audiences outside France.

Much of the tweeted material comes from Russian state media outlets including the Sputnik news website, the RT television network, and Ruptly, a German-based video news agency that belongs to RT. These outlets are covering the French crisis closely; RT has said that 12 of its journalists have been injured in the protests, far more than any other news organization.

Sputnik and RT have reported in recent days that most French police no longer support Macron and are siding with the protesters. Their sources: representatives of two small police unions that together won less than 4 percent of votes in nationwide union elections this month. Sputnik and RT also have shown a video – widely shared on French social media — of police in the southwestern town of Pau removing their helmets in what was described as a sign of solidarity with protesters. Local police and journalists on the scene said the description was untrue. They said some officers had briefly removed their helmets to talk with protesters before putting them back on.

In response to questions from Bloomberg News, Sputnik later corrected its article about police in Pau showing solidarity with protesters, to say the report "hasn't been backed by evidence so far." RT said its article about police siding with protesters, based on comments by the head of a minor police union, was justified because he had been quoted by other news outlets.
This isn't the first time that the French government has alleged that Russia was interfering, or attempting to interfere, in its political process. During the 2017 campaign for President, Macron alleged that media outlets controlled by the Kremlin were spreading false news about him and his campaign due to the fact that he was considered to be tougher on Russia than either of his rivals, Marine Le Pen, leader of the National Front, and Francois Fillon of the Republicans. However, most of those stories, some of which alleged that Macron lived a "double life" and had the support of a "wealthy gay lobby" failed to gain any traction either in mainstream French media or online. Another claim, that Macron's campaign was being bankrolled by Saudi Arabia showed up in a newspaper in Belgium. While the source of this story was never determined, law enforcement determined that it was linked to a Russian "troll factory" similar to those used to interfere in the 2016 Presidential race in the United States. Finally, the Macron campaign itself was hit with an email-based phishing campaign similar to those used by Russia against the Democratic National Committee in the United States that were a part of the efforts to interfere in the 2016 election.
Taking this history into account, it's not at all hard to believe that Russia has been involved in trying to stoke the fires that have caused these "yellow vest" protests to turn violent and to continue notwithstanding the fact that the initial demand, the repeal of the fuel tax that was recently passed by French lawmakers, has been met. Such interference would be consistent not only with past Russian behavior but with the hypothesis that the real goal of operations such as the Russian interference in the campaign hasn't been so much to back one side or another in political debates but to sow chaos and distrust within western democratic societies. This theory is consistent with the allegations that Special Counsel Robert Mueller has made in his indictment of Russian officials in February and in July of more than 25 Russian officials and organization for both on the ground organizing and Internet trolling that Mueller alleges was designed to exploit already existing hyperpartisan divisions in American society. In addition to this, the past year has also revealed the existence of a Russian agent who had infiltrated the National Rifle Association and other gun rights organizations, and another Russian woman who was involved in attempting to interfere in the just-concluded midterm elections. Outside of the elections, there has also been evidence of Russian bots and "troll farms" using social media to stoke tension over issues such as gun control and the NFL's National Anthem protests, the gun control debate, and the nation's ongoing racial divisions. There have also been reports that Russia was involved in stoking tensions in advance of the 2016 Brexit vote in the United Kingdom.
Given this history, the idea that the Russians may be involved in trying to stoke tensions in France now isn't all that hard to believe. It would be entirely consistent with the course of action they've taken since at least 2015, which is when the Mueller investigation has determined that the troll farms and other apparatus used to spread false news and memes on American social media began. In the United States, that campaign took the form of both exploiting both sides of controversial issues and in providing aid, knowingly or unknowingly, to the President's campaign for the Republican nomination and the General Election. None of this is to say that there isn't something legitimate behind the protests in France, but the idea that the Russians may be exploiting pre-existing divisions in France just as they did in the United States and elsewhere is certainly one worth investigating.