US-France Submarine Contretemps
American cheese will henceforth be known as liberté cheese. And not because of the metric system.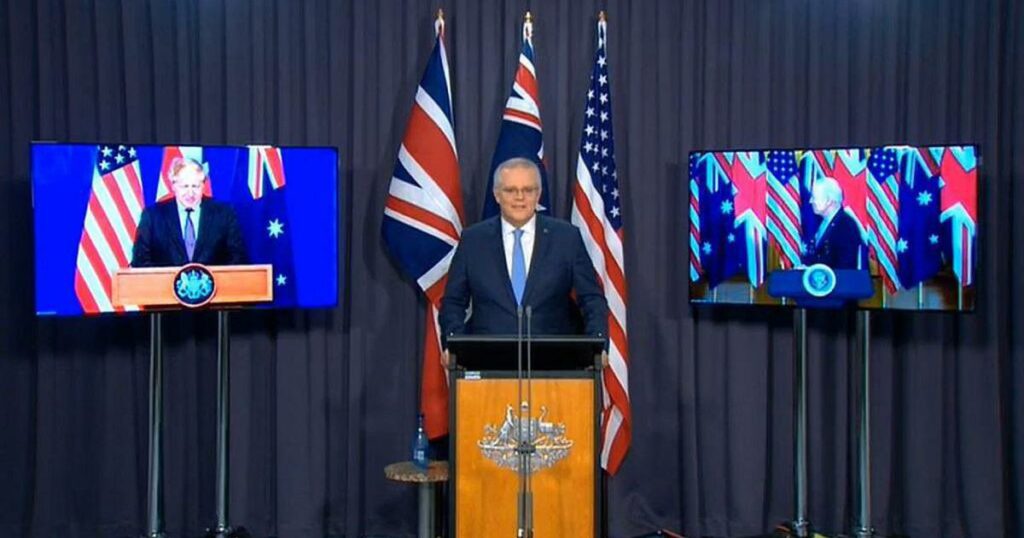 A significant rift has emerged between the United States and its oldest ally over Australia's decision to buy American nuclear subs instead of outdated French hardware.
The news broke midweek to little fanfare:
David E. Sanger and Zolan Kanno-Youngs, NYT, Sept. 15 ("Biden Announces Defense Deal With Australia in a Bid to Counter China"):
The Biden administration took a major step on Wednesday in challenging China's broad territorial claims in the Pacific, announcing that the United States and Britain would help Australia to deploy nuclear-powered submarines, adding to the Western presence in the region.

If the plan comes to fruition, Australia may begin conducting routine patrols that could move through areas of the South China Sea that Beijing claims as its exclusive zone and range as far north as Taiwan. The announcement, made by President Biden, Prime Minister Boris Johnson of Britain and Prime Minister Scott Morrison of Australia, is a major step for Australia, which until recent years has been hesitant to push back directly at core Chinese interests.

Australia has felt increasingly threatened, however, and three years ago was among the first nations to ban Huawei, the Chinese telecommunications giant, from its networks. Now, with the prospect of deploying a new submarine fleet, Australia would become a far more muscular player in the American-led alliance in the Pacific. The vessels are equipped with nuclear propulsion systems that offer limitless range and run so quietly that they are hard to detect. For Mr. Johnson, the new defense arrangement would bolster his effort to develop a "Global Britain" strategy that focuses on the Pacific, the next step after Brexit took the country out of the European Union.

"This is about investing in our greatest source of strength, our alliances, and updating them to better meet the threats of today and tomorrow," Mr. Biden said in the East Room, flanked by two televisions showing the British and Australian leaders at their remote press briefings. "It's about connecting America's existing allies and partners in new ways."

Mr. Biden and Mr. Morrison said Australia would not arm the submarines with nuclear weapons. Australia is a signatory to the Nuclear Nonproliferation Treaty, which bans it from acquiring or deploying nuclear weapons.

The submarines almost certainly would carry conventional, submarine-launched cruise missiles.

"Let me be clear: Australia is not seeking to acquire nuclear weapons or establish a civil nuclear capability," Mr. Morrison said.

Yet even conventionally armed submarines, staffed by Australian sailors, could alter the naval balance of power in the Pacific.

"Attack submarines are big deal, and they send a big message," said Vipin Narang, a Massachusetts Institute of Technology professor who studies the use of nuclear weapons and delivery systems among major powers. "This would be hard to imagine five years ago, and it would have been impossible 10 years ago. And that says a lot about China's behavior in the region."

Zhao Lijian, a spokesman for the Chinese Ministry of Foreign Affairs, told a regular news briefing in Beijing on Thursday that the submarine agreement would "seriously damage regional peace and stability, exacerbate an arms race and harm international nuclear nonproliferation agreements," Global Times, a Chinese newspaper controlled by the Communist Party, reported.
Soon, though, in addition to analysis of the implications for "great power competition" like this . . .
Damien Cave and Chris Buckley, NYT, Sept. 16 ("Why Australia Bet the House on Lasting American Power in Asia"):
When Scott Morrison became Australia's prime minister three years ago, he insisted that the country could maintain close ties with China, its largest trading partner, while working with the United States, its main security ally.

"Australia doesn't have to choose," he said in one of his first foreign policy speeches.

On Thursday, Australia effectively chose. Following years of sharply deteriorating relations with Beijing, Australia announced a new defense agreement in which the United States and Britain would help it deploy nuclear-powered submarines, a major advance in Australian military strength.

With its move to acquire heavy weaponry and top-secret technology, Australia has thrown in its lot with the United States for generations to come — a "forever partnership," in Mr. Morrison's words. The agreement will open the way to deeper military ties and higher expectations that Australia would join any military conflict with Beijing.

It's a big strategic bet that America will prevail in its great-power competition with China and continue to be a dominant and stabilizing force in the Pacific even as the costs increase.
. . . we got an angry backlash from the French:
Roger Cohen, NYT, Sept. 16 ("In Submarine Deal With Australia, U.S. Counters China but Enrages France")
President Biden's announcement of a deal to help Australia deploy nuclear-powered submarines has strained the Western alliance, infuriating France and foreshadowing how the conflicting American and European responses to confrontation with China may redraw the global strategic map.

In announcing the deal on Wednesday, Mr. Biden said it was meant to reinforce alliances and update them as strategic priorities shift. But in drawing a Pacific ally closer to meet the China challenge, he appears to have alienated an important European one and aggravated already tense relations with Beijing.

France on Thursday reacted with outrage to the announcements that the United States and Britain would help Australia develop submarines, and that Australia was withdrawing from a $66 billion deal to buy French-built submarines. At its heart, the diplomatic storm is also a business matter — a loss of revenue for France's military industry, and a gain for American companies.

Jean-Yves Le Drian, France's foreign minister, told Franceinfo radio that the submarine deal was a "unilateral, brutal, unpredictable decision" by the United States, and he compared the American move to the rash and sudden policy shifts common during the Trump administration.

Underscoring its fury, France canceled a gala scheduled for Friday at its embassy in Washington to mark the 240th anniversary of a Revolutionary War battle.

"This looks like a new geopolitical order without binding alliances," said Nicole Bacharan, a researcher at Sciences Po in Paris. "To confront China, the United States appears to have chosen a different alliance, with the Anglo-Saxon world separate from France." She predicted a "very hard" period in the old friendship between Paris and Washington.

The deal also seemed to be a pivot point in relations with China, which reacted angrily. The Biden administration appears to be upping the ante with Beijing by providing a Pacific ally with submarines that are much harder to detect than conventional ones, much as medium-range Pershing II missiles were deployed in Europe in the 1980s to deter the Soviet Union.
It escalated to absurd levels by yesterday afternoon:
Roger Cohen and Michael D. Shear, NYT ("Furious Over Sub Deal, France Recalls Ambassadors to U.S. and Australia"):
Calling American and Australian behavior "unacceptable between allies and partners," France announced on Friday that it was recalling its ambassadors to both countries in protest over President Biden's decision to provide nuclear-powered submarines to Australia.

It was the first time in the history of the long alliance between France and the United States, dating back to 1778, that a French ambassador has been recalled to Paris in this way for consultations. The decision by President Emmanuel Macron reflects the extent of French outrage at what it has a called a "brutal" American decision and a "stab in the back" from Australia.
The reaction from natsec types has been predicatable.
I retweeted all of those, both because they're good lines and because I agree. But I also retweeted this form AEI's Kori Schake: "Reminder that France is a major contributor to global security and a valuable U.S. ally." It came in reaction to news that French forces had just killed a major Islamic State figure.
Yet, while I fully agree with Schake that France is one of America's more valuable allies as well as our oldest, I also concur with Exum, Friedman, and others that France has often worked against the security interests of the United States and NATO. Aside from having spent decades outside of NATO's defense structure, it has spent about as long trying to undermine the transatlantic alliance with a Europe-only model. And it has repeatedly cozied up to Russia, most infamously in the sale of Mistral-class helicopter carriers that was a longstanding bone of contention until the deal was scrapped under pressure following the Ukraine invasion. And, certainly, it makes sense for the United States to work even closer with Australia, which is less powerful than France but generally speaking more aligned with US interests. And which has a much stronger incentive to counter China.
Yet, given the presence of Francophones like Tony Blinken and John Kerry in Biden's top foreign policy team, why was this handled so poorly? David Sanger ("Secret Talks and a Hidden Agenda: Behind the U.S. Defense Deal that France Called a 'Betrayal'") reporting yesterday:
The United States and Australia went to extraordinary lengths to keep Paris in the dark as they secretly negotiated a plan to build nuclear submarines, scuttling France's largest defense contract and so enraging President Emmanuel Macron that on Friday he ordered the withdrawal of France's ambassadors to both nations.

Mr. Macron's decision was a stunning and unexpected escalation of the breach between Washington and Paris, on a day that the two countries had planned to celebrate an alliance that goes back to the defeat of Britain in the Revolutionary War.

Yet it was driven by France's realization that two of its closest allies have been negotiating secretly for months. According to interviews with American and British officials, the Australians approached the new administration soon after President Biden's inauguration and said they had concluded that they had to get out of a $60 billion agreement with France to supply them with a dozen attack submarines.

The conventionally powered French subs, the Australians feared, would be obsolete by the time they were delivered. They expressed interest in seeking a fleet of quieter nuclear-powered submarines based on American and British designs that could patrol areas of the South China Sea with less risk of detection.

But it was unclear how they would terminate the agreement with France, which was already over budget and running behind schedule.

"They told us they would take care of dealing with the French," one senior U.S. official said.

The Australians knew they had a receptive audience. Mr. Biden, who has made pushing back hard on China's territorial ambitions a central tenet of his national security policy, told aides those French-made submarines would not do. They did not have the ability to range the Pacific and show up unexpectedly off Chinese shores — adding an element of military advantage for the West.

The Australians, by all accounts, never made clear to the French that they were preparing to cancel the deal, which had taken years to negotiate. And in meeting after meeting with their French counterparts — some including Mr. Biden and Secretary of State Antony J. Blinken — the Americans did not give France a heads-up about their plans to step in with their own designs, the officials said, asking for anonymity to discuss sensitive diplomacy. It was a classic case of diplomatic avoidance.

Mr. Biden's top aides finally discussed the issue with the French hours before it was publicly announced at the White House in a virtual meeting with Mr. Biden, Prime Minister Boris Johnson of Britain and Prime Minister Scott Morrison of Australia.
That . . . seems odd. It's perfectly understandable that a new administration assessed the situation and saw an opportunity to bolster the security architecture of the region. And I suppose it makes sense to get the deal hammered out before letting the French know, so as to avoid leaks calculated to undermine the deal. But why the rush to announce it? Why not wait until after the US-French 240th anniversary celebration? For that matter, why not have an olive branch prepared to soften the blow? There apparently wasn't much consideration given to the matter:
In this case, American officials said the decision to toss over the existing French-Australian contract, and replace it with one that would bind Australia technologically and strategically to the nuclear submarine program, generated virtually no internal debate, participants said. The reason was straightforward: In the Biden White House, the imperative to challenge China's growing footprint, and its efforts to push the U.S. Navy east, to the next island chain in the Pacific, reigns supreme.
Again, the calculus makes perfect sense to me. Indeed, I think this is obviously a better deal for the Aussies and better for us. But it was hardly unpredictable that the French would be furious. As Rick Noack notes in this morning's WaPo ("Why the French are so furious at the Biden administration over a derailed submarine deal") this was, to coin a phrase, a big effing deal:
[The submarine contract] was of virtually unrivaled economic significance to France's defense sector, said Pierre Morcos, a French visiting fellow at the D.C.-based Center for Strategic and International Studies. The deal was crucial for "a whole network of small and medium enterprises" in France that were supposed to benefit from it, he said. The economic significance of the Australia deal has been compared to a landmark 2015 agreement between India and French company Dassault Aviation to supply 36 Rafale fighter jets.

Second, France stands to lose strategically as a result of Australia bowing out of its previous commitment. When the deal was struck, the French government celebrated a "strategic partnership … for the next 50 years."

"This overall framework is now jeopardized," Morcos said.

French officials also believed that their deal with Australia was an example of U.S.-French cooperation because the Australian branch of Lockheed Martin, an American company, was expected to be involved in the project.

A third key reason for the French anger is the way the deal between Australia, Britain and the United States was announced. A French official said Thursday that Paris learned of the decision only through media reports — even though it had been negotiated among the three participants for months.
And, indeed, as NBC reports ("Biden's apparent indifference to AUKUS deal's impact on France fueling fury, experts say"), the rollout may have been as big a problem as the switcheroo.
For France — which on Friday recalled its ambassadors to the United States — the move might have torpedoed what little trust had been rebuilt after four years under former President Donald Trump, experts said.

As Biden celebrated the new AUKUS pact with Australia and Britain on Thursday, French officials expressed outrage over the deal, which brought that nation's 2016 agreement to build submarines for Australia to an abrupt end.

"France's position for a very long time … has been to say that the U.S. is an ally, but the U.S. is pivoting away from Europe and cannot fully be trusted," said Georgina Wright, head of the Europe Program at Institut Montaigne, a nonprofit transpartisan think tank based in Paris.

Now, France can feel vindicated in that stance, she said, with Biden proving that "when (the United States) makes a decision, they will go ahead with it and they won't think twice about their allies."

Of Biden, he said the president's "brutal, unilateral and unpredictable decision" was a reminder of something his predecessor "used to do." The Trump comparison is considered a "major insult" in France, Frédéric Charillon, a political science professor at France's Clermont Auvergne University, said Thursday.

[…]

Wright said that while the submarine deal itself would have angered French officials, it is the way the news was delivered that likely struck the biggest blow. "The decision itself was a big blow for industry in France," she said, with the country losing out on a $40 billion deal. "You cannot really overstate the … industrial side," she said in a phone interview Friday. However, Wright said, what has really strained France's relationship with the U.S. "is how the decision came about."
At the end of the day, bolstering our alliance with Australia and improving her naval capabilities were the right thing to do. And France will get over it, having no real alternative. But this simply should have been handled more deftly and, given the talent, experience, and proclivities of key players on the Biden team, I'm honestly surprised that it wasn't.