Donald Trump's Loose Lips
Donald Trump seems to have an odd habit of sharing highly classified information with questionable people.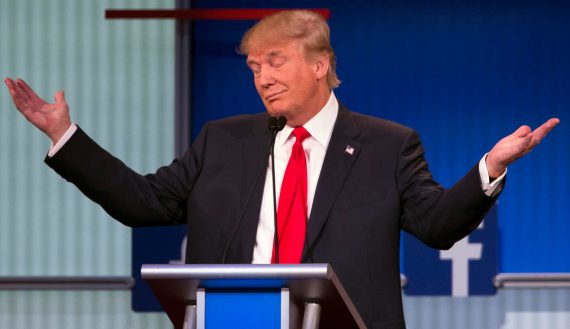 Donald Trump seems to be very liberal about deciding who to share classified information with. First, we learn that he revealed highly classified information that had apparently been provided to us by Israel to the Russian Foreign Minister and Russia's Ambassador to the U.S. during a meeting in the Oval Office earlier this month. Now, he's apparently sharing information about the location of American nuclear submarines with the President of The Philippines:
Pentagon officials are in shock after the release of a transcript between President Donald Trump and his Philippines counterpart reveals that the US military had moved two nuclear submarines towards North Korea

"We never talk about subs!" three officials told BuzzFeed News, referring to the military's belief that keeping submarines' movement stealth is key to their mission.

While the US military will frequently announce the deployment of aircraft carriers, it is far more careful when discussing the movement of nuclear submarines. Carriers are hard to miss, and that in part, is a reason the US military deploys them. They are a physical show of forces. Submarines are, at times, a furtive complement to the carriers, a hard-to-detect means of strategic deterrence.

According to a transcript of the call, released Wednesday, Trump called Philippines President Rodrigo Duterte April 29 to discuss, in part, the rising threat from North Korea. During that call, while discussing ways to mitigate North Korean leader Kim Jong Un's nuclear ambitions, Trump said: "We have two submarines – the best in the world – we have two nuclear submarines – not that we want to use them at all. I've never seen anything like they are but we don't have to use this but [Kim] could be crazy so we will see what happens."

During the same call, Trump also called the North Korea leader a "madman with nuclear weapons" and celebrated Duterte for doing an "unbelievable job on the drug problem," even as the Filipino leader has supported the alleged extrajudicial killing of 8,000 people since taking office in June, part of his purge to rid his nation of drugs. Duterte has bragged about committing murder himself, called former President Barack Obama a "son of a bitch" and once threatened to suspend the bilateral agreement between his nation and the United States that allows US troops to visit the Philippines.

"Keep up [the] good work, you are doing an amazing job," Trump told Duterte during the call.

A US official who had previously seen a version of the transcript confirmed to BuzzFeed News that the published version appeared accurate.

By announcing the presence of nuclear submarines, the president, some Pentagon officials privately explained, gives away the element of surprise — an irony given his repeated declarations during the campaign that the US announces far too many of its military plans when it comes to combatting ISIS.

Moreover, some countries in the region, particularly China, seek to develop their anti-sub capability. Knowing that two US submarines are in the region could allow them to test their own military capabilities.

Finally, it is unclear why Duterte would need to know the specific number of subs in the region. The Philippines is not a part US military efforts to deter North Korea so why would Duterte need to know such details?

In the past, the US Navy has acknowledged that nuclear submarines were part of a deploying strike group. By doing so, the public knows the general deployment schedule regional destination. But saying that submarines are in the region is not the same as saying how many there are and that they are near North Korea, as Trump did during the phone call. Strikes groups don't stick together and sail as one big unit but can break off as needed.
As President, Trump has the authority to decide on his own whether and to whom to reveal classified information without worrying about legal consequences since the President is the ultimate authority when it comes to deciding such matters. All that means, though, is that what Trump did either in this case or in the case of the information provided to the Russians wasn't illegal. That doesn't answer the question of whether or not it was the wise or prudent thing to do. As noted above, the location of America's nuclear submarines is a closely held secret precisely for the reason that they depend on secrecy to carry out their primary mission of being the silent part of the nation's nuclear deterrent force, a mission that depends on potential adversaries not knowing where our submarines might be at any given time. Revealing those locations, not just to President Duterte, but also to the general public thanks to the White House release of the transcript of Trump's call with him, would seem to be an unwise decision.
Additionally, Trump's decision of whom to share classified information with reflects badly on his judgment. While there may be some circumstances where it might arguably be in our interests to reveal classified information to other nations. Indeed, we have intelligence sharing agreements with many of our European allies that allow for the mutual exchange of intelligence in order to provide for the common defense contemplated by organizations such as NATO. The Philippines, however, is not one of those nations and it's highly uncertain how much we can actually trust the current President of that nation given his internal policies and the manner in which he has openly mocked the United States and its leadership in the past. Entrusting such a person with highly secret information such as submarine deployments seems questionable at best. And, of course, Trump's decision to share classified information with Russian officials is even more questionable, especially since the information he shared could, according to experts, be used to identify intelligence assets that we or the Israelis may have inside Syria that the Russians could in turn share with their allies in Damascus. Why Trump would choose to reveal classified information to people such as this is a question that calls his judgment into doubt.
The other possibility, of course, is that Trump either doesn't know how to properly handle classified information or that he is careless with how he handles it. In both of the cases here, for example, it appears from the context of the conversations that he was revealing the information as a way of boasting rather than for any real strategic or tactical reason. In fact, that explanation seems more plausible than the idea that a supposedly responsible President would suddenly decide to reveal secret information to two Russian officials and an untrustworthy President from The Phillippines. Of course, that just raises even more doubts about his judgment.
It's only Day 125, my friends.