Russian Woman Charged With Interfering In 2018 Elections
The Russians are interfering in our electoral system again, and they're using our own hyperpartisanship to accomplish their goals.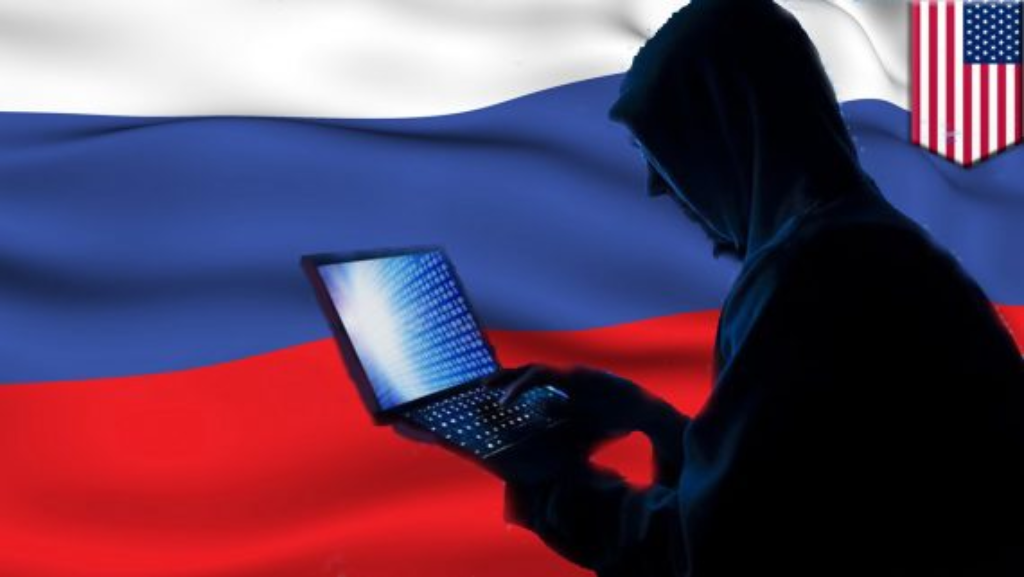 The Justice Department has charged a Russian woman affiliated with the same Moscow-based organization already charged with interfering in the 2016 Presidential election with seeking to the same thing with regard to the 2018 election:
WASHINGTON — Russians working for a close ally of President Vladimir V. Putin are engaging in an elaborate campaign of "information warfare" to interfere with the American midterm elections next month, federal prosecutors said on Friday in unsealing charges against a woman whom they labeled the project's "chief accountant."

The woman, Elena Alekseevna Khusyaynova, 44, of St. Petersburg, managed a multimillion-dollar budget for the effort to "sow division and discord" in the American political system, according to a criminal complaint. She bought internet domain names and Facebook and Instagram ads and spent money on building out Twitter accounts and paying to promote divisive posts on social media.

She worked for several entities owned by Yevgeny V. Prigozhin, a Russian oligarch sometimes known as "Putin's chef" who was among 13 Russians indicted in February by the special counsel, Robert S. Mueller III, on charges of interfering in the election two years ago.

The operation detailed in the complaint was the latest evidence that Mr. Putin had brushed off a broad Western campaign aimed at deterring Russian intrusions in Europe and the United States. In addition to numerous Justice Department prosecutions of Russians for election interference and other covert operations, the United States and its allies have imposed sanctions on prominent Russians and kicked out dozens of Russian diplomats after the poisoning in March of a former Kremlin spy' in Britain. Ms. Khusyaynova's operation, prosecutors said, continued through it all.

As in 2016 — when American intelligence agencies assessed that Russia was trying to bolster the campaign of Donald J. Trump — the conspirators seized on divisions in American politics, prosecutors said in describing a yearslong effort called Project Lakhta. This year, the trolls wrote posts touching on immigration, guns, race relations, women and even the debate over the protests by National Football League players during the national anthem. Since April 2014, prosecutors said, Ms. Khusyaynova acted as the chief accountant for the project.

But this time, prosecutors said the operatives appeared beholden to no particular candidate. Russia's trolls did not limit themselves to either a liberal or conservative position, according to the complaint. They often wrote from diverging viewpoints on the same issue.

"The conspiracy has a strategic goal, which continues to this day, to sow division and discord in the U.S. political system," David Holt, an F.B.I. special agent, wrote in an affidavit.

Prosecutors in Virginia, not Mr. Mueller's team, charged Ms. Khusyaynova of conspiring to defraud the United States. But those accusations appear to build on the special counsel's earlier indictment, which also identified companies controlled by Mr. Prigozhin that were named again in the new complaint.

One of the companies, Concord Management and Consulting, has fought the special counsel's charges in court, demanding that the government demonstrate it willfully violated the law. Friday's criminal complaint, with its detailed descriptions of the conspiracy continuing for months after February's indictment, appears to do just that.

Earlier Russian influence campaigns stood out for their clumsiness — Facebook posts from the Internet Research Agency, another arm of Project Lakhta that conducted Russia's social media disruption campaign in 2016, often contained broken English and off-topic cultural references.

But the new operations appear to have been more sophisticated, with smoother messaging and a better command of American political discourse that allowed for more precisely targeted campaigns. Operatives instructed their colleagues to frame posts about former Senator John McCain, Republican of Arizona, who tangled frequently with Mr. Trump before he died in August, as an "anti-Trump geezer." Speaker Paul D. Ryan, they said, should be described as "an absolute nobody."

Operatives were instructed to attack Republicans who failed to sufficiently champion the construction of the border wall that Mr. Trump has sought; to stress the need for strict voter identification laws, especially in "blue states"; and to highlight "scandals that took place when Mueller headed the F.B.I." in an attempt to discredit the special counsel's investigation.

Acknowledging the time difference between Russia and the United States, one conspirator advised the others to post in the morning to attract liberal audiences during the American evening — "L.G.B.T. groups are often active at night," the operative wrote — and to seek out conservatives awake in the morning by posting just before they left work for the day.

They also developed strategies for blending in to partisan American audiences. "If you write posts in a liberal group … you must not use Breitbart titles," read one message sent to the Russian group, referring to the conservative American news site. "On the contrary, if you write posts in a conservative group, do not use Washington Post or BuzzFeed's titles."

The group also gave suggestions, some of them racist, for reaching specific affinity groups. One member suggested keeping posts simple when they were aimed at lesbian, gay, bisexual and transgender groups of color, writing that "colored L.G.B.T. are less sophisticated than white; therefore, complicated phrases and messages do not work."

Framing suggestions often accompanied news stories shared by the group's members, according to the complaint. One story, originally posted by the conservative news site World Net Daily, was titled "The 8 Dirtiest Scandals of Robert Mueller No One Is Talking About." When instructing a group member to share the story on social media, an unnamed member of the Russian group urged colleagues to "emphasize that the work of this commission is damaging to the country and is aimed to declare impeachment of Trump," according to the complaint.

Much of the social media content included in the complaint was fairly standard fodder for partisan Facebook pages. In 2017, a fake Facebook account called Bertha Malone was used by the Russians to post an image falsely claiming that former President Obama had ties to the Muslim Brotherhood. More than one million people saw the account, according to the complaint.

Another 2017 post, by a fake account called Rachell Edison, was used to post an image about the National Rifle Association. The text accompanying the image read "I think next 4 years will be great for all Americans, and for gun lovers especially!"
More from The Washington Post:
The Justice Department announced Friday it had charged a Russian woman who prosecutors say conspired to interfere with the 2018 U.S. election, marking the first criminal case that accuses a foreign national of interfering in the upcoming midterms.

Elena Khusyaynova, 44, was charged with conspiracy to defraud the United States. Prosecutors said she managed the finances of "Project Lakhta," a foreign influence operation they said was designed "to sow discord in the U.S. political system" by pushing arguments and misinformation online about a host of divisive political issues, including immigration, the Confederate flag, gun control and National Football League protests during the national anthem.

The charges against Khusyaynova came just as the Office of the Director of National Intelligence warned that it was concerned about "ongoing campaigns" by Russia, China and Iran to interfere with the upcoming midterm elections and the 2020 race — an ominous message just weeks before voters head to the polls.

Prosecutors said the sophisticated campaign Khusyaynova was a part of "did not exclusively adopt one ideological viewpoint" but instead tried to push incendiary positions on various political controversies on social media platforms. The Russians involved, prosecutors said, created fake personas and spread their divisive messages on Facebook, Twitter and Instagram. The group attempted to sow conflict along racial lines and sometimes advocated positions that directly opposed each other, apparently agnostic to whom they supported as long as it turned Americans against one another, prosecutors said.

For example, in relaying how to discuss an August 2017 story about special counsel Robert S. Mueller III, one operation participant said Mueller should be termed "a puppet of the establishment" whose work was "damaging to the country," according to prosecutors. But later that year, another operation member tweeted: "If Trump fires Robert Mueller, we have to take to the streets in protest. Our democracy is at stake."

The group took similarly cynical positions on U.S. politicians. While one account said President Trump "deserves a Nobel Peace Prize" for agreeing to meet with North Korean leader Kim Jong Un, another predicted Trump "might not even be president by then." One tweet encouraged voters to donate to a political action committee aiming to unseat Senate Democrats Tammy Baldwin (Wis.), Claire McCaskill (Mo.) and Elizabeth Warren (Mass.), as well as House Minority Leader Nancy Pelosi (D-Calif.)

(…)

Those involved in the conspiracy, prosecutors said, would analyze U.S. news articles and advise how to draft messages about those stories. For example, before his death in August, operation participants advised that Sen. John McCain (R-Ariz.) should be branded "an old geezer who has lost it," and they said House Speaker Paul D. Ryan (R-Wis.) should be portrayed as "a complete and absolute nobody."

"The strategic goal of this alleged conspiracy, which continues to this day, is to sow discord in the U.S. political system and to undermine faith in our democratic institutions," said G. Zachary Terwilliger, the U.S. attorney for the Eastern District of Virginia.

Facebook, which owns Instagram, said in a statement: "Combatting election interference is a task that requires cooperation from government and private industry."

Twitter declined to comment.

The messages spread widely on the platforms; prosecutors say one Facebook page reached over 1.3 million people, while several of the Twitter accounts had tens of thousands of followers.

The operation did not seem to include any outright hacking efforts. In a statement, the Office of the Director of National Intelligence said officials "do not have any evidence of a compromise or disruption of infrastructure that would enable adversaries to prevent voting, change vote counts or disrupt our ability to tally votes in the midterm elections." But the statement noted: "We are concerned about ongoing campaigns by Russia, China and other foreign actors, including Iran, to undermine confidence in democratic institutions and influence public sentiment and government policies. These activities also may seek to influence voter perceptions and decision making in the 2018 and 2020 U.S. elections."

The statement, which was joined by the Justice Department, FBI and Department of Homeland Security, came on the eve of a trip national security adviser John Bolton is making to Moscow, where he is expected to raise the issue with his counterparts.

A Russian Foreign Ministry spokeswoman did not respond to a request for comment.

(…)

The group communicated with real Americans to advance their work. For example, in July 2017, one of the conspirators used a fake "Helen Christopherson" Facebook account to contact three real U.S. organizations to collaborate with the groups in opposing Trump. One of those organizations agreed to make the "Helen Christopherson" account a co-organizer of an anti-Trump event on Facebook.

The case is being prosecuted by lawyers in the cyber division of the U.S. attorney's office in the Eastern District of Virginia and the Justice Department national security division's counterintelligence and export-control section.

The complaint against Khusyaynova was filed under seal in late September and kept secret for three weeks. Officials said the calculation to publicly unveil the accusations now was based on a number of factors, including the unlikelihood that the suspect, who is believed to be in Russia, might travel to a country where she could be arrested and the pending meeting between Bolton and Russian officials, allowing him to raise the issue with them now that the complaint has been made public.

Overriding all of those concerns, officials said, was a desire to raise public awareness about Russian political influence campaigns — to warn voters that such activity was not limited to the 2016 campaign and that fake online personas are still trying to manipulate Americans heading to the polls in a matter of days.
As noted, this indictment does not come from Robert Mueller's team, but from the cyber crimes prosecutors in the Justice Department and the office of the United States Attorney for the Eastern District of Virginia. Notwithstanding that fact, though, the allegations here are eerily consistent with those that have been raised in the legal filings that Mueller's team has made in connection with its own investigation of Russian interference in the 2016 election. In February, for example, Mueller issued indictments against thirteen Russian individuals and organizations linked to the central government, alleging that they had engaged in a plot that lasted for much of 2015 and 2016 to use social media to sow political discord in the United States around the 2016 election. In this case, Khusyaynova is alleged to have worked for one of the same organizations included in that indictment, a strong indication that the interference campaign that began more than three years ago never really ended. Additionally, even though there is no allegation of electronic hacking in this indictment, it's worth noting that Mueller also indicted another twelve Russian individuals and groups in July of this year and that those hacking activities appeared to have been closely coordinated with the activities of the individuals and organizations included in the February indictment. Given that it isn't difficult to believe that somewhere, there are Russians attempting to pull off the same sort of election-related cyber warfare that was carried out two years ago.
Reading the Criminal Complaint and Affidavit filed in this case, which I have embedded below, the one thing that stands out is the fact that the interference operation that is targeting the 2018 elections, which we can assume goes far beyond just this one Russian woman, was not aimed at backing one candidate or one particular political party. Instead, as the Affidavit supporting the Complaint states, the effort was to sow chaos and discord in the American political system by exploiting already existing partisan and cultural divides. This is something that I've been pondering for quite some time, and it speaks not only to the motivation for the Russian interference campaign in the current midterms but in the logic behind the Russian interference campaign in 2016 as well.
For many opponents of the President, the assumption has always been that the Russian interference campaign was designed to help Donald Trump in his campaign against Hillary Clinton. There is certainly plenty of evidence to support this hypothesis, of course, including the fact that the cyber warfare part of the 2016 election was almost exclusively aimed at obtaining information from the Clinton campaign and the Democratic National Committee that would prove to be embarrassing to Clinton, demoralizing to her supporters, and which would assist the Trump campaign. Russian President Vladimir Putin seemed to provide evidence for this hypothesis when in response to a question after the Helskini summit in July, he affirmatively acknowledged that he wanted Trump to win in 2016 and at least seemed to imply that the inference campaign was designed, or came to be designed, as means of helping Trump defeat Clinton. This seems to be further supported by apparent contacts between Trump campaign officials and people with close ties to the Putin regime, such as the June 2016 Trump Tower meeting that has become of particular interest to Robert Mueller's investigators. Additionally, notwithstanding the fact that the Administration has imposed some sanctions against Russia related to its actions, the President has not imposed all of the sanctions mandated by Congress. Most importantly, though, consciously or not. Trump has allowed Putin to accomplish something that leaders of the Soviet Union from Stalin to Gorbachev were never able to do, drive a wedge between the United States and its allies, and most especially between the United States and NATO. Taking all this together, it's not hard to believe that helping Trump was the goal of the Russian interference campaign.
Let me spin an alternative hypothesis, though, and suggest that, rather than being the primary goal of the Russian operation, the idea of assisting Trump was to a large extent simply a method to the overall goal of the operation which was, as it appears to be this time around, to utilize existing partisan and cultural discord to create a chaotic political system inside the United States. Under this theory, it's still possible to accept the idea that the Russians chose to back Donald Trump, but that they did so not primarily because they thought putting Trump in office would benefit them (although it most certainly has) but because backing him was a means to the end of their primary goal of sowing chaos inside the United States. As I noted back in August, the evidence in favor of this proposition is quite strong:
The evidence for this hypothesis is all around us, and it explains much of what happened over the course of the past three years or more in a far more logical way than the search for some compromising material that Putin may or may not have on Trump. The biggest indictments to date in the Russia investigation have been those handed down in February against thirteen Russian individuals and a number of companies linked to the Russian government and the second set of indictments handed down last month against a dozen members of the Russian GRU, which is Russia's military intelligence unit. The facts alleged in these indictments make clear that the planning for the interference we know occurred in 2016 began long before Donald Trump entered the race for President, making it clear that the plan to interfere in the election was at least not initially tied to Trump's candidacy. Instead, it appears that the entities carrying the operation out latched on to Trump's campaign and the populist forces that gathered around it to assist in the achievement of their goal, which appears to have been to exploit the hyperpartisanship that has developed in American politics thanks largely to the rise of the Tea Party.

Judged by this standard, of course, Putin's plan has arguably been more successful than he probably thought it would be. The past eighteen months have seen partisanship in the United States become even more bitter and divisive than it was during the Obama Era, and given the wide disparity between the way that Democrats and Independents judge the President's performance on the job compared to Republicans, that's only likely to continue. Indeed, public opinion on the Russia investigation itself is becoming ever more sharply divided to the point where it's clear that most Republicans simply won't accept Special Counsel Mueller's conclusions no matter how much evidence there might be to support it. This will just mean more hyperpartisanship, and more division, as we head into the 2018 midterms and, beyond that, the 2020 Presidential election. Given that, one could say that Putin has already succeeded even if there is no further interference in our electoral process.
As this arrest reveals, it appears that the Russians considered the 2016 interference campaign and that they will continue to exploit our own hyperpartisan divide as long as we let them.
Here is the Criminal Complaint:
United States v. Khusyaynov… by on Scribd