Samantha Power: Patriot's Nightmare?
The re-emergence of Obama foreign policy advisor Samantha Power to prominence has brought critics to the forefront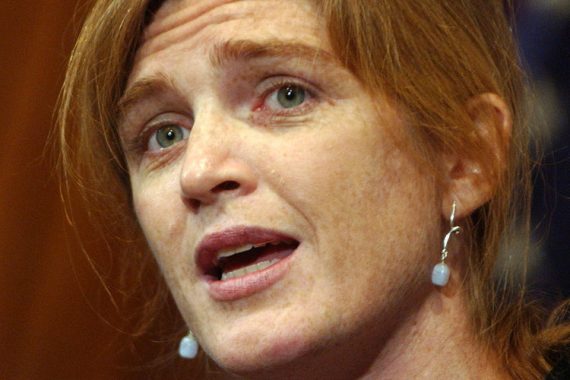 The re-emergence of Obama foreign policy advisor Samantha Power to prominence has brought critics to the forefront. NRO's Stanley Kurtz is positively aghast at "Samantha Power's Power."
A member of the president's National Security Council who shares Noam Chomsky's foreign-policy goals? An influential presidential adviser whom 1960s revolutionary Tom Hayden treats as a fellow radical? A White House official who wrote a book aiming to turn an anti-American, anti-Israel, Marxist-inspired, world-government-loving United Nations bureaucrat into a popular hero? Samantha Power, senior director of multilateral affairs for the National Security Council and perhaps the principal architect of our current intervention in Libya, is all of these things.

These scary-sounding tidbits might be dismissed as isolated "gotchas." Unfortunately, when we view these radical outcroppings in the full sweep of her life's work, Samantha Power emerges as a patriot's nightmare — a woman determined to subordinate America's national sovereignty to an international order largely controlled by leftist bureaucrats. Superficially, Power's chief concern is to put a stop to genocide and "crimes against humanity." More deeply, her goal is to use our shared horror at the worst that human beings can do in order to institute an ever-broadening regime of redistributive transnational governance.

Knowing what Samantha Power wants reveals a great deal about Barack Obama's own ideological commitments. It's not just a question of whether he shares Power's long-term internationalist goals, although it's highly likely that he does. Power's thinking also represents a bridge of sorts between Obama's domestic- and foreign-policy aspirations. Beyond that, Power embodies a style of pragmatic radicalism that Obama shares. Both Obama and Power are skilled at placing their ultimate ideological goals just out of sight, behind a screen of practical problem-solving.
But Powers is hardly a secret force. She was Obama's chief foreign policy advisor during the early part of his presidential campaign–until she was forced to resign after calling Hillary Clinton "a monster" for her win-at-all-costs approach to the race. Nor are Powers' views on humanitarian intervention subterranean: she published them in a 2003 book called A Problem From Hell: America and the Age of Genocide, which won numerous awards, including a Pulitizer Prize. Her second book, a 2008 release on UN High Commissioner for Human Rights Sergio Vieira, was made into a documentary. If this is a subtle ploy at placing her goals "just out of sight," it's failing miserably.
Is she a radical? Unquestionably, at least by the standards of America's foreign policy elite. If it were her call, America would be engaged in countless conflicts around the world doing good.
But she's actually not in charge–just one of many diverse voices in an administration that famously assembled a "team of rivals" rather than an ideologically coherent group. The she–in conjunction with several others in the administration–managed to slowly persuade Obama to intervene in Libya is, in my judgment, regrettable. But it's worth pointing out that Obama decided the other way in Sierra Leone, Yemen, Ivory Coast, Egypt, Bahrain, and numerous other places where Powers' principles could arguably demand humanitarian intervention.
Additionally, it's worth pointing out that Libya was the only one of those conflicts where John McCain, Joe Lieberman, John Kerry, and other prominent leaders from both parties were demanding intervention. And the only one where regional actors and major allies called for action. There's no question in my mind, then, that President McCain would have intervened in Libya had things been different in 2008. For that matter, so would President Hillary Clinton.
Does she "share Noam Chomsky's foreign policy goals"? Well, Chomsky actually denounced A Problem From Hell for being too soft on America's support for nasty regimes around the world, and thus what he viewed as our culpability in atrocities.
I'm not sure why I should still care about Tom Hayden, whose heyday took place when I was still in diapers, but the basis for the claim the he considers Power "a fellow radical" is presumably a recent piece in The Nation ("Samantha Power Goes To War") in which he asserts, "Over a long conversation with Power in December 2003, I was struck by the generational factor in her thinking. If she had experienced Vietnam in her early twenties, I felt, she would have joined the radical left, suspicious always of American power. But as an Irish internationalist witnessing death and destruction in the former Yugoslavia, she wondered how the United States could be neutral."
But if we're citing Hayden as an authority, he debunks Kurtz' darker assertions a few paragraphs later:
Perhaps the greatest problem in Power's worldview is an elitism that scorns domestic policy and politics, the very domain where she believes the crusade to stop genocide is so often "lost." Anyone primarily concerned with domestic priorities, in her view,must be an isolationist and thus an obstacle to the global struggle for human rights. One can't imagine Power worrying very much about, say, rent subsidies or pension funds.
Is Powers unpatriotic, let alone a "patriot's nightmare"? I've met her only briefly and haven't read enough of her work to peer into her heart. But I've certainly seen no evidence that she doesn't love her adopted country (she was born in Ireland). She could, after all, live anywhere she wanted and has chosen to be in the United States, where she's raising a son with husband Cass Sunstein.
Her international relations worldview, in a nutshell, is that states are not entitled to have their sovereignty respected when they're not living up to minimal human rights standards promulgated by the United States and a handful of other developed nations. The notion that the United Nations and its "leftist bureaucrats" could impose its will on the United States is absurd on a number of levels. Not only is it chiefly American values that it's seeking to promote but it's American money and military capability that allows it to function. As President Dave Chappelle aptly noted some years back, the UN lacks an army.
As my colleague Dave Schuler–who reluctantly voted for Obama in the end–observed at the time of the "monster" hubbub, "I do think that the loose lips of Obama's advisors, first economic advisor Austan Goolsbee and now foreign policy advisor Ms. Power, suggest an immaturity in judgment that should give us pause. They may know everything there is to know about economics and foreign policy. Do they have the maturity and judgment to render sound advice?" It's a concern that bore itself out, at least in the opening months of the administration.
I by no means share Powers' foreign policy vision. It's an extreme if logical extension of the liberal internationalism that has dominated Democratic international relations thinking since the Clinton Administration and one of a shrinking set of reasons that I vote Republican. (Of course, it's more than somewhat undermined by the recent domination of my party by neoconservatives, who manage to find just as many reasons to go to war.)
Does Obama secretly want to be more Powersesque in his policies? Who knows? But he rather clearly hasn't been. Again, he's apparently not given more than passing consideration to intervening in any number of ongoing humanitarian crises aside from Libya, where a bipartisan and international elite consensus for action existed.