Same-Sex Marriage On Track To Be Approved By Voters In Up To Four States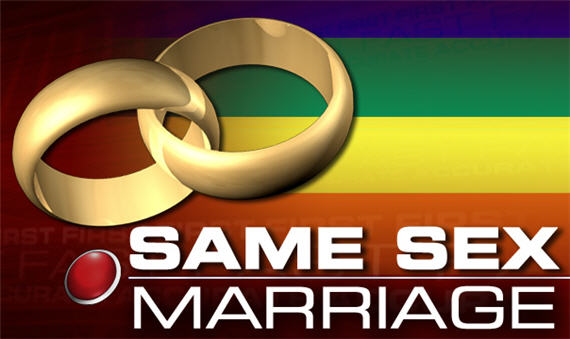 NBC News reports that voters facing the choice at the ballot box seem likely to endorse same-sex marriage:
After losing some 30 ballots on same-sex marriage across the country over the past decade, advocates of lesbian and gay couples are encouraged by polls showing they have a good chance of finally logging their first victory in a statewide popular vote.

Polls show majorities back same-sex marriage in Maryland, Washington and Maine, and they indicate a tight battle in Minnesota – the four states holding votes on the issue in November.

We're feeling positive. The reality is, we haven't won a ballot measure on marriage yet," said Sarah Warbelow, state legislative director for the Human Rights Campaign, an advocacy group for gay, lesbian, bisexual and transgender rights. "I think it's very reasonable and realistic to expect that we'll win one or more of these ballot measures; certainly the polling suggests that all four are … a possibility."

Polling ahead of such ballots has not always accurately captured voters' sentiment: In California in 2008, the same-sex marriage camp had a majority, though the ban on gay and lesbian marriage ultimately prevailed. In North Carolina, polls had predicted a closer race in the May ballot on the constitutional amendment (a 16-point difference, according to Public Policy Polling at the time), but the anti-gay marriage camp won by more than 20 points.
The memory of what happened with Proposition 8 is reason enough to doubt these polls, especially since that vote took place at the same time that an overwhelming number of Californians voted to elect Barack Obama.  Times have changed since then, of course. Proposition 8 has suffered two defeats in the Courts, public polling has indicated increased support for same-sex marriage, and there have been several additional victories for the cause at the state legislative level in states such as New York and New Hampshire. So, there's a possibility that things could be different this time, especially when you look at the polls:
— In Maine, 53 percent said they will vote to back the initiative to institute gay marriage, compared to 44 percent who are opposed, according to Public Policy Polling (PPP), a firm that works for Democratic candidates and progressive causes. The mid-September poll was not paid for or authorized by any campaign or political organization. The margin of error was plus or minus 3.5 percent.

— In Maryland, 54 percent said they'll back the state law that was passed by the legislature earlier this year, compared to 40 percent who are opposed, according to Hart Research Associates, which conducted the July 24-28 poll for Marylanders for Marriage Equality. The margin of error was plus or minus 4.5 percent.

— In Minnesota, the vote was a virtual tie, according to Public Policy Polling's Sept. 10-11 poll, which had 48 percent supporting the amendment to ban gay marriage, 47 percent opposed and 5 percent undecided. The poll was not paid for or authorized by any campaign or political organization. The margin of error for the overall survey was  plus or minus 3.4 percent.

— In Washington, 56 percent of voters think the law legalizing same-sex marriage should be upheld, while 38 percent think it should be overturned, and 6 percent are not sure, according to a Sept. 7-9 SurveyUSA poll for KING-5 News in Seattle. The margin of error was plus or minor 4.3 percent.
How this turns out will have to wait for the voters, but the odds that we'll see voters approve same-sex marriage in at least one, and possibly more, of these four states seems pretty good. If that happens, the last argument of the opponents of same-sex marriage will have been proven wrong.