Sandwich Shop Workers Forced To Sign Non-Compete Agreements
A national sandwich chain makes its employees sign a very restrictive covenant not to compete. It's probably not enforceable.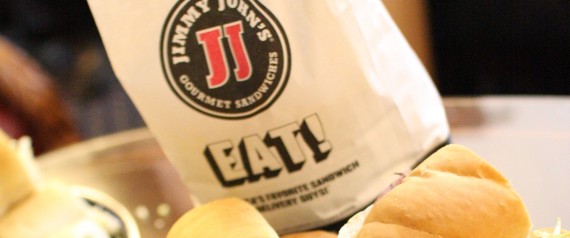 Jimmy John's a sandwich chain that I can honestly say I'd never heard of before, but which has some 2,000 locations throughout the United States, including several not too far from where I live, is in the news thanks to a story regarding a contract it requires all employees to sign that purports to restrict their ability to work for competitors for a period of two years:
If you're considering working at a Jimmy John's sandwich shop, you may want to read the fine print on your job application.

A Jimmy John's employment agreement provided to The Huffington Post includes a "non-competition" clause that's surprising in its breadth. Noncompete agreements are typically reserved for managers or employees who could clearly exploit a business's inside information by jumping to a competitor. But at Jimmy John's, the agreement apparently applies to low-wage sandwich makers and delivery drivers, too.

By signing the covenant, the worker agrees not to work at one of the sandwich chain's competitors for a period of two years following employment at Jimmy John's. But the company's definition of a "competitor" goes far beyond the Subways and Potbellys of the world. It encompasses any business that's near a Jimmy John's location and that derives a mere 10 percent of its revenue from sandwiches.

(…)

The noncompete agreement is now part of a proposed class-action lawsuit filed this summer against Jimmy John's and one of its franchisees. As HuffPost reported in August, Jimmy John's workers recently brought two lawsuits accusing the company of engaging in wage theft by forcing employees to work off the clock.

Last month, the workers filing one of those suits amended their initial federal complaint to argue that the noncompete agreement is overly broad and "oppressive" to employees. (Another Jimmy John's franchisee included the same noncompete language in a hiring packet posted online, but that packet was apparently pulled from the web after this story was published.)

Kathleen Chavez, the lawyer handling the case, told HuffPost in an email that her two clients named in the complaint were required to sign the agreement as a condition of employment; one is an assistant store manager, the other a former delivery driver and assistant store manager. Chavez argued that, if enforced, the clause would dramatically limit the places a worker could earn a paycheck following a stint at Jimmy John's.

Chavez said the effective blackout area for a former Jimmy John's worker would cover 6,000 square miles in 44 states and the District of Columbia. Founded in 1983, the college-town staple now has more than 2,000 locations.

"It is disturbing this document is being used and it is our position that it has broad impact on thousands of employees," said Chavez, who is a lawyer with the Chicago firm Foote, Mielke, Chavez & O'Neil.

Chavez used the example of a student who works at a Jimmy John's in Illinois during high school. Once he leaves for college at the University of Alabama, he has been foreclosed from working just about anywhere in Tuscaloosa that serves a decent share of sandwiches — including, in theory, the school cafeteria — because most of those places fall within three miles of a Jimmy John's.
The relevant agreement is embedded below, and here's the relevant part of the  non-compete clause that's at issue:
Employee covenants and agrees that, during his or her employment with the Employer and for a period of two (2) years after either the date of termination of his or her employment for any reason, whether voluntary or involuntary and whether by Employer or Employee, or the date on which Employee begins to comply with this Paragraph, whichever is later,  he or she will not have any direct or indirect interest in or perform services for (whether as owner, partner, investor, director, officer, representative, manager, employee, principal, agent, advisor, or consultant)  any business which derives more than ten percent (10%) of its revenue from selling submarine, hero-type, deli-style, pita and/or wrapped or rolled sandwiches and which is located with three (3) miles of either [the Jimmy John's location in question] or any (2) such other Jimmy John's Sandwich Shop
As it turns out, these agreements seem to be becoming more common in areas where they weren't previously used. In a New York Times article in June, Steven Greenhouse detailed such agreements being used with respect to everything from camp counselors to hair stylists, for example. Writing in reaction to the Jimmy John's story, Neil Irwin classifies these agreements as another example of employers seeking to place restrictions on employees. However, it's worth understanding that these agreements really aren't anything new.
Agreements that place some obligation on an employee to refrain from competing against an employer for a specified period and within a certain geographic area are not uncommon. They are used quite frequently, as a matter of fact for employees at the executive and managerial level, as well as for any employee who might have access to trade secrets or business practices that are of value to the employer. They are also used in the sale of small businesses, for example in the sale of a dry cleaner it will commonly be the case that the seller will not open a similar business within a certain geographic area and certain period, the idea there being that part of what is being purchased is the good will of the business that the seller is selling and that the value of that good will would be diluted if the seller were able to open an identical business on the other side of town the day after it sold the old business. There are good legal reasons for these types of agreements in both situations because they encourage employers to employ people in sensitive positions with the assurance that they have some recourse if the employee walks out the door and takes what he or she learned during their employment to a comeptitor, or that a business seller essentially steals customers after selling an ongoing business concern. Because of the potential losses at stake, the damages that a party who violates one of these agreements could face, which are usually set forth in the agreement in my experience, can be quite substantial.
The question of whether or not a non-compete agreement is enforceable, however, is not a simple matter. While the laws vary from state to state, a party seeking to enforce such an agreement in Court must demonstrate that the agreement, including what it bars the allegedly breaching party from doing, the geographic area the agreement is supposed to cover, and the time period that the agreement is in effect, are reasonable and necessary to protect the interests of the party seeking enforcement. That's a question that is largely going to depend on the specific facts of the case, of course. For example, a non-compete agreement that covers an executive or someone who was involved in highly technical work for their employer will probably interpreted quite broadly, while one that covers a lower-level employee will not be. Additionally, courts typically scrutinize the geographic and time restrictions that any of these agreements contain and toss out those that are unreasonably broad to the point where they would make it hard for someone to find gainful employment in their field, or open a new business, within a wide area over a long period of time.
Keeping all of that in mind, it strikes me that it would be very difficult indeed for Jimmy John's, or indeed any employer, to enforce this type of agreement against people whose job basically just involves making sandwiches during the day. In order to do that, they would have to establish that the employees in question were in possession to trade secrets or business practices that would do damage to the company if it were to fall into the hands of competitors. While it might be quite easy to establish how that might be the case with respect to employees at the managerial level and higher, it's hard to see how it could be establish with these lower-level employees. Moreover, even if you could establish that, the restrictions that the agreement puts in place, in this case, one that draws a three mile circle around all 2,000+ Jimmy John's locations in the nation that lasts for a period of two years would strike me as being entirely unreasonable for those lower-level workers. Based on how I have seen these agreements handled over the years, I'd be surprised to see such an agreement upheld in such circumstances. Beyond that point, though, one has to wonder if Jimmy John's, and other employers that use agreements like this, will consider the value of their public reputation against whatever benefit there might be to them in suing a guy who used to make sandwiches for them who just wants to work someplace else now.
Photo via The Huffington Post and Flickr user arvind grover
Here's the Employment Agreement: