Sarah Palin To Continue Trying To Fool Her Supporters Until November, Apparently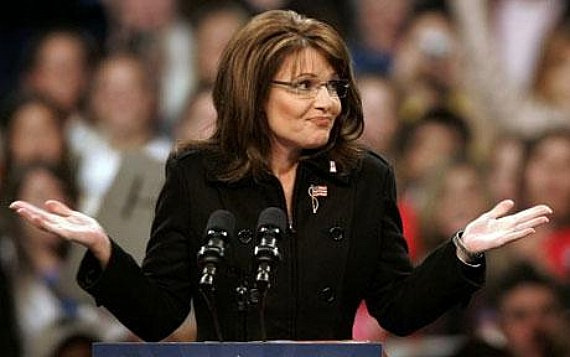 When she made her way to Ames, Iowa in advance of the Iowa Straw Poll, Sarah Palin seemed to make it clear that she recognized that she'd have to announce her intentions by the end of this month:
Former Alaska Gov. Sarah Palin (R) said her decision on whether to run for president is due "in short order," likely meaning no later than the end of September.

(…)

"We're still talking about it, thinking about it. And that's what I want supporters to understand. At the same time, I want to be very fair to supporters and not keep them hanging on in perpetuity," Palin told David Brody of the Christian Broadcasting Network. "It's fair to them to give them an answer here, in short order, so that they can jump on board with someone else."

Asked whether "short order" meant by the end of September, she said: "I think that that is a fair timeline for people, because fall time, they can start getting engaged with different campaigns, but still thinking about it, and really, really desiring to be a participant in the positive change that needs to happen in this country."
Well that deadline is a mere ten days away, but last night she hinted to Sean Hannity that she'll make a decision by November:
"There is still time, Sean, and I think on both sides of the aisle you're going to see people coming and going from this race," she said. "In the Republican race, in this primary, I think people are still going to be coming and going because there is still time. And I'm still one of those still considering the time factor."

Hannity asked if her if she didn't need to make a decision by November.

Her response: "You do, legally you do, because you have start getting your ducks lined up to have your name on these ballots."

She added: "This is going to be such an unconventional election cycle. … Mark my word, it is going to be an unconventional type of election process."
So unconventional that she's basically talking about jumping into the race a week before the filing deadlines for early primaries start to kick in. Yea, that's really going to happen. This should confirm once and for all that Palin has been playing a game with her supporters, and the media, all along. She knows she's not running for President, but she also knows that the minute she says so her value as a media star plummets to  a point it may never recover from, especially if the GOP ends up winning the White House in 2012. So, she's stringing everyone along, though at this point it seems like it's only the die hard Palinistas who are still buying into the charade.
Today, those same Palinistas are touting a Marist poll purporting to show Palin within 5 points of the President in a head-to-head match. Even if you buy those numbers, though, there's another part of the poll that shows the Republicans who purport to love her so much don't want her to run for President:
Nearly three quarters of Republicans and Republican-leaning independents do not want Sarah Palin to run for president, according to the latest McClatchy-Marist poll.

A full 72 percent of potential GOP primary voters said they did not want Palin to enter the race. Only 24 percent said they hoped she would run.

If Palin were to run, she'd win support from 13 percent of GOP primary voters, which is not a bad conversion rate among the voters who are interested in her candidacy. But that's a relatively small group to draw from.

The result lines up with earlier polling — conducted by Pew — that found 41 percent of Republicans would not consider voting for Palin in a presidential election.
The Palin magic, it seems, is no more.