Saudi Arabia Building Ballistic Missiles with Chinese Help
Our ostensibly ally is working with our chief adversary against our interests.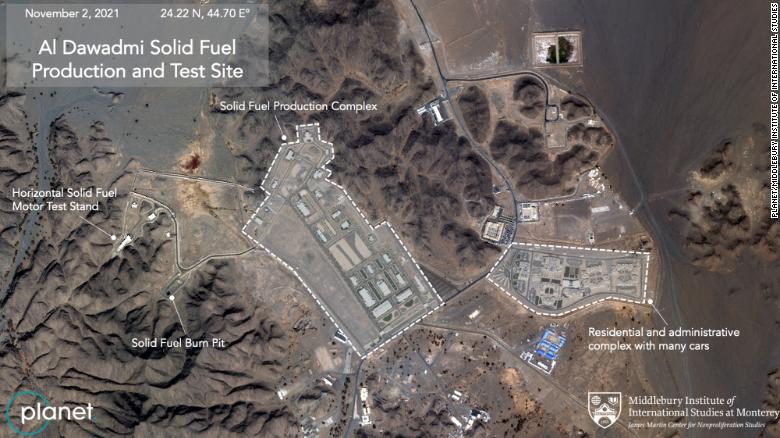 CNN ("CNN Exclusive: US intel and satellite images show Saudi Arabia is now building its own ballistic missiles with help of China"):
US intelligence agencies have assessed that Saudi Arabia is now actively manufacturing its own ballistic missiles with the help of China, CNN has learned, a development that could have significant ripple effects across the Middle East and complicate the Biden administration's efforts to restrain the nuclear ambitions of Iran, the Saudis' top regional rival.

Saudi Arabia is known to have purchased ballistic missiles from China in the past but has never been able to build its own — until now, according to three sources familiar with the latest intelligence. Satellite images obtained by CNN also suggest the Kingdom is currently manufacturing the weapons in at least one location.

US officials at numerous agencies, including the National Security Council at the White House, have been briefed in recent months on classified intelligence revealing multiple large-scale transfers of sensitive ballistic missile technology between China and Saudi Arabia, according to two sources familiar with the latest assessments.

The Biden administration is now confronted with increasingly urgent questions about whether Saudi's ballistic missile advancements could dramatically change regional power dynamics and complicate efforts to expand the terms of a nuclear deal with Iran to include restraints on its own missile technology — a goal shared by the US, Europe, Israel and Gulf countries.

Iran and Saudi Arabia are bitter enemies and it is unlikely Tehran will agree to stop making ballistic missiles if Saudi Arabia has begun manufacturing its own.

"While significant attention has been focused on Iran's large ballistic missile program, Saudi Arabia's development and now production of ballistic missiles has not received the same level of scrutiny," Jeffrey Lewis, a weapons expert and professor at the Middlebury Institute of International Studies, told CNN." The domestic production of ballistic missiles by Saudi Arabia suggests that any diplomatic effort to control missile proliferation would need to involve other regional actors, like Saudi Arabia and Israel, that produce their own ballistic missiles," Lewis added.
That Saudi Arabia has assessed that it makes sense to have its own arsenal is not unreasonable given the near-certainty that its chief enemy will become a nuclear power. Still, this complicates US and international efforts to contain the spread of nuclear weapons and will further destabilize the region.
While the Kingdom's dominance of OPEC and willingness to play ball on oil pricing made them an important partner for decades, our move to energy self-reliance and their support of international terrorism and spread of hateful ideology has changed the equation. It's long past time to acknowledge that Saudi Arabia is an ally in name only and is actively working against our interests.