The Forever War Isn't Over By a Long Shot
We may be out of Afghanistan but the 'war on terror' is likely to continue indefinitely.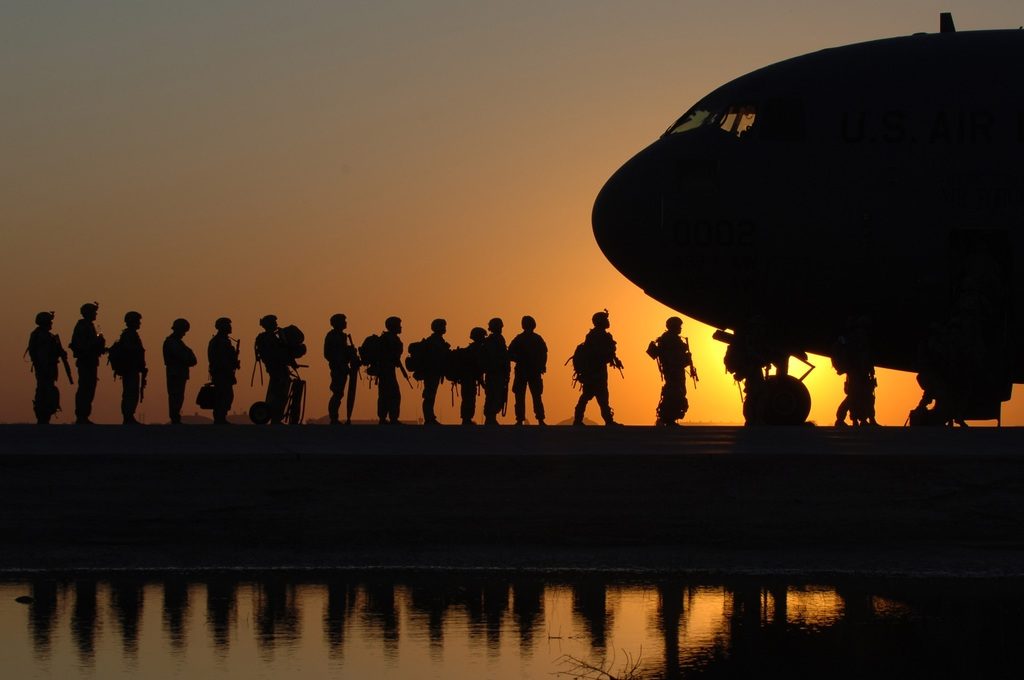 In "The Forever War is Dead. Long Live the Forever War," Defense One executive editor Kevin Baron argues that President Biden in continuing in
Deep into the commander in chief's Tuesday speech to declare the end of the Afghanistan war—yet again—Biden also slipped in yet another recommittal of American forces to fighting terrorists in Afghanistan and anywhere else on Earth that leaders desire as part of the one forever war that matters most: the global war on terrorism.

Far from ending "forever wars;" the president vowed to perpetuate them. The global war on terrorism now belongs to Joe Biden.
How so?
"Last night in Kabul, the United States ended 20 years of war in Afghanistan—the longest war in American history," Biden said on Tuesday. A few minutes later, he said, "We will maintain the fight against terrorism in Afghanistan and other countries." 

This doubletalk is maddening. American political leaders are stuck in a loop of dishonesty about the U.S. military's interventions and missions around the globe. The lines they are feeding voters from the campaign trail to the White House too often are lies of political opportunity. Pledges to end wars flow from their lips like promises of water just over the desert horizon. Yet in the next breath they pledge to be tough on terror, to send U.S. troops to serve, fight, and die fighting terrorists and extremist movements in foreign countries—even ones, like Afghanistan, where we lack the government's permission.

This rhetorical dance was maddening when Donald Trump campaigned and governed with it, and it's equally maddening when it comes from a foreign-policy veteran and lifelong leader like Biden. The fact is, the current president is as guilty as his predecessor in promising to end the forever war era, when in fact, nearly all of its conflicts have continued, will continue, and should continue in some form in perpetuity, as long as others threaten the security of the United States and its allies.
Now, one can argue about whether they should continue. It's not at all obvious that America's military-first approach to terrorism has made us safer. But, almost certainly, they will continue. It's practically baked in at this point. Democratic Presidents, in particular, are worried about "looking weak" if they don't use deadly force against our enemies.
Regardless, Baron is right here:
The unwillingness of politicians to tell the truth about the purpose, necessity, and reality of sending Americans overseas to fight has backfired. Instead of an electorate honestly educated about  national-security policy directions, our body politic is too often misled than led. And it feeds what many bipartisan national security leaders identify as our greatest national security threat of all: America's partisan divide.  
He points to polling data showing that Americans both don't much care about these issues and tend to go along with whatever the leader of their preferred party says, which he concludes means that the public can be persuaded of the necessity for keeping the war on terror going indefinitely if our leaders would simply lead. He's considerably more bullish on what we achieved in Afghanistan and the War on Terrorism than I am. But we agree that the last several Presidents have been less than forthright about the commitment.
Oddly, for all his cherry-picking of evidence and misdirection in leading us into the Iraq invasion, George W. Bush was the most candid about the length of the commitment. As Gabriel Rubin documents, "From the outset, George W. Bush sought to link terrorists to a worldwide conspiracy and emphasized repeatedly that the war on terror would be a long one." Even as late as his 2006 State of the Union address, he declared, "Our own generation is in a long war against a determined enemy — a war that will be fought by Presidents of both parties, who will need steady bipartisan support from the Congress."
Barack Obama campaigned on getting us out of Iraq and, while he took great criticism for executing Bush's already-negotiated timetable for exit, he mostly managed to do so. (We returned in the counter-ISIL fight that was, arguably, a direct result of the 2003 invasion.) But he not only surged in Afghanistan he vastly expanded the scope of the drone campaign in Pakistan, Yemen, and elsewhere while also sending special operations forces into countless countries precisely because they operate largely off of the public's radar screen.
Trump had no obviously coherent policy but allowed the military brass nearly unfettered ability to continue this campaign. And there's every indication thus far that Biden will follow suit.