A U.S.-Saudi Rift, Or Just A Saudi Temper Tantrum?
Relations between the U.S. and Saudi Arabia seem to have soured in recent years.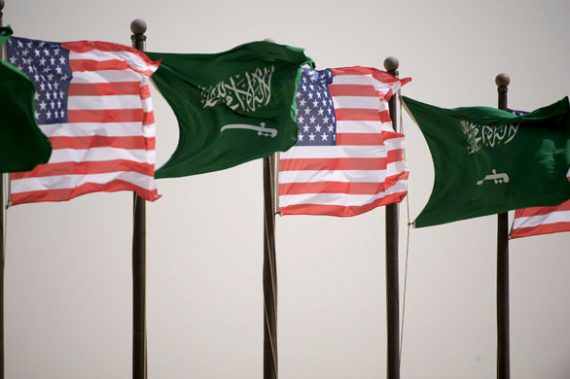 The United States and Saudi Arabia have had a close relationship virtually ever since Abdul-Aziz bin Saud united what had been a nation of often warring tribes on the Arabian Peninsula into one nation under his control in 1932. That alliance was further cemented after vast oil deposits were discovered in 1938, and even more so during the Cold War and the years that have seen the rise of Middle Eastern strongmen like Saddam Hussein, the rise of revolutionary regimes like the Islamic Republic of Iran, and the threat posed by groups like al Qaeda. It's always been very much a matter of convenience, of course. The Saudis needed, and still need, U.S. military protection as well as the international prestige that having a close relationship with the United States brings. The United States needs, of course, the Saudi oil supplies, not only for our own consumption but because of their impact on the world's oil markets. At the same time, though, both parties have always seemed to agree to look the other way when it came to other issue. The Saudis when it comes to the U.S.'s close relationship with Israel, for example, and the U.S. when it comes to the often appalling human rights conditions inside the Kingdom, especially where it concerns the rights of women, foreigners, and non -Muslims.
Recently, though, things seem to have changed. As I noted just last week, the Saudis turned down an invitation for one of the rotating seats on the United Nations Security Council despite having spent the better part of a year lobbying for that seat. Now, two highly prominent members of the Royal Family have been made statements that many have interpreted as indicating a growing rift between the two nations based on issues ranging from America's lack of response to the situation in Syria, where the Saudis are among those nations supporting the rebels, to Iran, where there have been recent efforts to reestablish ties as a manner of making progress in stalled nuclear weapons talks.
For example, consider these comments from Prince Bandar Bin Sultan al-Saud, who had served as Saudi Amassador to the United States for 22 years before returning home in 2005:
RIYADH, Saudi Arabia—Saudi Arabia's intelligence chief told European diplomats this weekend that he plans to scale back cooperating with the U.S. to arm and train Syrian rebels in protest of Washington's policy in the region, participants in the meeting said.

Prince Bandar Bin Sultan al-Saud's move increases tensions in a growing dispute between the U.S. and one of its closest Arab allies over Syria, Iran and Egypt policies. It follows Saudi Arabia's surprise decision on Friday to renounce a seat on the United Nations Security Council.

The Saudi government, after preparing and campaigning for the seat for a year, cited what it said was the council's ineffectiveness in resolving the Israeli-Palestinian and Syrian conflicts.

Diplomats here said Prince Bandar, who is leading the kingdom's efforts to fund, train and arm rebels fighting Syrian President Bashar al-Assad, invited a Western diplomat to the Saudi Red Sea city of Jeddah over the weekend to voice Riyadh's frustration with the Obama administration and its regional policies, including the decision not to bomb Syria in response to its alleged use of chemical weapons in August.

"This was a message for the U.S., not the U.N.," Prince Bandar was quoted by diplomats as specifying of Saudi Arabia's decision to walk away from the Security Council membership.

Top decisions in Saudi Arabia come from the king, Abdullah bin Abdulaziz al Saud, and it isn't known if Prince Bandar's reported remarks reflected a decision by the monarch, or an effort by Prince Bandar to influence the king. However, the diplomats said, Prince Bandar told them he intends to roll back a partnership with the U.S. in which the Central Intelligence Agency and other nations' security bodies have covertly helped train Syrian rebels to fight Mr. Assad, Prince Bandar said, according to the diplomats. Saudi Arabia would work with other allies instead in tAndhat effort, including Jordan and France, the prince was quoted as saying.

U.S. officials said they interpreted Prince Bandar's message to the Western diplomat as an expression of discontent designed to push the U.S. in a different direction. "Obviously he wants us to do more," said a senior U.S. official.
Shortly after this, Prince Turki Al-Faisal Al-Saud, who served as the head of the Saudi intelligence service for nearly twenty-five years seemed to communicate Saudi displeasure with the U.S. over both Syria and Iran:
WASHINGTON — Prince Turki Al-Faisal Al-Saud, chairman of the King Faisal Center for Research and Islamic Studies and former director-general of the Kingdom's General Intelligence Directorate, said on Tuesday, Oct. 22, 'There is definitely, from a public opinion point of view in the Kingdom, a high level of disappointment in the US government's dealings, not just with Palestine, but equally with Syria."

Speaking with Al-Monitor after delivering the luncheon keynote address at the annual Arab-US Policymakers Conference of the National Council on US-Arab Relations, Prince Turki said the Syrian opposition "should not be treated the way that the US has treated them."

(…)

On Iran, Prince Turki said, "It is up to the Iranians to show that their sweet and sensible talk is going to be translated into action, "  adding, "when and if that happens then there is a chance for the situation between, not just the Kingdom and Iran, but also between Iran and the rest of the world to improve."

Prince Turki added that the kingdom has been direct in its dealings with Iran about the issues of tension between the two countries, telling its officials, "You can't have it both ways. You can't deal with us and then go and support somebody who wants to overturn us. And this is what they've been doing in Lebanon, this is what they've been doing in Syria, this is what they're doing in Bahrain, and what they're doing in Iraq etc., so this is how we deal with Iran."
Other news outlets have picked up similar reports of supposed Saudi warnings to the U.S. about the impact our policies in Syrian and towards Iran could have on the relationship while in typical diplomatic-speak, the U.S. Secretary of State maintains that our ties with the Kingdown remain close.
Trying to figure out what's going on in a nation as inscrutable at times as Saudi Arabia is never an easy thing, and I'll hardly count myself and expert on the subject. Sometimes, it seems hard to figure out if things that are being said publicly by Saudi officials represent the officials position of the King, and thus government policies, or efforts by them and other disparate forces to try to influence policy in a direction they would prefer. Not surprisingly, then, there are as many theories about what's going on as there seem to be people who call them Saudi experts. The Telegraph's Chief Foreign Correspondent David Blair, for example, that Iran is what lies at the core of the current grumbling coming out of Riyadh:
[W]hen the presidents of Iran and the US start to talk – and when their diplomats hold, by all accounts, not only productive but good-humoured discussions in Geneva – Saudi Arabia starts to get very worried indeed. King Abdullah's overriding concern is that America and Iran will reach an accommodation on terms that would sacrifice his own country's security interests. In particular, he fears an agreement on the nuclear issue that would leave Iran with the capacity to enrich uranium – the essential technology that could be used to make a nuclear weapon.

America, far away and protected by the oceans, can afford to take a more measured view of the supposed threat from Iran. Saudi Arabia, located across the waters of the Gulf from a neighbour it views with visceral suspicion, cannot afford to be so sanguine.

(…)

Saudi Arabia's core concern is Iran's nuclear programme – and if an agreement on this subject is reached at all, it will have to be within a year or so. Hence the kingdom's worry. The ground beneath King Abdullah's feet is starting to move.
t The Washington Post, Max Fisher cites a number of factors that have contributed to the current state of U.S.-Saudi relations, including many that have little to do with Iran or Syria:
(1) Egypt: At odds. Saudi Arabia strongly opposed the Islamist government of Mohamed Morsi and supported the July military coup. The U.S. tepidly supported Morsi and opposed the coup. This August, Saudi Arabia announced that it would replace any foreign aid to Egypt that got cut – a not-so-subtle jab at the U.S., which did later cut military aid to Cairo. Saudi Arabia would seem to be actively undermining U.S. policy in Egypt.

(…)

(5) Afghanistan: Declining cooperation. The U.S. and Saudi Arabia have worked together on Afghanistan since the 1979 Soviet invasion; they did so again after the Taliban's 2001 ouster and U.S.-led invasion. Once U.S. troops withdraw next year, they will have less reason to work together on Afghan issues. But they will still share an interest in curbing the Taliban and al-Qaeda there, so will likely continue sharing intelligence and counterterrorism work.

(6) Oil: Declining cooperation. As the U.S. starts to produce more of its own energy resources and import less from the Middle East, it has less  interest in Saudi oil. And Saudi Arabia is selling more of its oil to China, which just became the world's largest net importer. Still, oil prices are set on a global market, so as a net importer, the U.S. would like to see Saudi oil continue to flow.
Fisher cites other areas, such as the ongoing war against al-Qaeda and the interventions that have made against al=Qaeda elements in Yemen as areas where the U.S.-Saudi relationship remains at a "status quo" level, and argues that we're unlikely to see a real breach any time soon. As for how to repair things, David Ingatius thinks its time for some one-on-one contact with the King:
"Somebody needs to get on an airplane right now and go see the king," said a former top U.S. official who knows the Saudis well. The Saudi king is "very tribal," in his outlook, this official noted, and in his mind, "your word is your bond." It's that sense of trust that has been damaged in the kingdom's dealings with Obama. One good emissary would be John Brennan, the CIA director, who was station chief in Riyadh in the late 1990s and had a good relationship with the Saudi monarch. Another would be George Tenet, former CIA director, who visited the kingdom often and also developed a trusting relationship with Abdullah.

For much of the past two years,  the closest thing the U.S. had to a back channel with Saudi Arabia was Tom Donilon, the national security adviser until last June. He traveled to the kingdom occasionally to pass private messages to Abdullah; those meetings didn't heal the wounds, but they at least staunched the bleeding. But Susan Rice, Donilon's successor, has not played a similar bridging role.

The administration' lack of communication with the Saudis and other Arab allies is mystifying at a time when the U.S. is exploring new policy initiatives, such as working with the Russians on dismantling chemical weapons in Syria and negotiating a possible nuclear deal with Iran. Those U.S. policy initiatives are sound, in the view of many analysts (including me), but they worry the Saudis and others—making close consultation all the more important.
The Saudis are clearly annoyed with the U.S. right now and they're being very public about it. Perhaps that just means we'll need to send them a few more fighter jets next time.