Will Jamal Khashoggi's Murder Undermine The Saudi Crown Prince? Probably Not.
The investigation of the murder of Jamal Khashoggi is inching closer to Saudi Crown Prince Mohammad bin Salman, but it seems unlikely to impact his hold on power.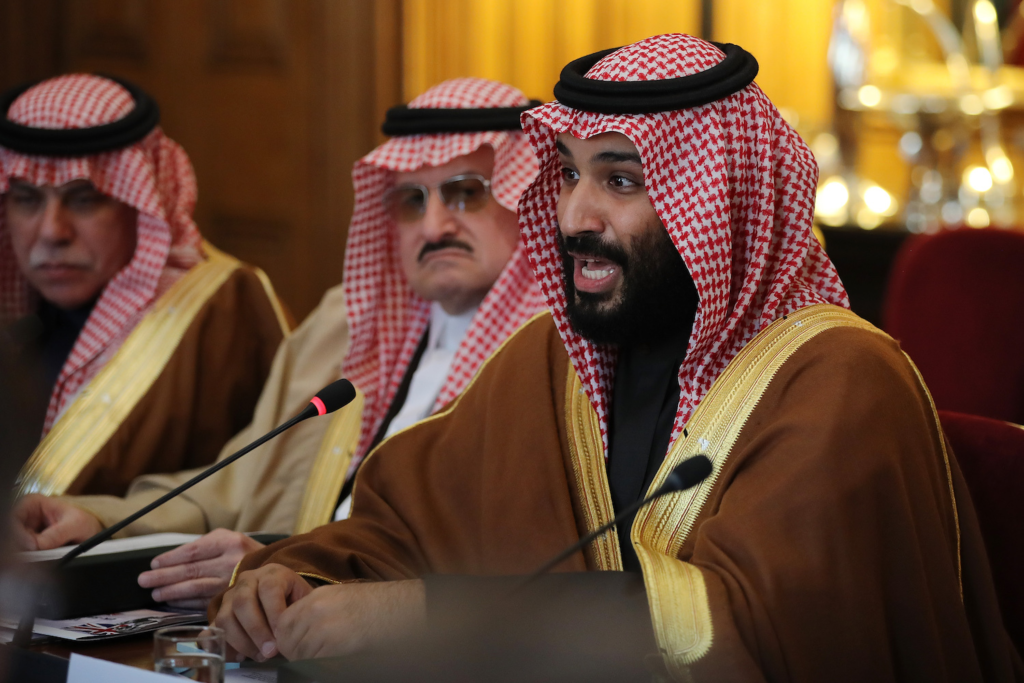 The Saudi Arabian government's cover story regarding the murder nearly one month ago of Saudi dissident, and Washington Post columnist, Jamal Khashoggi has never quite stood up to a test of credibility, and seems clearly designed for the purpose of trying to protect the Saudi royal family in general and Crown Prince Mohammed bin Salman specifically.
At first, the Saudis claimed that Khashoggi had come to the Istanbul as scheduled on October 2nd and left after concluding his business. This was quickly contradicted by both Khashoggi's fiance, who was waiting for him outside the consulate, and by Turkish police surveillance cameras that showed Khashoggi entering the embassy shortly after 1:00 p.m. that day and never showed him leaving. When asked to provide evidence to support their claim, such as surveillance camera footage of their own, to support their claim, the Saudis absurdly claimed that their security cameras were only designed to live-stream video and did not record video. This story quickly fell apart based on the overwhelming evidence that showed that Khashoggi had never left the consulate on October 2nd, and led to increasing international pressure on Riyadh to come clean.
By the time the mystery surrounding Khashoggi's disappearance entered its second week, it was being reported that the Saudis were preparing to put forward the theory that Khashoggi's disappearance was due to an operation by what President Trump described as 'rogue killers' acting without the knowledge or consent of any higher-ranking authorities in the Saudi government. This ridiculous plot was being cooked up at the same time that Turkish authorities had already put forward the seemingly obvious conclusion that Khashoggi had died inside the consulate and revealed certain facts surrounding his death, including the details surrounding the arrival and departure of a team of fifteen Saudis linked to the Crown Prince, military, and intelligence services who allegedly were involved in whatever happened to the Washington Post columnist and Saudi dissident. Among these revelations was the fact that nearly all of the members of the aforementioned fifteen person team, including the alleged leaders, were linked in some way to Saudi Crown Prince Mohammed bin Salman, who is in many ways the de facto leader of the country in place of a father who, according to some reports, may be suffering from the early symptoms of dementia. As I noted at the time, this was an entirely implausible explanation that required one to forget everything we know about how things actually operate in the Kingdom of Saudi Arabia.
Finally, after it was reported last week that they were looking to pin responsibility for Khashoggi's fate on a fall guy, the Saudi's put forward an explanation claiming that Khashoggi's death was the result of an operation that was carried out by people close to the Crown Prince but done entirely without his knowledge or authorization. Most recently, the Saudi Foreign Minister was admitting that the operation that led to Khashoggi's death was premeditated murder rather than some kidnapping plot gone awry. However, he continued to assert that this all happened without the knowledge or consent of either the Crown Prince or his father King Salman. Given the lack of credibility that has attached itself to the Saudi effort to explain what happened to Khashoggi and the facts as we know them independent of the Saudi cover stories, this denial is as difficult to believe as every other explanation the Saudis have given for what happened to Khashoggi.
Slowly but surely, one would think that the Saudi story is inching toward the admission that this was an operation authorized from the top, by the Crown Prince if not the King himself. At that point, the question will be whether the Crown Prince can survive. Toward that end, The New Yorker's Robin Wright puts forward four scenarios regarding Mohammed bin Salman's fate:.
One scenario is that the international furor eventually settles down and M.B.S. remains the crown prince and retains his hold on the country's future. "People who think there's going to be any change in the succession are wrong," Prince Turki al-Faisal, a former chief of Saudi intelligence and a former ambassador to the United States, told David Ignatius of the Washington Post this week. "The more [foreign] criticism there is of the crown prince, the more popular he is in the kingdom."

Before the murder, M.B.S. seemed widely popular among young Saudis, because he provided release valves in the kingdom's rigid social mores—opening movie theatres, allowing women to drive, and reining in the morality police. Opposition often played out over human rights or on sectarian grounds, fuelled by the isolation and repression of the minority Shiite population. Judging public sentiment in Saudi Arabia is difficult, however, as it is one of the most impenetrable societies on earth and has no independent public polling.
Of all the scenarios, this one seems the most likely to me. While democratic sentiment doesn't control who is in power in the royal family, it seems rather apparent that keeping the general Saudi population happy, and wealthy, is one of the factors that the Saud family counts on to keep a hold on power. In that regard, M.B.S., as the Crown Prince has come to be called at home and abroad, is immensely popular within the Kingdom, especially among the young Saudis that are quickly rising up the ranks of Saudi society and who could pose the most serious problem for stability in the Kingdom should the house of cards the Saud family has built begin to show signs of weakness. Additionally, as noted, the international criticism that is being directed at him over the Khashoggi murder seems likely to increase his popularity inside the Kingdom. As long as this remains the case, it's likely that the King is likely to keep his son in place, although recent incidents may cause a delay in purported plans for King Salman to abdicate in favor of his son in the near future.
A second scenario is that M.B.S. is replaced as crown prince. There is precedent for this. Since King Salman came to power, three years ago, he has twice dismissed a crown prince: Prince Muqrin, one of the last of the generation sired by the kingdom's founder, was pushed aside in 2015. Prince Nayef, the former Minister of the Interior and a close U.S. ally on counterterrorism, was forced out in 2017—to make space for M.B.S. Nayef is still under virtual house arrest.

"A lot of senior princes are whispering in the king's ear that it's time for M.B.S. to be moved aside and another son of the king or another member of the family to be put in his place," Bruce Riedel, a former senior U.S. intelligence official, said at a Wilson Center event on Wednesday. "They have to be aware that M.B.S. is the greater danger to the kingdom today."
The likelihood of the King replacing M.B.S. depends largely on whether or not keeping him in place begins to have an adverse impact on the Kingdom whether due to the Khashoggi murder, the status of the war in Yemen, or overall stability in the Kingdom. If the Kingdom is able to ride out all three relatively unscathed, which unfortunately seems likely, then the odds that M.B.S. will be pushed aside seem slim indeed. The only way that this might change is if it begins to appear that M.B.S. has become a liability for the Kingdom internationally to such an extent that it becomes clear that things will not return to normal as long as M.B.S, is in power, especially when it comes to the Kingdom's relationship with close allies such as the United States. In that last regard at least, the fact that M.B,S. continues to maintain an apparently close relationship with both President Trump and Presidential adviser and son-in-law Jared Kushner probably means that, notwithstanding criticism of the regime in Congress and the American media, American support for Saudi Arabia in general and M.B.S. particularly is unlikely to weaken.
The third scenario is that M.B.S.'s hold on power is weakened, possibly by having other princes appointed to take over some of his current positions. "We might see his wings clipped," Gause told me. "Perhaps the appointment of some senior people in new positions—Khalid al Faisal as foreign minister?—to act as guard rails on foreign policy, so he cannot act unilaterally. But things are very fluid." he Saudi academic added, "M.B.S. will have to bow down, to compromise. He can't rule like he did a month ago."

The crown prince may also not be able to ascend to the throne as fast as he hoped. For months, there has been speculation in the region and in Washington that M.B.S. was jockeying for his father to step aside as king and become regent, citing ill health. M.B.S. would then ascend to the throne while his father was still alive. That would make it harder for any opposition within the royal family to emerge, as it might after the king's death. "Khashoggi's death makes that scenario less likely," Gause said. "M.B.S. needs the cover of his father until this dies down."
The odds of the Crown Prince's power being reduced seem to be about the same as the odds that he'll be pushed aside entirely, and to depend largely on whether the King believes that his continued presence and power become liabilities to the Kingdom. Therefore, the observations I made in connection with Wright's second scenario above apply equally here. Unless the King comes to believe that M.B.S. is a liability or the opposition to him within the corridors of Saudi power build up to the point where they start to pressure the King themselves, it's unlikely we'll see his power reduced.
With respect to any plan for the King to step aside in favor of his son, that rumor has been around for some time now but it's unclear how likely it might be. Such a move would be unprecedented in Saudi history, where the Kings have served until death even in situations where it was clear they were in declining health. There have been such rumors about Salman for years, and even rumors about his mental status, but no signs that he's prepared to step aside anytime soon. In any case, at 82 years old Salman has more days behind him than he has in front of him so the odds are that M.B.S., if he stays in power, will become King at some point in the coming decade or so.
The fourth scenario is what happened to Faisal—someone targets him physically. It seems, by far, the least likely. Whatever happens to M.B.S. will have sweeping consequences. It could shape the future of the desert kingdom for many decades; he is only thirty-three. It will influence the immediate Gulf region, notably Saudi Arabia's open-ended war in Yemen on its southern border (launched in 2015) and its blockade of Qatar to the east (started in 2017). Each was a brainchild of the crown prince. His fate will play out in the wider Middle East, too, given Prince Mohammed's heavy-handed foreign policy in Lebanon, Egypt, and Syria. And it will have a rippling impact worldwide, given that Saudi Arabia is the world's largest oil exporter and the largest reservoir for future oil supplies. Dozens of countries depend on it for energy and fuel. The impact of Jamal Khashoggi's murder is only beginning to be felt.
By "what happened to Faisal," Wright is referring to King Faisal, who served as the third King of Saudi Arabia after he forced the abdication of his brother King Saud. Faisal reigned from 1964 to 1975 and, though he introduced several modernizations to the Kingdom, was overthrown himself due to assassination at the hands of one of his nephews. As she states, this seems to be the least likely of the possible outcomes that bin Salman could face. For one thing, the Kingdom of Saudi Arabia is far more stable than it was even in 1975 when Faisal was assassinated thanks in no small part that power and wealth have been sufficiently divided among the members of the royal family that potential rivals to bin Salman would realize that any move against him would risk destabilizing the entire regime which, of course, would lead to problems for the entire royal family. For another, bin Salman has been very careful to move against potential rivals for power ever since being elevated to the position of Crown Prince in 2015, including cracking down on members of the royal family in the name of fighting against "corruption" in the Kingdom. At the same time, he has been careful to ensure that those close to him are, above all else, loyal to him and therefore unlikely to be involved in plots against him. Of course, it is this loyalty among those around him that makes it unlikely that he was not aware of the plot to murder Khashoggi.
I am hardly claiming to be an expert on the internal politics of the Saudi royal family or Saudi society and I'll defer to others for more expert analysis of this situation. At the same time, though, given the way things have been going in the Kingdom of late, there are observations that even outsiders can make. In any case, as it stands I suspect that it is far more likely that M.B.S. will hold on to power than that he will not. The one unknown factor is how long it may be before he becomes King. As I noted above, there have been rumors among some observers of the KSA, and apparently within the Kingdom itself, that King Salman may abdicate in favor of his son at some point in time. While this has never happened in the Kingdom's history, it is something we've seen from several other royal families in Europe and, at some point next year, Japan's Emperor will step aside in favor of his own son. While these monarchs are not comparable to the Saudi King since they don't have any real power, the fact that it is becoming more common could lead Salman to take the same course, especially if he continues to favor his young son and desires to have what could end up being a long hold on power that could last well into the 21st Century.