SECNAV Says Fired Captain 'Naive or Stupid'
Thomas Modly, the acting Secretary of the Navy, has embarrassed himself and must go.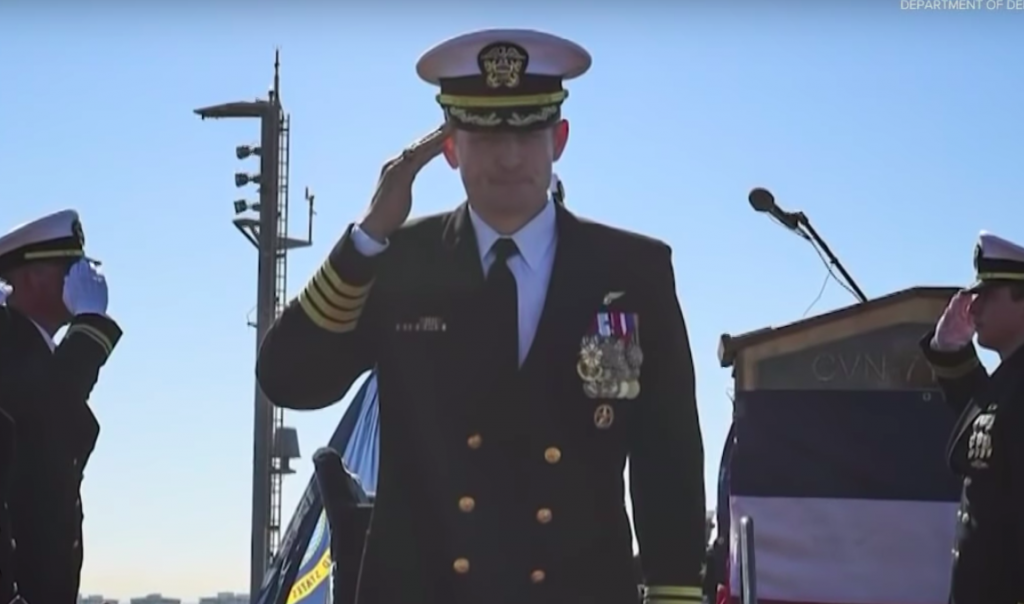 When Captain Brett Crozier was fired from his command of the Teddy Roosevelt after a four-page plea for help was published in the press, I was somewhat sympathetic to the rationale offered by Acting Secretary of the Navy Thomas Modly.
This morning, when retired Navy commander Doyle Hodges tweeted out his excellent War on the Rocks article making the case that Modly acted in haste and with questionable ethics, I offered a partial defense:
But when I was alerted that Modly had publicly called Crozier "stupid," I was angry.
When I got more context, I became outraged.
NYT ("Acting Navy Secretary Slams Fired Captain as 'Stupid'"):
The U.S. Navy's top civilian excoriated the fired commander of the U.S.S. Theodore Roosevelt to its crew on Monday as the sailors huddled on the island of Guam amid a coronavirus outbreak among their ranks, according to a transcript that was leaked online Monday. The New York Times has obtained an audio recording that supports the transcript's authenticity.

Acting Navy Secretary Thomas B. Modly addressed the crew of the aircraft carrier on Monday afternoon via the ship's internal loudspeaker system. In a profane and defensive address that one crew member described in an interview as "whiny, upset, irritated, condescending," Modly took repeated shots at the integrity of Capt. Brett E. Crozier, who was removed from command last week, and eventually injected partisan political tones into the address by attacking former Vice President Joe Biden, who has repeatedly criticized Crozier's removal.
The audio of the speech is here.
Task & Purposes' Jeff Schogol has a good account ("Acting Navy Secretary blasts USS Roosevelt captain as 'too naive or too stupid' in leaked speech to ship's crew") for those who can't listen to the audio for whatever reason:
"If he didn't think, in my opinion, that this information wasn't going to get out into the public, in this day and information age that we live in, then he was either A, too naive, or too stupid to be a commanding officer of a ship like this," Modly told the Theodore Roosevelt's crew on April 5. "The alternative is that he did this on purpose. And that's a serious violation of the UCMJ which you are all familiar with."

[…]

Modly also chastised the Theodore Roosevelt's crew for cheering Crozier when he left the ship, claiming the former commanding officer's memo caused concern among residents of Guam, where the ship is currently docked.

"So think about that when you cheer the man of the ship who exposed you to that," Moldy said. "I understand you love the guy. It's good that you love him. But you're not required to love him."

"Crew of the Teddy Roosevelt, you are under no obligation to love your leadership, only respect it," he continued. "You are under no obligation to like your job, only to do it. You are under no obligation, you are under no obligation to expect anything from your leaders other than they will treat you fairly and put the mission of the ship first."

The acting navy secretary took aim at the Theodore Roosevelt's crew, telling them their only concern right now should be how they can help each other during the crisis.

"That's your duty," Modly said. "Not to complain. Everyone is scared about this thing. And let me tell ya something, if this ship was in combat and there were hypersonic missiles coming in at it, you'd be pretty fucking scared too. But you do your jobs. And that's what I expect you to. And that's what I expect every officer on this ship to do, is to do your jobs."
I am, as of this writing, a Department of the Navy employee. So I do not say this lightly: Modly must be removed from his office immediately. He has lost the respect of the entire Department with this speech.
I am sympathetic to the notion that Crozier intended for his letter to leak. If so, it was wrong, regardless of the good intentions for his crew behind it. But it is simply outrageous for a member of his chain of command—let alone the acting Secretary of the Navy—to demean him in public in this way. Let alone to a crew, many of whose lives he may well have saved by his actions.
And, to make matters worse, this happened after it was public knowledge that Crozier himself had tested positive for COVID-19.
It's simply unconscionable and shameful conduct on the part of any leader, much less the senior leader of the United States Navy.