Seinfeld Is 25; Jerry Seinfeld is 60
The first episode of "Seinfeld" aired 25 years ago yesterday.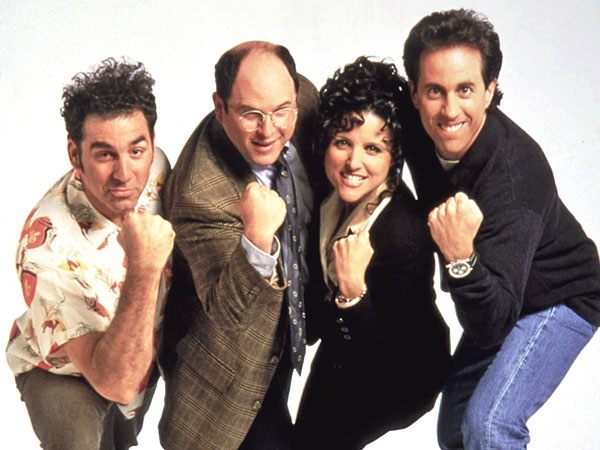 The first episode of Seinfeld aired 25 years ago yesterday.
TIME ("Seinfeld at 25: There's Still Nothing Else Like It"):
There's a lot of talk around the show's quarter-century anniversary (July 5) about its legacy, and sure, it has plenty, beyond its continuing ubiquity, quotability and popularity in reruns. You could argue that it allowed future sitcoms to assume a more sophisticated comedy audience (OK, though it's not like Cheers was exactly Hee Haw). In New York magazine, Matt Zoller Seitz argues incisively that its influence was at least as much in drama as comedy, as its unlikeable-yet-much-loved characters "paved the way" for antiheroes like Tony Soprano.

And yet-as maybe befits a show that didn't go soft and have its characters start families-Seinfeld doesn't have nearly as many kids running around the neighborhood as its contemporaries or followers.Friends begat a zillion young-adult hangout comedies. The surrogate-family structure of Cheers is everywhere, as is the reality-TV influenced mock-realism of The Office and the machine-gun jokestream of The Simpsons. The X-Files, Lost, The Sopranos,American Idol have been relentlessly homaged and stolen from.

Seinfeld, on the other hand, is at best echoed, and only rarely well. Excepting Curb Your Enthusiasm-can Larry David be influenced by himself?-maybe the only current comedy that's reproduced Seinfeld's gleeful mercenary approach to comedy is It's Always Sunny in Philadelphia. For the most part, though, after 25 years, Seinfeld is like its quartet of incarcerated characters were at the end of its finale-alone in its world, sufficient unto itself.

[…]

Which is why in many ways Seinfeld seems as different from anything on the air today as it did 25 years ago. (OK, 24 years ago-it took a while for Seinfeld to really become Seinfeld.) It has a comedian's purity of focus on the sanctity of the joke above all-above sentiment, "relatability," larger social meaning-that still feels bracingly we-don't-give-a-damn. (Bryan Cranston's dentist, who converted to Judaism out of no larger social agenda but simply "for the jokes" may have been the most echt-Seinfeldian of all Seinfeld bit characters.) Sex and the City mirrored its quartet structure and observed New York City minutely, but God help Seinfeld if it ever tapped out a what-it-all-means on its laptop. There are many sitcoms today of equal or greater ambition, but Louie and Girls, say, are still devoted to being about things: Jerry, George and company would sooner spend life in prison than wax philosophical about love or be the voice of anyone's generation, even ironically.

And "no hugging, no learning"? Cosby-esque "learning" may be out of fashion but there's plenty of hugging on the brilliant likes of Parks and Recreation. Arrested Development had a Seinfeldian darkness, but it still told you that family was more important than breakfast. (Jerry had a kitchen full of cereal to refute that argument.) Hell, even antihero dramas like Breaking Bad assume a moral universe of good and bad and judgment. George may not have poisoned his wedding envelopes, but his shrugging off Susan's death was in its way colder and more gangster than anything Walter White did with Lily of the Valley.
Seinfeld may have been the last of the truly national sitcoms, coming at the tail end of the era when the big broadcast networks dominated our television screens. Most of the other shows mentioned in the piece are niche shows. We'll likely never have mass audience appointment viewing in the 1990s sense again.
Oddly, I find most of the nominated successors unwatchable. Curb Your Enthusiasm, It's Always Sunny in Philadelphia, The Office, and Parks and Recreation—all of which the critics and most of my friends love—feature either just truly despicable, amoral characters (the first two) or are simply cartoonish (the last two). While that was occasionally true of Seinfeld—George's callousness after the death of his fiance and the events of the finale come most readily to mind— the four main characters were generally likable.
Of course, that stems from the fact that the show's namesake, star, and creator is a genuinely good guy. A recent Esquire interview showed us Jerry Seinfeld at 60.
JS: The burden of celebrity? You got the wrong guy. Anybody that so-called bothers you you're making them happy. What the hell else am I here to do? If I could make someone feel better? There are people that are ill-mannered. But I like to help people with their manners. "You know, you're a total stranger. You can't just yell at me. I don't know you." The first time you get stopped by a cop for speeding—and in your side-view mirror you see this guy coming up to the car and he's got this look on his face like I'm going to take this guy to town—and as soon as he sees your face he bursts into a big smile, you don't complain about celebrity anymore.

[…]

JS: I see these guys in Cirque du Soleil, these two bald-headed guys. And they balance their heads. One guy balances on the other guy. And it gets a polite round of applause. I'm like, How hard is that? Why is that guy not the most famous guy? It's so much harder than what I do. And my friend said, "Because he's not getting air to expel out of your body."

SR: Magic.

JS: You're giving them a big thing. And it's worth feeling a bead of sweat rolling down your spine. To me, it's still worth it. I would kill myself. As long as that's what you care about, you'll always be fine. As long as it's always about I'm merely up here for them, not for me.

SR: Did you ever come close to quitting stand-up?

JS: No. Leno had a funny line during the taping of Comedians in Cars. He said some kid came up to him and said, "I don't know whether to be a comedian or a writer." He says, "Well, you're a writer." Michael Richards has a similar story. Somebody came up and said, "I've been thinking about doing some acting." He says, "You'll never make it if you're thinking about it."

[…]

SR: I told my mother I was doing an interview today. "Who with?" she asked. I said, "Jerry Seinfeld." And she said, "We are so proud of you. We are very proud of you."

JS: Thank you. That's very nice. The burden of celebrity. C'mon.
There's quite a bit more to the interview. It's a worthwhile read.