Service Academies Likely To Play Football After All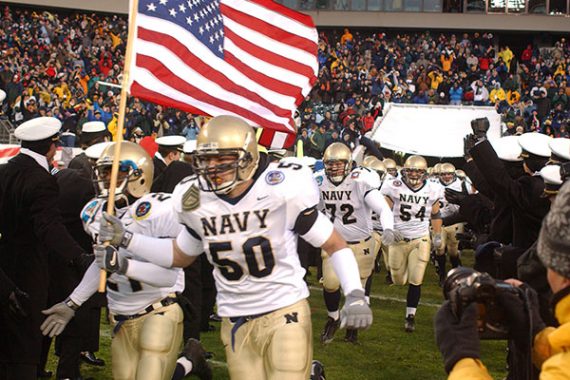 It looks like the Army, Navy, Air Force, Coast Guard academies will be playing football on Saturday after all:
The Air Force-Navy and Army-Boston College football games will be played Saturday after receiving official approval from the Secretary of Defense on Wednesday, a source told ESPN's Brett McMurphy.

Naval Academy public information officer Commander John Schofield confirmed Wednesday night that the Midshipmen's game would be played. Boston College athletic director Brad Bates indicated the same Thursday for the Eagles' game against Army.

Both games were in jeopardy after the Defense Department temporarily suspended sports competition at the service academies as a result of the budget impasse in Congress.

A source had told McMurphy earlier Wednesday that the costs of the games would be completely taken care of by "nongovernment funding," which generally comes from outside sources and is not approved through Congress. Because of that — and the fact that the games had long been planned — the teams will be permitted to play.

The football rivalry between Navy, which practiced Tuesday, and Air Force dates to 1960, and they have played each other every year since 1972. Saturday's game is sold out.

Navy athletic director Chet Gladchuk said earlier Wednesday that his athletic department had provided information to Pentagon officials to assure them that no government funds will be spent on any aspect of the game. Gladchuk said a Navy home game brings in about $4 million from tickets, sponsorship, television and radio rights fees, and other revenues such as parking and concessions. The game essentially pays for itself, he said.

Football revenue also funds Navy's 32 other sports teams.

"It would be devastating to our budget," Gladchuk said of having a home game canceled.

Bates indicated earlier Wednesday that the school offered financial assistance for Army's travel arrangements.

"We have been considering and engaging all possibilities in order to play Saturday's football game, including offering financial assistance to Army for travel," Bates said in a statement before the secretary of defense's approval. "We have been told by officials at the US Military Academy, however, that this is not solely a financial decision. I remain in close communication with Army AD Boo Corrigan and we expect a decision will be made by noon [Thursday]."

Meanwhile, Division III Coast Guard will play its home game against Western New England on Saturday as planned because coach Bill George and his staff are also faculty members and therefore exempt from the furloughs.
I suppose this will be good news to the fans and the players, although its hardly the most important line item in the DoD budget at the moment. I'd be curious to know what the source of the outside funding that will cover the academy's costs for these games might be. Yesterday, there had been calls from many corners for the NCAA to cover the expenses for the schools.