Should Justice Kagan Recuse Herself From Health Care Reform Case?
Questions have been raised about whether it is proper for Elena Kagan to hear the Affordable Care Act lawsuit.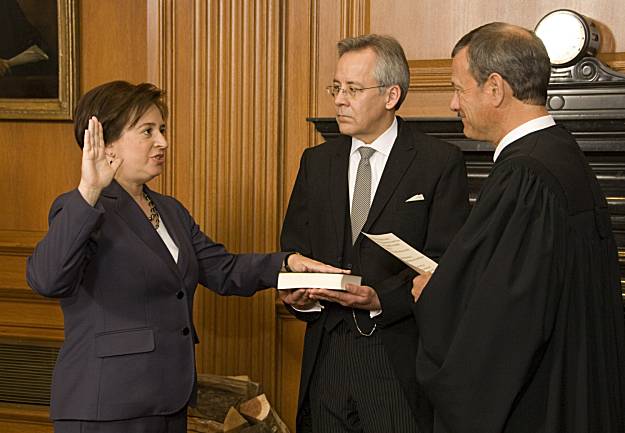 With the Supreme Court now on track to hear the lawsuit challenging the Constitutionality of the Affordable Care Act in March, with a June ruling likely, the political maneuvering is beginning. One of the more obscure arguments has been over whether any members of the Court should recuse themselves from hearing the case due to conflicts of interests. On the left, the argument that Clarence Thomas ought to recuse himself because of his wife's involvement with Tea Party groups that have advocating for the law's repeal has been around for months. As I discussed when I looked at that issue in February, as well as a post last October, there seems to be very little merit in the argument that Thomas himself has a conflict requiring recusal under the Canons of Judicial Ethics is a pretty far stretch to say the least, and completely without merit to say the most. More recently, some on the left have argued that both Thomas and Justice Scalia are disqualified because they have attending Federalist Society gatherings on a regular basis. To be honest, there's even less support for this argument than the one advanced earlier this year, but of course this is politics not the law so that probably doesn't matter to those advancing the argument.
Not surprisingly given the nature of this case, the right has it's own recusal argument to make and it focuses on current Associate Justice and former Solicitor General Elena Kagan:
Conservative legal activists on Wednesday renewed their calls for Supreme Court Justice Elena Kagan to abstain from cases involving President Obama's healthcare law.

Conservatives say Kagan should recuse herself from suits over the law's individual mandate because the administration began planning its defense while she was solicitor general. Kagan has recused herself from dozens of cases because of her work in the Justice Department, but has shown no signs so far of sitting out healthcare suits.

The justices are slated to meet privately Thursday to discuss whether they should hear a challenge to the healthcare law's constitutionality. Ahead of that meeting, the conservative Judicial Crisis Network (JCN) reiterated suspicions about Kagan's objectivity.

"Her jump from advocate to judge on the same issue raises profound questions about the propriety of her continued participation in the case," JCN said. "Moreover, the legitimacy of any decision where she is in the majority or plurality would be instantly suspect if she chooses not to recuse herself."

The JCN paper cites previously released emails in which Justice Department officials discuss their preparations for defending the healthcare law in court. The documents do not provide concrete evidence that Kagan was personally involved in the planning, but JCN has inferred from the emails that Kagan played an active role
The groups paper [PDF] appears to be based on the same emails that are raising some eyebrows on the right today that show Kagan "excited" about the passage of the new health care law in March 2009:
At her confirmation hearing in 2010, now-Supreme Court Justice Elena Kagan that she "was not" asked at any time to give her opinion on the merits of the Obamacare legislaton. Newly released emails suggest that whether or not she was asked, Kagan was not shy about her enthusiasm for the bill that eventually became law.

Kagan, while serving as President Obama's Solicitor General, exchanged emails with her then-colleagues in the Justice Department indicating her support for the Obamacare legislation when it was under consideration in Congress.

"I hear they have the votes, Larry!! Simply amazing," Kagan wrote, in an email obtained by Judicial Watch, on the day Obamacare passed through Congress. Larry Tribe, a Harvard Law professor and Supreme Court attorney who served as "senior counselor for access to justice" in the Department of Justice (DOJ), replied to Kagan that the bill's passage was "remarkable."

"And with the Stupak group accepting the magic of what amounts to a signing statement on steroids!" Tribe added in delight, and in derision for the pro-life Democrats.
There are two relevant pieces of law that govern recusal of Federal Judges. First, there's 28 USC 455(a):
Any justice, judge, or magistrate judge of the United States shall disqualify himself in any proceeding in which his impartiality might reasonably be questioned.
Second, there is the Code of Conduct for United States Judges, specifically Canon 3(C)(1), which is codified at 28 USC 455(b) and covers circumstances where recusal is mandatory:
A judge shall disqualify himself or herself in a proceeding in which the judge's impartiality might reasonably be questioned, including but not limited to instances in which:

(a) the judge has a personal bias or prejudice concerning a party, or personal knowledge of disputed evidentiary facts concerning the proceeding;
(b) the judge served as a lawyer in the matter in controversy, or a lawyer with whom the judge previously practiced law served during such association as a lawyer concerning the matter, or the judge or lawyer has been a material witness;
(c) the judge knows that the judge, individually or as a fiduciary, or the judge's spouse or minor child residing in the judge's household, has a financial interest in the subject matter in controversy or in a party to the proceeding, or any other interest that could be affected substantially by the outcome of the proceeding;
(d) the judge or the judge's spouse, or a person related to either within the third degree of relationship, or the spouse of such a person is:

(i) a party to the proceeding, or an officer, director, or trustee of a party;
(ii) acting as a lawyer in the proceeding;
(iii) known by the judge to have an interest that could be substantially affected by the outcome of the proceeding; or
(iv) to the judge's knowledge likely to be a material witness in the proceeding;
(e) the judge has served in governmental employment and in that capacity participated as a judge (in a previous judicial position), counsel, advisor, or material witness concerning the proceeding or has expressed an opinion concerning the merits of the particular case in controversy
The only relevant question in Kagan's case is whether she was involved in formulating the legal strategy for the government's defense in the lawsuits that had been filed against the Affordable Care Act even before she was nominated to the Supreme Court. The emails that have been released to date don't strike me as reaching that threshold at all, though. The fact that Kagan, obviously a Democrat, was pleased over the passage of what was the most important piece of legislation of the First Term of the Administration she worked for is no surprise, and doesn't necessarily create an ethical conflict, although there are some problematic areas that raise concern about whether the ethical lines would be crossed by Kagan sitting to hear the case. Jonathan Turley, who is by no means a conservative points them out:
Of greater concern, in my view, is a separate email exchange on March 21, 2010 (the day PPACA was passing the House) with her top deputy Neal Katyal. Associate Attorney General Tom Perrelli had send a message to a group of DOJ lawyers, including Katyal, notifying them that there was going to be a meeting the next day to plan for the litigation expected to challenge PPACA. Kagan was included in the mailing, which would seem to confirm her offices involvement in the litigation planning. As head of that office, it raises a serious appearance problem and may reflect additional conversations that could have occurred between her and Katyal or other lawyers in effort. This was already one of the top priorities of the Administration and one would expect a comprehensive team at Justice Department that would include the Solicitor General's office.
At the very least information likes this raises questions that ought to be answered. The problem is, the Justice Department is refusing to release anymore emails or other documents that might shed light on Kagan's involvement in the preparation of defenses to the litigation against the PPACA:
Back in July, some 49 members of Congress signed a letter asking DOJ to produce certain documents on then-Solicitor General Kagan's involvement with the ObamaCare case. Four months later the Justice Department wrote back declining to produce the documents. In that letter, Assistant Attorney General Ronald Weich explained that the department has "grave concerns about the prospect of a congressional investigation into the pre-confirmation activities of a sitting Supreme Court Justice." Justice Kagan, he added, had addressed the issue of her ObamaCare involvement during her confirmation hearings.

In a letter to U.S. Attorney General Eric Holder on Friday, GOP Sen. Lamar Smith noted that in rejecting the request for documents, the Justice Department "did not assert any legal privilege to support the decision but instead concluded it would be 'unseemly' to comply with my request." If the Justice Department does intend to assert a legal privilege, he added, he'd like to be informed of the basis for it by Friday.
In her testimony at her confirmation hearings, Kagan said she was not involved in preparing defenses to the lawsuit, and as Turley notes, Attorney General Eric Holder at one point said publicly that efforts were made to shield Kagan from any such discussions:
"I can tell you that certainly, one of things that we did while she was solicitor general was physically-physically-literally move her out of the room whenever a conversation came up about the health care reform legislation . . . I can remember specific instances in my conference room when we were going to discuss that topic. We asked Justice Kagan to leave and she did."
If that's true then that may be enough to deal with this issue and answer the questions. But yet, as Turley notes, there is that email conversation, and there is the fact that Justice is refusing to release any more documents. At the very least, it strikes me that those documents should be released. If it's true that Kagan wasn't involved in litigation planning then the documents should reflect that. If they show that she was, however, then it strikes me that she may need to recuse herself. Recusal isn't anything new for Kagan, though. During her first year on the Court, Kagan recused herself from more than half the cases that were heard because of her involvement with them as Solicitor General. If she was equally involved with the ObamaCare litigation before being elevated to the Court then she ought to consider doing the same here.
Lloyd Green likens Kagan's position to that of another former Justice Department official, and political partisan, who was elevated to the Supreme Court:
Elena Kagan meet Bill Rehnquist. That Bill Rehnquist.

Like Kagan, Rehnquist was once young, smart, and ambitious. Like Kagan, Rehnquist served as a political appointee at the Department of Justice. And like Kagan, Rehnquist was once an Associate Justice of the United States Supreme Court.

But Kagan and Rehnquist have one more thing in common. And it is a big one. As a Supreme Court Justice, each was asked to pass upon the assertions of constitutionality invoked by their former bosses.

In the case of Justice Rehnquist, the Supreme Court was confronted by Richard Nixon's claim of Executive Privilege in connection with the Watergate Tapes. Rehnquist had served in the Nixon Justice Department under John Mitchell. And, Nixon had referred to him as "Renchberg" in a taped conversation. Rehnquist was on the Team.

However, faced with Nixon's appeal from a lower federal court order directing Nixon to hand over the Watergate Tapes, Rehnquist recused himself and allowed the Supreme Court to decide the case without his input or vote.

In the end, the Court rejected 8-0 Nixon's claim of Executive Privilege. Nixon went on to resign after the House Judiciary Committee subsequently voted to impeach Nixon.
A legal ethics expert, however, doesn't believe that either Kagan or Thomas should be required to step aside in this case:
James Sample, a law professor at Hofstra University School of Law who studies recusal issues, said the outside groups' calls are misplaced.

"I am generally one of the most pro-recusal scholars you can find, and yet I think in this instance those who are trying to argue for the recusal of Justice Kagan and Justice Thomas alike are opportunists who are trying to use a mechanism that just doesn't fit," he said.

The standard for recusal is whether a judge's or justice's impartiality can be reasonably questioned.

Mr. Sample said Justice Thomas' judicial approach is well-known and it's unlikely that his wife's associations would influence him in this case. As for Justice Kagan, he said her "extraordinarily limited exposure to the health care policy when she was in government service is, I think, just a nonissue."
Should Elena Kagan do the same thing as Rehnquist? It's difficult to say based on the information that has been provided publicly and, ultimately this is a question that is within the discretion of the individual Justice to make. No other member of the Court is going to require Kagan to recuse herself, and there's nothing that Congress can do about this. My preference would be that the Justice Department release the documents so that the public can be assured that there is no impropriety here, but if Justice Kagan believes she can decide this case on the law and not based on her political positions and that she is not conflicted out as discussed above(and if Justice Thomas believes the same), then I'll take her word for it absent evidence to contrary.