Chief Justice Roberts Defends Kagan, Thomas Recusal Decisions On Health Care Lawsuit
The Chief Justice Of The United States defends his colleagues.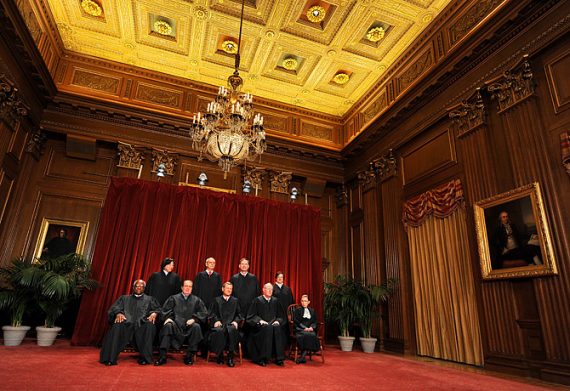 Without mentioning them by name, Chief Justice Roberts effectively defended the decision by both Justice Thomas and Justice Kagan that they did not need to recuse themselves from the Supreme Court's upcoming deliberations over the constitutionality of the Affordable Care Act:
In the face of a growing controversy over whether two Supreme Court justices should disqualify themselves from the challenge to the 2010 health care overhaul law, Chief Justice John G. Roberts Jr. on Saturday defended the court's ethical standards.

The chief justice's comments came in his annual report on the state of the federal judiciary. In it, he made what amounted to a vigorous defense of Justices Clarence Thomas and Elena Kagan, who are facing calls to disqualify themselves from hearing the health care case, which will be argued over three days in late March. He did not, however, mention the justices by name.

"I have complete confidence in the capability of my colleagues to determine when recusal is warranted," Chief Justice Roberts wrote. "They are jurists of exceptional integrity and experience whose character and fitness have been examined through a rigorous appointment and confirmation process."

Federal law requires that judges disqualify themselves when they have a financial interest in a case, have given ad-vice or expressed an opinion "concerning the merits of the particular case" or when their "impartiality might reasonably be questioned." For lower court judges, such a decision can be reviewed by a higher court, but the Supreme Court has no such review.

Chief Justice Roberts said the Supreme Court's unique status made it impossible for the justices to follow the practices of lower-court judges in recusal matters. Lower-court judges can be replaced if they decide to disqualify themselves, he said, and their decisions about recusal can be reviewed by higher courts.

"The Supreme Court does not sit in judgment of one of its own members' decision whether to recuse in the course of deciding a case," he wrote.  "Indeed, if the Supreme Court reviewed those decisions, it would create an undesirable situation in which the court could affect the outcome of a case by selecting who among its members may participate."

(…)

Chief Justice Roberts said the justices also comply with the recusal law, though he added that "the unique circumstances of the Supreme Court" must be taken into account.

"There is only one major difference in the recusal process: There is no higher court to review a justice's decision not to recuse in a particular case," he wrote. "This is a consequence of the Constitution's command that there be only 'one Supreme Court.' "

That also means, he added, that recusal at the Supreme Court is particularly problematic.

"If an appeals court or district court judge withdraws from a case, there is another federal judge who can serve in that recused judge's place," he wrote. "But the Supreme Court consists of nine members who always sit together, and if a justice withdraws from a case, the court must sit without its full membership."

"A justice accordingly cannot withdraw from a case as a matter of convenience or simply to avoid controversy," he added. "Rather, each justice has an obligation to the Court to be sure of the need to recuse before deciding to withdraw from a case."
I've written about the controversy raised mostly by left-wing pundits regarding the alleged reasons Thomas needs to recuse himself and the questions raised by those on the right about Kagan's involvement with the health care litigation while she was still Solicitor General. While I think the issues surrounding Kagan remain partially unanswered because of the Department of Justice's refusal to release all the email and correspondence related to the matter, I think Roberts gets it about right here. The issues surrounding a Supreme Court Justice's recusal are far more complicated than those that take place District Court or Court of Appeals level, not the least because there is no mechanism to replace a Justice who has recused themselves and the absence of even one member of the Court could impact the outcome of the case significantly.
As James Joyner noted back in 2010, Senator Patrick Leahy proposed a solution to this issue that would involve retired Supreme Court Justices taking the place of a Justice that recused themselves so that the Court would always have a bench of nine justices to hear any case. There's a certain logic to this, of course. After all, retired Justices like Sandra Day O'Connor, David Souter, and John Paul Stevens are all already familiar with the procedures and practices of the Court and would have little trouble fitting in to hear a case on an ad hoc basis. Additionally, retired Supreme Court Justices are already used to fill in for Judges at the Court of Appeals  level, and sometimes even the District Court level. Justice O'Connor has done this many times since she retired in 2006. At the same time, though, Justice O'Connor is 81, and Justice Stevens is in his 90s, age is certainly a factor worth considering here.  Another possible idea would be to draw a replacement justice at random from among the Chief Justices of the Courts of Appeal (excepting, of course, the Court form which a particular appeal originated). Both solutions could potentially require Constitutional Amendments to be effective, though.
At this point, though, I think the Chief Justice's words ring true. Justice Thomas and Justice Kagan, both of whom have recused themselves from cases in the past, have made the determination that they don't need to do so this time. That decision should be respected.