Kagan Recuses Herself From 21 Of 40 Cases SCOTUS Will Hear In 2010-11 Term
Elena Kagan has announced that she will not participated in the consideration of more than half the cases currently scheduled to be hear by the Supreme Court when it's new term begins in October.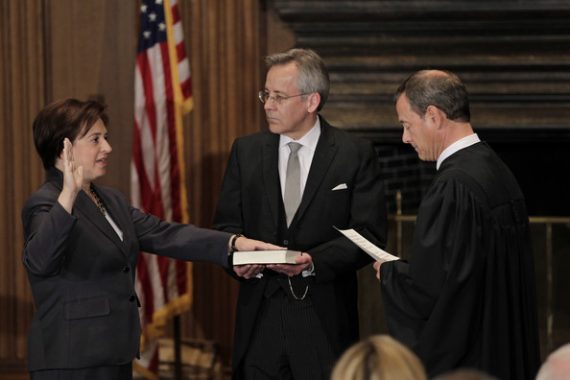 It was widely anticipated that Elena Kagan's first year or two on the bench as an Associate Justice would require her to recuse herself from cases that she had been involved with while serving as Solicitor General, but this honestly surprises me:
When President Obama nominated Elena Kagan to the Supreme Court in May, we and many others reported out that she'd likely have to recuse herself from a handful of cases for the upcoming term.

The reason: she was the Solicitor General for the U.S. So she'd be conflicted on a number of cases, having already served as an advocate on many of them.

But we never dreamed that Kagan would recuse herself from half the cases for the upcoming term. But it seems that's where we are, at least for now. Kagan this week, in the words of National Law Journal reporter Tony Mauro, "quietly" recused herself from 10 more cases to be argued in the upcoming term. That brings the number of cases from which she's recused herself to 21. As Mauro points out, that's more than half of the 40 cases the court has so far agreed to hear.

Mauro reports that during her confirmation this summer, Kagan said she would in 11 cases. So why the extra 10? Apparently she's decided that her participation at earlier phases, even in cases in which her office did not formally offer up an opinion, mandate her recusal.
The Court will hear more than 40 cases this term, of course, and it's quite possible that Kagan will have to recuse herself from others as they come up.
While the number of cases is unusual, the recusals themselves are not. Justices have routinely recused themselves in the past from cases involving companies they own stock in, or on cases that spouses or family members have worked on. In Kagan's case, however, the fact that she spent nearly two years as the Obama Administration's chief representative before the Court means that she put her hands on a number of cases that will come up over the next year or two. Ethically, she will be required to recuse herself.
It does pose a challenge for the Court, of course. In the event of a 4-4 tie the decision below will be upheld but the Court's opinion will have no precedential value, which is one reason why some in Congress are mulling the idea of a backup plan for recusals on the Supreme Court:
Senate Judiciary Committee Chairman Patrick J. Leahy (D., Vt.) is mulling whether to propose a solution to the recusal conundrum. According to the WaPo story, Leahy is considering legislation that would allow a retired member of the Supreme Court to replace a justice who has recused himself — or herself — in a particular case.

In addition to avoiding the 4-4 ties, Leahy hopes such a rule would encourage justices to recuse themselves more often when there is an appearance of partiality.

According to the WaPo story, Leahy has long felt justices don't recuse themselves enough. After he announced his retirement, Stevens suggested Leahy look at the issue of letting retired justices fill in.

"There are now three retired justices who can sit on any federal court, except the court to which they were confirmed," Leahy told the WaPo. "If there is a way for retired justices to help the court fulfill its role in our democracy, I think we should consider it. Justice Stevens is absolutely right about this."
As James noted when he wrote about this last month, there are many questions about a plan like this, such as how a replacement would be chosen when a Justice has to recuse themselves, but it would seem to be an idea worth considering.