Shut Up, He Explained
Shutting down rational debate one meme at a time.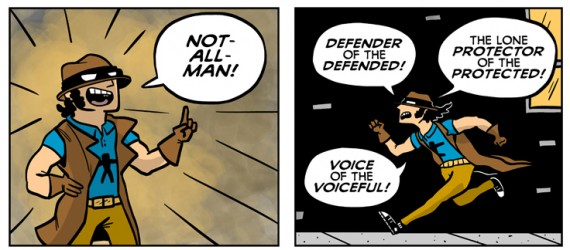 Saturday, as the NFL draft was winding down, Spencer Ackerman retweeted Rafael Noboa y Rivera's observation, "The SEC Defensive Player of the Year is still on the board. Way to go, NFL."  For those who've somehow missed the story, Noboa was referring to Michael Sam, the Missouri Tigers defensive end who not only shared the Southeastern Conference's top defensive accolade but made international headlines by announcing to the public after the season that he was gay.
The assumption that Sam's coming out was the only explanation as to how someone winning such a prestigious honor in the most dominant collegiate league would still be available in the final round of the NFL draft is a reasonable enough assumption for someone who only casually follows such things to make but, alas, is mistaken. So, I chimed into the conversation, observing, "Heisman Trophy winning quarterbacks have gone undrafted. Sam was a marginal draft prospect before he came out."
Both of those are true facts. But, rather than challenging either assertion, Ackerman retorted, "[T]his is your 'not ALL men' moment."
He was referring to an incredibly insipid internet meme in which males pointing out that we shouldn't be blamed for actions of a small subset of our gender is lampooned as denying that bad things happen to women.
Ignoring both the ad hominem and the non sequitur—I was making a very specific argument about a specific football player—I continued the exchange, observing, "The NFL is obsessed with measurables. I'd never heard of Blake Bortles two months ago and he went well ahead of Manziel."
Bortles, who was taken third overall by the Jacksonville Jaguars, played quarterback for the University of Central Florida; I was only vaguely aware that UCF had a football team, much less who its quarterback was. Johnny Manziel, meanwhile, played at Texas A&M, was the first "freshman" to win the Heisman Trophy, and a national celebrity. He fell to 22nd. Why? Well, Bortles, a 6'4″ 229 pound pocket passer, fits the prototype NFL scouts are looking for in a QB whereas Manziel, at 6'1″ and 209 pounds and a decided propensity to run with the ball,  is considered too short and too small to thrive in the NFL.
Ackerman responded, "[K]eep explaining, it reflects well on you & shows how much you know!"
For those unaccustomed to Twitter, this was not meant as a compliment. Sensing that rational argument was not of interest in this conversation, I moved on.
The point of all this isn't to vent about Ackerman, per se. Indeed, I've had many exchanges with him over the years and, despite us tending to be on opposite sides of the issues, have always found him smart and reasonable. Otherwise, I wouldn't bother to follow him on Twitter.
Rather, this was an example of something that I'm seeing more and more in the public debate: a sense that people—and especially people who are white and male— who disagree with a particular point of view have no standing to even discuss the issue.
In addition to "Not all men," Ackerman tossed out a variant of the "mansplaining" meme. In its original form, it referred to males jumping into a conversation among women on a topic where they had especial expertise and offering a patronizing or condescending explanation. Soon, though, it became a form of poisoning the well; any contribution made by a male that disputes a premise made by a woman is simply held to be invalid.
Recently, Ramesh Ponnuru took issue with yet another of this memes in a column titled "'Check Your Privilege' Means 'Shut Your Mouth.'"
It's perfectly reasonable to ask someone to consider whether their arguments or observations reflect the biases of privilege. Perhaps an upper-middle-class white man's claim about the hardships of poverty or the prevalence of racial discrimination reflects a lack of experience of those things, for example. But all of us need to ask ourselves whether our views are skewed, regardless of how privileged we are, because there are many possible sources of bias. Fortgang is quite right to complain that being obsessively on the lookout for white male heterosexual bias can obscure more than it reveals, in part by ignoring how much heterosexual white men can differ.

In any case, Fortgang didn't complain about being asked to reflect on the incompleteness of his worldview. He complained about the dismissal of opinions based on who was uttering them.

And while the phrase "check your privilege" could be used, hypothetically, to deepen a conversation instead of to shut it down, the critics don't seem all that interested in doing so.
Alas, Ponnuru and Fortang could be accused of violating a variant of the "Not all men" shibboleth as well.
Lest I be accused (again) of being a privileged white, heterosexual male complaining about debating tactics that happen to be detrimental to my privileged position, I would point out that, despite being a combat veteran who supported the Iraq War, I was a vociferous and frequent critic of the "chickenhawk" meme being trotted out against non-veterans daring to offer a contrary opinion.
All of these memes are variations of the poisoning the well and ad hominem fallacies, serving to misdirect the argument to the person making it rather than facts and logic. They are, to say the least, not helpful in advancing understanding.