Silly Governor Tricks
With all of California's problems solved, Gavin Newsome is doing stunts.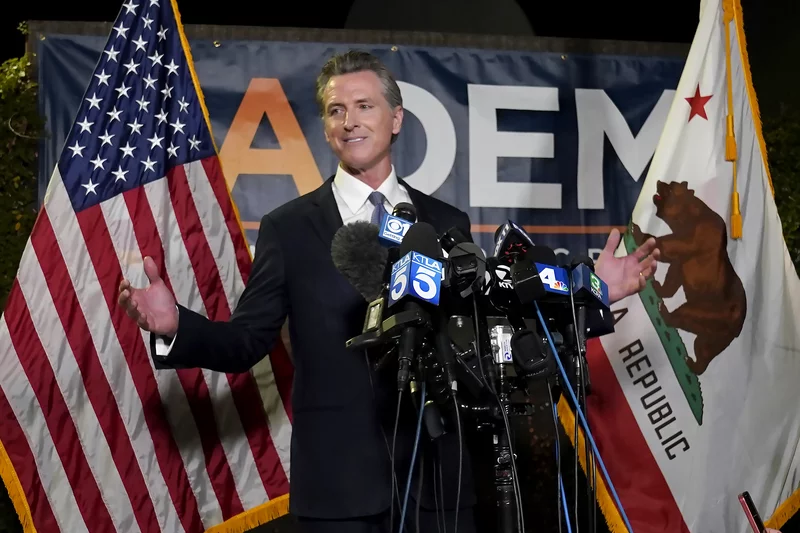 CNN ("Newsom signs California gun bill modeled after Texas abortion law"):
California Gov. Gavin Newsom on Friday signed a bill into law that allows private citizens to bring civil action against anyone who manufactures, distributes, transports or imports assault weapons or ghost guns, which are banned in the state.

California Senate Bill 1327 is modeled after a Texas law that allows private citizens to bring civil litigation against abortion providers or anyone who assists a pregnant person in obtaining an abortion after as early as six weeks of pregnancy. The US Supreme Court in December allowed Texas' six-week abortion ban to remain in effect, which prompted Newsom, who has been supportive of abortion rights and pro-gun control, to say he was "outraged" by the court's decision and direct his staff to draft a similar bill to regulate guns.

Under the California law, a person would also be able to sue a licensed firearms dealer who "sells, supplies, delivers, or gives possession or control of a firearm" to anyone under 21 years old. It allows citizens to sue for a minimum of $10,000 on each weapon involved, as well as attorney fees.

Newsom, a Democrat, on Friday acknowledged that the law would likely be challenged in court.

"We believe this will be litigated in the Supreme Court and we believe the Supreme Court will be challenged. Because if there's any principle left whatsoever — and that's an open ended question — with this Supreme Court, there is no way they can deny us the right to move in this direction," he said after signing the bill at Santa Monica College, the site of a 2013 shooting spree.

The law, introduced in February, says that it would become "inoperative upon invalidation" of the Texas abortion law, should the US Supreme Court or Texas Supreme Court strike down that measure. The California law would then be "repealed on January 1 of the following year."
As a general matter, I detest using the legislative process for political grandstanding. While this is slightly more clever than most attempts, this is no exception.
The fact that this law explicitly expires if and when the Texas statute is invalidated rather gives the game away: it's a silly stunt, not a serious attempt to regulate gun violence.
Beyond that, even as political stunts go, it's not all that good. Like it or not, a right to keep and bear arms is explicitly written into the Constitution whereas a right to an abortion is not. So, the attempted parallel isn't even particularly cute, regardless of what the kids on Twitter think.
Now, to be clear, the Texas abortion law is an abomination on multiple fronts. Not only does it ban abortion absurdly early—at the 6-week mark, months before fetal viability—but the civil enforcement and bounty system for enforcement are creepy, bordering on fascistic. I would like to see it struck down when the Supreme Court finally hears the merits of the case but, then again, wanted to see them issue a stay while it made its way through the system and they disappointed me on that front.
Regardless, this stunt adds fuel to the fire that Newsome is positioning himself to run for President in 2024.