Simone Biles and the Ugly Side of Sport
It turns out that the GOAT is a human being.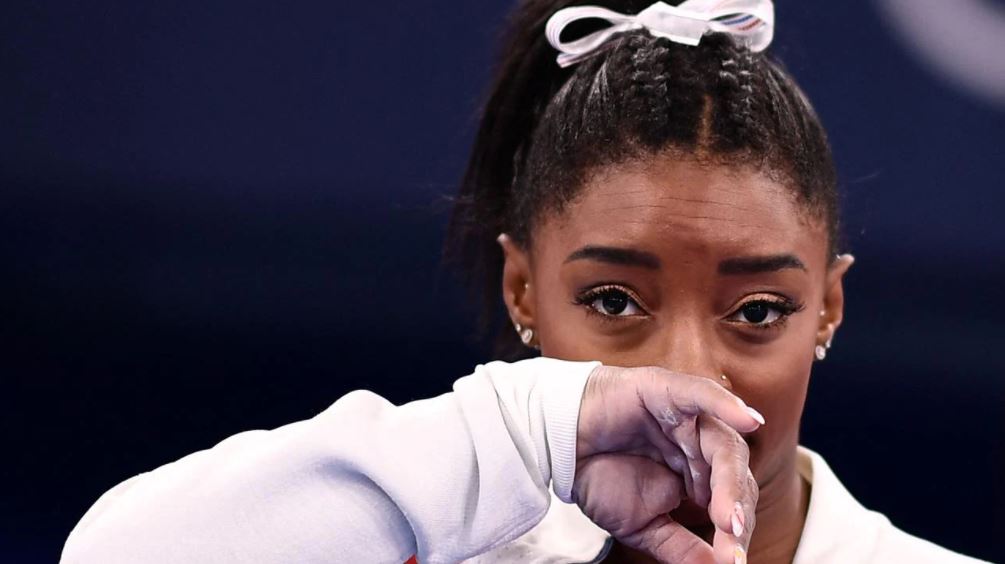 Earlier this week, the woman who is almost certainly the greatest gymnast of all time suddenly withdrew from the Olympic team competition with what at first seemed like an injury but was soon revealed to be an unspecified "mental health" issue. While many applauded the courage it took to do that, many others expressed their frustration that this cost her team and country a gold medal.
Piers Morgan's column for The Daily Mail ("Sorry Simone Biles, but there's nothing heroic or brave about quitting because you're not having 'fun' – you let down your team-mates, your fans and your country") is typical of the latter view. After a long windup, he observes,
She was the leader of the team, and indeed the unofficial leader of Team USA at the Tokyo Olympics as the squad's most successful Olympian.

As such, she was expected to lead by example.

However, in her first exercise, the Vault, she made a big mistake.

She was supposed to do an 'Amanar' vault, which begins with a roundoff back handspring onto the table followed by two 1/2 twists in mid-air, but she only did one 1/2 twist instead.

Biles looked annoyed with herself, just as she did when she fell at the World Championships.

But rather than dust herself down and battle on for Gold, as she did in 2018, she did something which absolutely staggered me.

She quit.

The world's greatest ever gymnast, a woman who proudly told me how she fought back after making big mistakes to win Gold, just gave up at the first hurdle of these Olympics.

She left her team to fight on without their leader and supreme motivational champion, and rather than win the Gold medal they were hot favourites to win, they came second to the Russians.

Biles said she wasn't carrying an injury.

'Physically, I feel good, I'm in shape,' she said. 'Emotionally, that kind of varies on the time and moment. Coming to the Olympics and being head star isn't an easy feat.'

Head star… hmmm, there's that GOAT ego rearing its head again.

But if you're going to call yourself the Greatest of All Time and 'head star' then you're putting a lot of that pressure on yourself, aren't you?

Then Biles said something really extraordinary and illuminating: 'I feel like I'm also not having as much fun. This Olympic Games, I wanted it to be for myself, but I came in and I felt like I was still doing it for other people. It hurts my heart that doing what I love has been kind of taken away from me to please other people.'

Sorry, WHAT?

You're not just at these Games for yourself, Simone.

You are part of Team USA, representing the United States of America, and hundreds of millions of American people watching back home, not to mention all the sponsors who've paid huge sums to support you.

And when you quit, you were performing as part of a gymnastics team, not yourself.

It's also not supposed to just be about having fun.
There's more but you get the point.
Eren Orbey expressed the counterargument ("The Radical Courage of Simone Biles's Exit from the Team USA Olympic Finals") for The New Yorker.
On Monday, before the team final, Biles wrote on Instagram that she felt "the weight of the world" bearing down on her: "I know I brush it off and make it seem like pressure doesn't affect me but damn sometimes it's hard hahaha! The olympics is no joke!" The endless praise that Biles receives for her "superhuman" abilities can lead to a kind of dehumanization, enforcing an incessant expectation that she not only perform but outperform and a sense of bafflement in the rare instances that she doesn't.

[…]

In a conversation last week, the gymnast Aly Raisman, a two-time Olympian and a former teammate of Biles's, told me, "Gold medals shouldn't be the most important thing." Gymnastics is a notoriously punishing sport: as Raisman explained, athletes are often encouraged, if not forced, to compete despite injuries. Perhaps the most famous athlete to do so was Kerri Strug, who, in the 1996 Olympic team final, performed a second vault on an injured ankle before being escorted off the mat by her coaches and by Larry Nassar, a team trainer at the time. That year, the U.S. women won gold, and the moment has since been mythologized as an exemplar of athletic grit. Today, though, Krug's painful hop landing reads differently, less as a heroic sacrifice than as an unnecessary and essentially career-ending strain. To many spectators, Biles's decision not to compete on Tuesday is a heartbreak, but it is also a welcome example of an athlete setting her own limits.

After Biles's rocky vault performance, some observers speculated that she had been suffering from "the twisties," a gymnast's term for a loss of air awareness during routines. Continuing to compete in that state would have been downright dangerous; it's easy to forget that the skills gymnasts strain to render seemingly effortless could, with even minor slips, leave them paralyzed or worse. At a press conference later in the morning, standing beside her three teammates, Biles said that she had exited the competition because the pressure had become too much. She cited as inspiration Naomi Osaka, the Japanese American tennis champion who withdrew from two Grand Slam tournaments earlier this year to prioritize her mental health. "We have to protect our minds and our bodies, and not just go out and do what the world wants us to do," Biles said. Her withdrawal from the team final was not the handy victory that the public, or USA Gymnastics, was expecting from her at the Olympics. But it was its own kind of achievement, one that has the potential to affect the next generation of gymnasts more than any single medal could.
I'm ashamed to say that my initial reaction to the news was much closer to Morgan's than Orbey's. Partly, that's because, despite having watched Olympic gymnastics for decades, I had never previously heard of "the twisties" and hadn't given much thought to the immense danger being even slightly off one's mental game in the sport posed. Partly, it's because I had compartmentalized Nassar's abuses and not given much thought to how much being a face of that victimhood had ground on Biles.
But, ultimately, it's deeper than either of those things. As much as athletes can be heroes, they're also dehumanized. Fans expect the extraordinary from them so that we can revel in their vicarious success.
Yesterday, I saw a lot of tweets like this one:
And Biles herself, graciously focusing only on the positive feedback and ignoring the awfulness, tweeted
The woman is 24 years old and has been performing for others essentially her whole life. But, despite her massive fame, most of us only think of her as an athlete and view her humanity through that lens. Yes, Piers Morgan is a jerk. But he genuinely admired Biles the athlete and exalted her pushing through injuries that would sideline any of us and excelling—and took her finally putting her own mental and physical health first as a betrayal.
The Olympics is both the best and the worst of sporting events. It's the biggest stage. It's amped up with national pride and the sense that the athletes represent their countries and, thus, all of us. But, at least in the United States, we rarely pay attention to most Olympic sports outside of the Olympics and simply expect to win. Going back at least to the Lake Placid Games in 1980, we love to shout USA! USA! USA! when our athletes win gold medals for us, as though we had spent years sacrificing ourselves. And we can act like petulant children when they don't.
We're seeing it even with our Olympic basketball team, which is comprised of household names. We reveled in the 1992 Dream Team crushing all of their opponents by ridiculous margins. After that, we simply expected to win, even though other countries increasingly have NBA stars of their own and compete as national teams—playing by very different rules—more regularly. We may well not win it all this year (and, yes, I'm aware that I just referred to the team in the first person) because the COVID-delayed NBA season just ended and we've cobbled together an exhausted team with no time to practice together, much less gel.
But it's not just the Olympics, of course. In the era of free agency, even with professional teams, we're "rooting for the laundry." Players come and go and, in football especially, most of them are faceless. It's even worse in college sports, where we put impossible expectations on 18-, 19-, and 20-year-old kids to be perfect under enormous pressure only to forget about most of them when they finish playing for our schools. And, when players get injured, our first thought is seldom for their well-being but the impact on our team's—or even our fantasy team's—chances of success.
Part of this just goes with the territory. Sports are different from other forms of entertainment precisely because of their ability to create this vicarious attachment. "Fan" is short for fanatic, after all. But it's too easy to forget that athletes are people, first and foremost. And I need to try harder to remember that.