Singing National Anthem Illegal?!
You aren't allowed the sing the Star Spangled Banner at the Lincoln Memorial.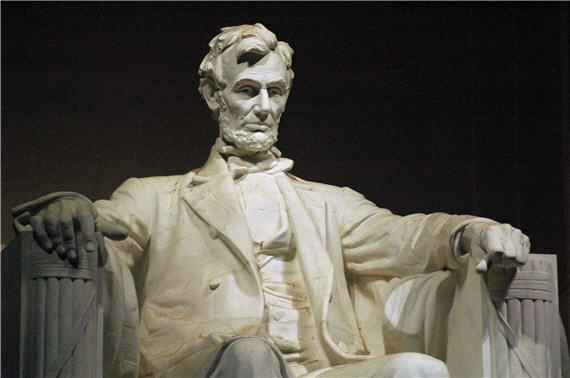 Heritage's Mike Brownfield has a post titled ""Shut up! You Can't Sing the National Anthem Here!"" that's guaranteed to raise the hackles of every red-blooded American.
Take heed, America. The next time you visit Washington, D.C., feel free to stand in awe of the monuments to our greatest leaders, but do not — DO NOT — sing the National Anthem at the Lincoln Memorial. It turns out that doing so is a violation of federal law.
How can this be?!  What an outrage!
Well, it turns out, not so much.
Brownfield's report is based on a Fox News story titled "Students at Lincoln Memorial Told to Stop Singing National Anthem." And it's a pretty tame tale:
A group of high school students attending a conservative leadership conference in Washington, D.C. said they were ordered by a security guard to stop singing the national anthem during a June 25 visit to the Lincoln Memorial.

"They told them to stop singing," said Evan Gassman, a spokesman for the Young America's Foundation. "I was taken aback. You wouldn't expect a display of national patriotism to be censored."

U.S. Park Police confirmed that the students were in violation of federal law and their impromptu performance constituted a demonstration in an area that must remain "completely content neutral."

"The area they were standing in and singing is an area that is restricted for this type of activity," said Sgt. David Schlosser. "The United States Park Police is absolutely content-neutral when it comes to any sort of demonstrations in these areas." Schlosser explained that performances, regardless of content, are banned to "maintain a contemplative and reverent area for the Lincoln Memorial, for the other guests and visitors."

[…]

Schlosser said the students would have been in compliance had they moved approximately 25 steps from where they were standing.

"It's not the content of their activity – that being the national anthem – it's the location," he said. "A couple steps and it would have been no problem whatsoever."

Instead of doing as they were instructed, Gassman said the students resumed the song – an impromptu form of civil disobedience. "If their idea of civil disobedience is singing the national anthem, then so be it," Gassman said. "Let them disobey."
Yes, the Lincoln Memorial is public property.  And the National Anthem is a patriotic song!
But it's perfectly reasonable to have content-neutral restrictions on otherwise lawful activity so that visitors can enjoy the monuments in quiet reflection.  The courts have long recognized that, while freedom of speech and assembly are our most cherished rights, they're still subject to reasonable restrictions in terms of time, place, and manner to serve legitimate public interests.
If the Park Police allowed YAF kids to sing the Star Spangled Banner, they'd pretty much have to allow anyone to sing or say anything.   And the Memorial would be a cacophony of protesters rather than a national treasure.
My wife and I took a lot of our wedding day photos around the National Mall and its monuments.  And one actually has to get permits to do wedding photography at the more popular ones.  On the surface, that's bureaucratic and petty.  But, otherwise, the ability of the public to enjoy the monuments they've often traveled a long way to see would be ruined by a constant stream of wedding parties blocking their access.
I don't like any of this.  But there are trade-offs when dealing with very popular public goods.  And a polite admonishment from a security guard to please move back 25 steps strikes me as a perfectly reasonable balance.