Sleeping in the Office (Congress Edition)
Some members of Congress sleep in their offices in lieu of renting residences in DC. Fiscally responsible or kinda odd?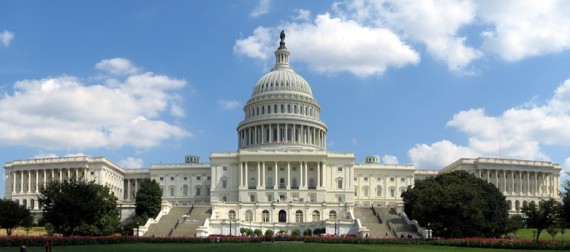 Via the NYT:  For House Members Looking to Save Money, a Day at the Office Never Ends
Hansen Clarke, a newly elected Democrat from Michigan, is coming to Washington with a "warrior's mentality" to help stave off unemployment and foreclosures in metro Detroit. He plans to hole up in his "bunker" — his Longworth House office, where he will work ("practically around the clock"), eat ("healthy options" like microwaved sweet potatoes) and sleep (most likely on a mattress and sleeping bag combination).

"Washington is not going to be a home for me — I'm only there to work," Mr. Clarke said. "I need to be able to work up to 20 hours a day and still get some decent sleep, and if I sleep in my office I'll be able to do that."

Mr. Clarke is one of as many as a dozen freshman House members who plan to bunk in their offices when Congress is in session. Though no one has hard numbers, anecdotal evidence suggests that at least 40 to 50 House members, both new and old, will be sleeping at work.
My first reaction is that what these guys need is the carpenter who built a sleep station in a desk for George Costanza in the Seinfeld episode "The Nap."
My second reaction is:  while I want my members of Congress to work hard, I am not sure that what we should want as a country are Representatives working 20 hour days and then catching four hours of sleep in their offices and showering at the House gym.  This doesn't strike me as work habits likely to induce cogent work output.
Third, I am not sure that cocooning oneself in the Capitol and its tunnel-connected office buildings doesn't create a more distorted view of reality than does having a residence in DC.
On balance, I think that the following description is fairly accurate:
Skeptics argue that the arrangements do not actually save the taxpayers money — if anything, they say, members should have to pay Congress a small stipend for the added resources they use at night. They also complain that the practice can feel like a macho boys club, that it promotes a fierce anti-Washington sentiment that hurts bipartisanship and that, frankly, it just seems weird.
The "boy club" reference is gratuitous, I will allow, although it is accurate as far as it goes:  the members of the "couch caucus" are all male.  I will say that we know good and well that Representatives living off campus (so to speak) can still lead to Congressmen behaving badly (as those who remember the Ensign/Sanford/Pickering/others house o' affairs can attest).
Still, if part of the alleged problem with Congress really is that politicians are "out of touch" then it would seem this type of lifestyle would further exacerbate, not alleviate, such an issue.  Although I suppose it does save individual members money.
Apparently, the practice is not new with the 112th, as the story notes that Dick Armey used to sleep in his office as well.