So, What Time Do The Polls Close?
Politico has this helpful map showing when polls close across the country, all times Eastern: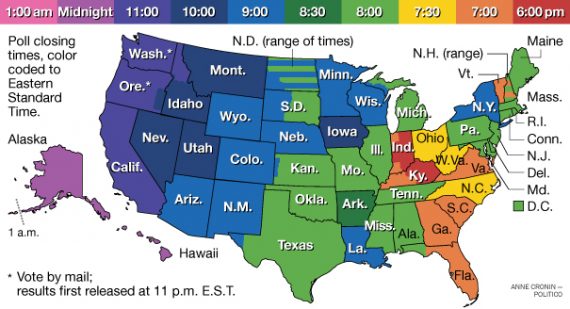 I'd expect that you're not going to see a lot of early calls in the swing states, the networks have learned their lesson from 2000 quite well I think. So even though Virinia closes at 7:00 and Ohio at 7:30, I would be surprised if we see either of those states called before 9:30 at the earliest, and possibly later. Also note that Florida has two closing times; most of the state closes at 7:00 but the western part of the Panhandle doesn't close until 8:00 because it's in the Central Time Zone. Normally, networks refrain from calling the state until after all polls have closed, although the Secretary of State does start making poll results available after the majority of polls have closed. Florida is another state that I would expect to go late before being called. Finally, depending on how close things appear to be in the Electoral College, we may have to wait for Colorado, which closes at 9:00, and Nevada, which closes at 10:00.
H/T: Ann Althouse