Social Security and Life Spans
It's a myth that the problem with Social Security is that people are living much longer after retirement than they used to. The reality is that a whole lot more people are living long enough to draw benefits.
Amanda Marcotte points me to a counterintuitive Daily Kos essay by Susan Gardner seeking to debunk as a myth the notion that people are now living much longer after retirement than when Social Security was enacted.  Her key insight:
The fact is, men are living less than three years longer, women about five. Yes, there are more people living longer because they didn't die at age 3 of whooping cough or polio, but the life expectancy for an individual has not been extended very much at all once age 65 is reached. Disturbingly, pushing the retirement age out five years as is currently proposed actually means an individual male retiree today is at risk of being cheated of two years more retirement than our supposedly drastically shorter-lived forebears received more than half a century ago.
And, it's true:  Life expectancy at age 65 went from 12.2 years in 1930 to 17.7 years in 1997 for the total population.  And life expectancy at age 85 has changed even less.
But, while that's one important measure — how long you're likely to draw retirement benefits once you've retired — it's not the only one that matters.  The fact of the matter is that people used to a whole lot more likely to spend their whole lives working and then die before turning 65 and drawing any retirement benefits at all!
Here's a graph put out by the Centers for Disease Control on the the percent of each age cohort surviving at a given age over time: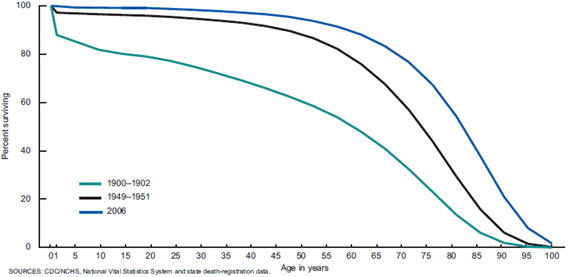 While it's true that death in very early childhood is the chief reason the average lifespan was so much shorter a century ago, that had largely changed by the end of WWII.   But even aside from that, the rate of survival was very much lower for those born in 1900 — young workers at the time Social Security was enacted — and those born in 1949 and nearing retirement now at every point along the curve.
For those born at the turn of the 20th Century, less than fifty percent could expect to see one dime from Social Security.   But the vast majority could expect to pay into the system, supporting existing retirees, for twenty to thirty years.
For those born in 1949, though, more than 70 percent expect to live to 65.*
For those born in 2006, it'll be more than 90 percent.
Yes, those who retire will only get benefits longer.   But vastly larger numbers will actually draw benefits.   From a purely actuarial standpoint, that makes a huge difference.
Now, I don't think we can morally justify raising the retirement age much further.   At least, not across the board.  For a coal miner, 65 is still old.   But we'll have to either have different retirement ages for people, like me, who sit in front of a computer all day, means test benefits, or tax existing workers more to keep this system afloat.
_____________
*As a technical matter, the retirement age has been phasing towards 67 since the mid-1990s.  But Gardner is arguing that we shouldn't be doing this.