Some Observations on the Scotland Independence Referendum
Thoughts on the Scottish referendum (and on the issue of thresholds and decision-making).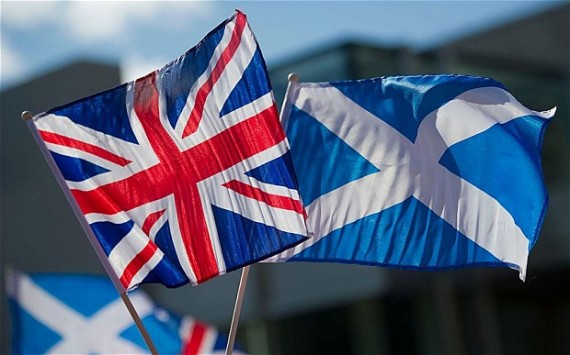 Steve Saideman has a post worth reading on the the pending independence referendum:  Why I Would Vote Nay.
He raises a number of points worth consideration, but he hits on one in particular that I was going to blog about myself:
a low threshold–50% plus one.  I find this incredibly problematic.  Why?  Because massive political and social change should require not just a few folks more being in favor than opposed–it should have much enthusiasm that most people desire it.  If 50% plus one wins the day, then a narrow majority can impose its preference on the minority in a way the minority cannot ameliorate without leaving.
While I have general opinions about Scottish independence (I share, for example, Saideman's concerns about the the costs of secession), I do not have a set of complex arguments for or against.  However, as regular readers know, I have quite an interest in political institutions and especially electoral rules and I agree with Saideman:  this is the wrong threshold for this type of decision.
For something as dramatic as a shift in the sovereign status of a territory, which will have profound effects on large swaths of public life (and which do have costs) I would argue that you need significant public buy-in, rather than the potential for a narrow win.  Consider:  if independence wins by a percentage point or two, that is a pretty dramatic amount of power being given to just-over-half of the population over just-under-half.  And it isn't as if in a few years there will be a chance for another referendum for re-unification in case that narrow minority that opposed secession has become a narrow majority (or, indeed, even if it becomes a large one).
Independence will create shifts in the economy, foreign policy, and the basic identity of the inhabitants of Scotland.  These are matters that should require more than just over half to decide.  The asymmetry in results is too large.  Consider that if "no" wins there is still room to try and negotiate more autonomy for Scotland within the UK but a "yes" win doesn't create space for semi-independence.  In other words:  there is still room to address the issues that are driving the referendum in the first place under a "no" win but a "yes" win is pretty close to an all-or-nothing proposition.
As regular readers also know, I have often argued against super-majorities in the context of regular legislation (most specifically in regards to the fact that the US Senate currently operates more or less under a 60-vote rule these days for most activities).  I do think that the appropriate threshold for normal legislation ought to be 50%+1 and that it ought to reflect, within in reason and with caveats, majority sentiment.  For example:  basic rights cannot be settled by mere majority sentiment.  There are issues that clearly transcend issues of the preferences of the moment.  However, when it comes to basic public policy, the bottom line is this:  if a system has an appropriate feedback mechanism for registering changes in public opinion (which relate to the institutional design of both the  electoral system and the legislature) then there is a real corrective to shifts in public preferences:  another election.  Indeed, part of the problem with the current US system is that if (and this is a big if) a particular political faction is able to achieve a policy goal, reversing that policy is extremely difficult, even if majority preferences have shifted (but that is another discussion, so forgive the digression).
Following that logic, however:  there will be no such corrective possible if Scotland votes "yes."   This is an all-or-nothing outcome if "yes" wins and that is why a "yes" vote ought to have more buy-in from the population.  I am not sure what the appropriate number ought to be off the top of my head, but it clearly needs to be higher than 50%+1 (maybe 2/3rds?).
These are just .02 from someone who spends a lot of time thinking about the interaction between rules and the expression of popular will.
Back to Saideman's post:  If anything the post is worth a read for its "Difference between Scottish and Crimea Referendum" chart.