Some Tax Breaks Are Middle Class Welfare
Do people who take advantage of tax breaks get a "government benefit"?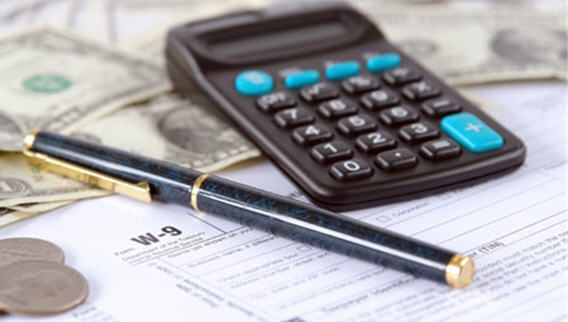 Alex Tabarok takes exception to an argument raised by Catherine Rampell, Bruce Bartlett, and Matt Yglesias that Americans who take advantage of government polices such as the home mortgage interest deduction or the 529 college savings program are unaware of how they benefit from government programs. Before examining Tabborok's argument, lets take a look at what he's argument against.
Bartlett started the ball rolling back in February in a column about the GOP's budget cutting strategy where he reproduced the chart below, which comes the chart below from a paper by Suzanne Mettler: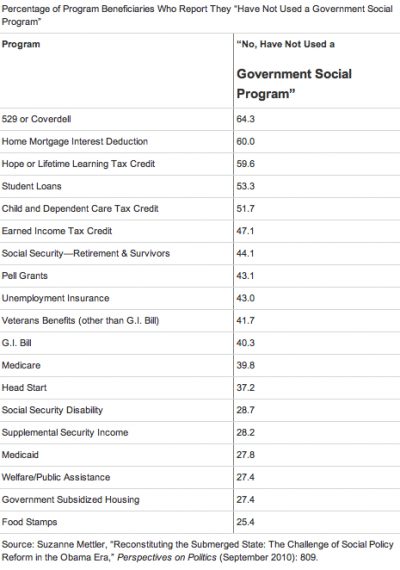 Matthew Yglesias comments:
The tax credits and deductions that lead this list are actually designed so as to obscure their government program nature. But it's pretty amazing that 44.1 percent of Social Security beneficiaries seem to have convinced themselves that the single largest government social program—a program that consists of the government mailing checks to people—is not a government social program. And then there's Medicare, the largest forward-looking source of budget deficits. This is all especially galling since in the Obama Era the over-65 demographic has become by far the most conservative group in America, even as it's the group that gets the lion's share of the benefits from big government.
One is reminded of the signs frequently seen at protests against the health care reform law while it was being debated that said, in one form or another, Keep the government's hands off my Medicare. The fundamental lack of logic in that position is fairly apparent, but perhaps it is easy to understand why someone who benefits from the Home Mortgage Interest Deduction or participates in a program that gives preferential tax treatment to money saved for college expenses might not see themselves as benefiting from a government program.
That doesn't mean they are aren't, however. Both of those programs in particular are changes made to the tax code designed to specifically benefit a select group of people–homeowners in one case, parents in the other. There is no natural right to be able to deduct the interest from your mortgage from your taxable income, or to avoid paying taxes on the gains from money kept in a special account that with the intention that the money won't be used until ones child goes to college. They are both government programs designed to benefit a select class of people. There may be good policy arguments in favor of both of them, but that doesn't mean that they aren't government programs.
Tabarok, however, isn't buying any of it:
What Rampell et al. want to do is to make people believe in this great fiction. But there are always taxpayers and taxeaters, even though government has so wormed its way into every organ of the body politic that it is sometimes difficult to tell which are which. (Indeed, part of Mettler's point is that the government shell game of 'hide the subsidy, hide the tax' is often designed to obscure taxpayers and taxeaters.)

Nevertheless, there are dividing lines. In a laissez-faire world we don't get rid of 529 programs, instead all savings, not just savings for college, become tax-free. A 529 program is not a government program like food stamps, it is the absence of a government tax. (N.B. I am not taking a position here on the best tax structure.)

People who use 529 programs and who think that they have not used a government social program are not willfully ignorant, they are demonstrating a healthy if fading appreciation of the distinction between civil society and government.  What Rampell et al. implicitly imagine is that the natural state is slavery and any departure from that state a government benefit. Thus, if the government taxes your saving for a college education less than your other savings, you should be grateful for how government has benefited you and your children.

And if the government doesn't jail you today, you should be grateful for how government has granted you the benefit of liberty.

This is the attitude of a serf not an American.
Tabarok has a point at some level, but where I think it falls apart is that we don't live in a lasseiz faire world, and we never really have. Tabarok is making a moral argument, and it's one that I'm sympathetic to, but I'm not sure that it's particularly helpful in a debate over our tax system and how its used to provide benefits to favored groups.
Ever since the income tax became a part of American life, it has been used as a back door way to regulate American life and business by means of defining what is and isn't income, how different forms of income shall be taxed, what may be deducted from Total Income to determine Adjusted Gross Income, what may be deduced from Adjusted Gross Income to determine Taxable Income, what tax rate will be applied to Taxable Income, and what tax credits a taxpayer may be entitled to in order to reduce their tax liability. These are all policy choices, not moral ones, and the reason that millions of people benefit from things like the mortgage interest deduction or the 529 program are receiving a government benefit, and  they're receiving it because someone in Washington decided it would be a good idea to bribe the middle class with another tax break. These tax breaks are government programs just as much as Medicare and Head Start.
H/T: Professor Bainbridge