Some Thoughts on Presidential Twitter
Donald Trumps' tweets are the public statements of the President of the United States. This makes them noteworthy and often important.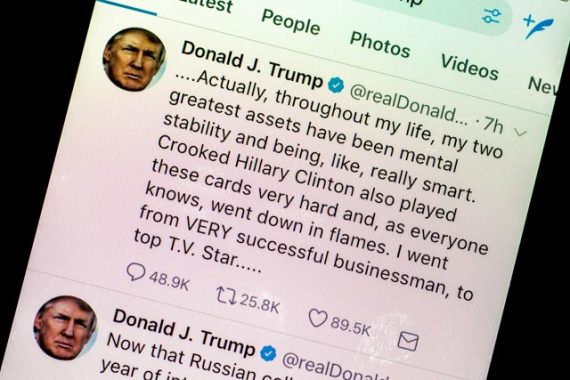 We have been having an oncoming conversation regarding the relative importance of @realDonaldTrump's tweets.  Attention to this question is amplified by the Tweeter-in-chief's activity in this, the young new year (capped off by today's "very stable genius" bit).
Let me clarify my perspective on this topic.
First, I recognize the limitations of the medium (i.e., Twitter itself).  But I also know that the medium is not the main issue.  Rather, the combination of who a user of a given medium is and the message they communicate is the key.  Twitter, like all of social media, can be a wasteland of inanity (or worse), but it can also be used to positive effect (it can inform, point to useful information, entertain, etc.). Moreover, the usage of any medium (television, blogging, book publishing, whatever) is dictated by skills and motivations and can bring insight into the user of said medium.  If it is important to understand the thought processes of a given person, or if a person's public communications can have significant ramifications, then it is worthwhile to pay attention to those public statements.
It should be obvious that we wish to understand the thought processes of a president, and that a president's thoughts can have important ramifications in terms of both influencing policy and public opinion.
Look, in simple terms, we always want insight into what a given president is thinking.  It is not controversial to state that we  want to understand the given occupants of the White House (whether we are just talking casual concerned citizens, or those interested in a deeper, academic understanding of events or somewhere in between).  One of the avenues of study is to look at public statements. In regards to the medium, tweets are no different than what he might say at a formal speech, at a press conference, or in an interview.  They are utterances that provide some level of insight into his thought process and his beliefs. They also have bearing on policy, even if they clearly are not policy in and of themselves (and often fail to come to fruition, see e.g., the ban on transgendered persons in the military, which started as tweets).
Further, whether one likes it or not, the President does use his twitter feed to try and influence his supporters.  It is a direct line of populistic communication.  No doubt there will be numerous studies to determine the degree to which he was successful in using the medium to this end.
Second, I also know that what politicians and office-holders say is far less important than what they do.  As such, that means that sure, we shouldn't always take his tweets with dire seriousness.  Some, like the aforementioned transgender ban, had no teeth.  Others, like his statements about Pakistan, appear to have some real relation to policy moves.
Quite frankly, one of the most concerning elements of his tweeting is that they seem to confirm a man who gets a lot of information from cable news.  Via Politico:  I've Studied the Trump-Fox Feedback Loop for Months. It's Crazier Than You Think.
here's what is shocking: After comparing the president's tweets with Fox's coverage every day since October, I can tell you that the Fox-Trump feedback loop is happening far more often than you think. There is no strategy to Trump's Twitter feed; he is not trying to distract the media. Heis being distracted. He darts with quark-like speed from topic to topic in his tweets because that's how cable news works.

Here's what's also shocking: A man with unparalleled access to the world's most powerful information-gathering machine, with an intelligence budget estimated at $73 billion last year, prefers to rely on conservative cable news hosts to understand current events.
The whole piece is worth a read.
Fundamentally it is troubling the degree to which the President of the United States relies not only on cable news, but on one of the most anemic and vacuous of news program species, the morning news show (and, in my opinion, one of the most vacuous of the vacuous: Fox and Friends).  This is not only useful information about the CinC, but also shows that is it not surprising that his twitter feed is influential to his base as it reinforces what they are likely seeing in their own media consumption.
I will add a point that I think is weirdly underappreciated as it pertains to what is written here at OTB:  this is primarily a news reaction blog.  Sure, sometimes we range off into deeper explorations of various topics while at other times we attempt to bring our various areas of expertise to analyze ongoing events.  I suppose in a perfect world all this site would be would be those deeper types of pieces.  But even when we do that, we are usually reacting to ongoing news events.  As such, it should not be surprising that we often wish to react when one of the most powerful politicians in the world takes to a public forum to say incredibly problematic, if not plain stupid, things.
So, along those lines it is not surprising that we would be inclined to react to the nonsense that glides off the thumbs of ostensibly the most important leader in the world.
Beyond that:  it should not be surprising at all that others on social media would response or that the news media, especially the 24/7 variety, would report on these statements.
But to get down to brass tacks:  Donald Trumps' tweets are the public statements of the President of the United States.  This makes them noteworthy and often important.  The fact that he allows his Fox News-influenced views to complicate US foreign policy is not insignificant.  That he tweets attacks on the free press is not a small thing.  That he clearly is influenced, and has shared via twitter, xenophobic and racist notions is not something to ignore.
Should his twitter feed be the main focus of our understanding his presidency?  Certainly not.  Rather, lets look there to policy action and inaction as well as to the inability to properly staff and manage the executive branch.  But let's not pretend open access to his thought processes, such as they are, don't matter.
And let's not forget:  it is possible to know what he is saying on twitter and still pay attention to what he is doing in office, as well as the news of the broader world.