Sotomayor Defends Thomas
The longest-serving Supreme Court Justice is a nice guy.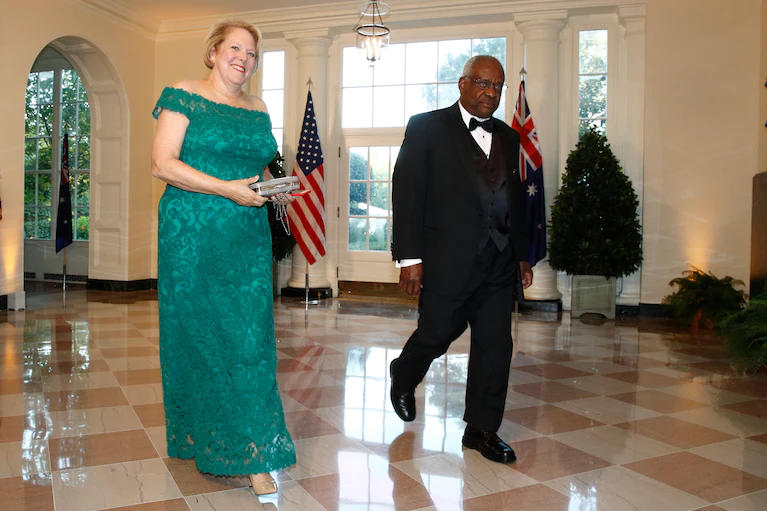 The Hill ("Sotomayor praises Clarence Thomas: 'He is a man who cares deeply about the court as an institution'"):
Supreme Court Justice Sonia Sotomayor spoke highly of colleague Justice Clarence Thomas during an event on Thursday, saying, "He is a man who cares deeply about the court as an institution."

Sotomayor, who is liberal, acknowledged during remarks at the American Constitution Society that while she often disagrees with the conservative justice, she believes that "we share a common understanding about people and kindness towards them"

"Justice Thomas is the one justice in the building that literally knows every employee's name, every one of them. And not only does he know their names, he remembers their families' names and histories," she said.

"He's the first one who will go up to someone when you're walking with him and say, 'Is your son okay? How's your daughter doing in college?' He's the first one that, when my stepfather died, sent me flowers in Florida," she added.
Adam Liptak's report for the NYT ("Sotomayor Says Supreme Court Can 'Regain the Public's Confidence'") adds:
Justice Sotomayor said her interactions with Justice Thomas have been instructive. "I suspect I have probably disagreed with him more than with any other justice," she said.

"He has a different vision than I do about how to help people and about their responsibilities to help themselves," she said. "Justice Thomas believes that every person can pull themselves up by their bootstraps. I believe that some people can't get to their bootstraps without help.

"That's a very different philosophy of life, but I think we share a common understanding about people and kindness towards them," she said. "That's why I can be friends with him and still continue our daily battle over our difference of opinions in cases."

More generally, she said, she and her colleagues had mastered the art "of disagreeing agreeably." She attributed such civility to the legacy of Justice Sandra Day O'Connor, who organized frequent group lunches and movie nights before her retirement in 2006.

"There is a sense of collegiality, a sense of cooperativeness, that women tend to insist upon," Justice Sotomayor said.
That Thomas takes an interest in the personal lives of low-level staffers and sends flowers to colleagues on the other side of the aisle when they're grieving is all to the good. Aside from a chip on his shoulder over the notion that he got to where he is only because of the color of his skin, I've always found him rather likable.
Further, unlike the vast majority of commenters here, I agree with Sotomayor that Thomas simply has a different philosophy of what the Court's role is than do most liberals. By all accounts, though, he's collegial and cares about the perception of the institution.
None of that, of course, changes the fact that Thomas is incredibly controversial. As we've noted many times here over the years, Thomas has a massive conflict of interest in the form of his wife, Ginni, who is deeply involved in right-wing advocacy, including having been a cheerleader for the insurrection on January 6. This has led to calls for him to recuse himself in a wide array of cases. While I tend to reject that—Justices come to the bench with all sorts of known ideological baggage and we don't expect them to recuse in their interest areas—it's perfectly reasonable to criticize his participation in votes on matters related to the Capitol Riot that directly implicate his wife.
It's simultaneously possible for Thomas to be a figure of controversy and not be a monster. Indeed, I think that's likely the case.