Washington Supreme Court Rules Against Florist Who Refused Service To Same-Sex Wedding
The Washington State Supreme Court has ruled against a florist who refused to provide services for a same-sex wedding.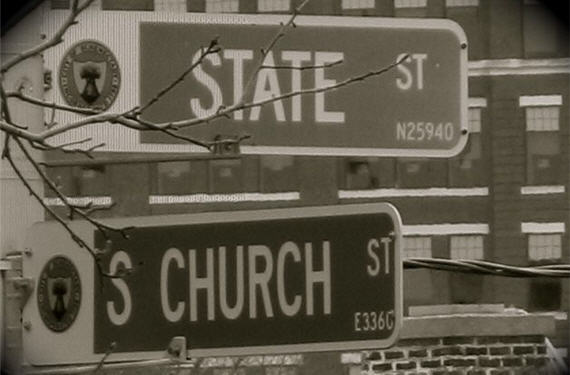 Late last week, the Supreme Court of Washington ruled unanimously against the owner of a flower shop who refused to provide flowers for a same-sex wedding, an action that it found violated the state's law barring discrimination in public accommodations and providing goods and services to the public:
SEATTLE — A florist who refused to sell flowers for a same-sex wedding cannot claim religious belief as a defense under the state's anti-discrimination laws, Washington's high court said Thursday, in a case that has been watched around the nation by religious and civil rights groups.

The unanimous ruling by the nine-member state Supreme Court, which a lawyer for the florist said would be appealed to the United States Supreme Court, addressed sweeping questions about public accommodation, artistic expression and free speech.

But at its heart was a very human story about Arlene's Flowers in the small city of Richland, in southeast Washington, and what happened there in 2013 when Robert Ingersoll and Curt Freed started planning their wedding. The shop's owner, Barronelle Stutzman, knew that Mr. Ingersoll and Mr. Freed were gay and had sold them flowers for years, but then refused to provide flowers for their wedding. Her Christian faith, which defined marriage as between a man and a woman, created a line, she said, that she could not cross.

But in affirming a lower court's finding, the Supreme Court said flatly that it agreed with the couple — flowers were not really the point.

The case, the court said in its 59-page decision, "is no more about access to flowers than civil rights cases in the 1960s were about access to sandwiches." And laws, the decision said, can have legitimate social goals. "Public accommodations laws do not simply guarantee access to goods or services," it said. "Instead, they serve a broader societal purpose: eradicating barriers to the equal treatment of all citizens."

National gay rights groups hailed the decision as another plank of protection for same-sex couples and marriage equality.

"People should also never use their personal religious beliefs as a free pass to violate the law or the basic civil rights of others," Sarah Warbelow, the legal director at the Human Rights Campaign, which advocates for lesbian, gay, bisexual, transgender and queer civil rights, said in a statement.

A legal expert at the University of Washington said the legal framework of the decision was not particularly new or novel, with many precedents about interracial couples, business law and free expression. But extending that logic, with unanimous court agreement, to a full affirmation that those rights extend to same-sex couples establishes firmly the idea of a fully protected class, said Hugh Spitzer, a professor of law at the University of Washington.

"It's a kind of case that hasn't come up before," said Professor Spitzer, who teaches constitutional law. "But the principles are not new."

A lawyer for Ms. Stutzman, Kristen Waggoner, said the court had erred both in interpreting the law and in the specifics of the case. The same-sex couple were not refused service because they were gay, Ms. Waggoner said, but only turned away for a specific ceremony that Ms. Stutzman could not abide because of the dictates of her conscience. Voters in Washington approved a same-sex marriage law in 2012.

Because a flower arrangement is an artistic expression, Ms. Waggoner said, the court effectively ruled that the state could regulate, with punitive government authority, what artists may sell.

"All creative professional expression is at risk," Ms. Waggoner said in a telephone call with reporters.

Ms. Stutzman and her lawyers, using dictionary definitions of "art" as well as expert testimony regarding her creativity and expressive style, argued for a broad reading of protected speech that encompassed her "unique expression," crafted in "petal, leaf and loam."

The justices rejected that argument. In looking at what sorts of conduct or service constitute free speech, protected under the Constitution, they found that even if Ms. Stutzman was artistic in her flower arrangements, the statements she made in selling the arrangements were not protected free speech, as defined by the United States Supreme Court.

Ms. Stutzman herself, the court said, contradicted the argument that wedding flowers were a statement when she said in a deposition that providing flowers for a wedding between Muslims would not necessarily constitute an endorsement of Islam, nor would providing flowers for an atheist couple endorse atheism.
It would also have been interesting if Ms. Sturzman had been asked if her religious beliefs would have required her to refuse to do provide flowers to two people who she knew had begun their relationship as an adulterous affair when one or both of the parties were married to other people, or if it would require her to refuse service to people who had been divorced. As with her answer to the question about whether she believed providing flowers for the wedding of Muslims or atheists would not constitute an endorsement of Islam or atheism, I suspect that her answer would be that she would not consider her religion to require denying service in any of those cases. Given that, the fact that she raises it with respect to providing services to a same-sex couple for use at their wedding is quite telling and makes her claim that her religious liberty is being violated far less credible.
This isn't the first case of its type we've run across, of course. During the years that the issue of marriage equality was making its way through the course and the state legislatures, there were several reports about various businesses involved in providing services to weddings or wedding receptions who refused to provide services to same-sex couples, citing religious objections to the idea of same-sex marriage as the reason. In several cases, such as this case from Washington and the case of a wedding photographer in New Mexico, those cases ended up in the Courts due to the fact that the businesses were located in the relatively small handful of states and localities that forbid discrimination based on sexual orientation. In each of those cases, the Defendants raised as a defense the claim that they should be exempted from the law based on the fact that applying the law to them would be a restriction on the free exercise of their religious beliefs. In all of those cases, the Courts rejected the argument on the ground that whatever religious liberty claim was being validly raised was outweighed by the government's more compelling interest in enforcing laws against public discrimination.
In this respect, this case is identical to a nearly twenty-seven-year-old Supreme Court precedent that even Justice Scalia joined at the time. In Employment Division v. Smith, the Court ruled that the First Amendment's free exercise clause did not create an exemption to an otherwise generally applicable law and that the government's interest in enforcing that law outweighed the claim of the Appellant that his religious liberties were being violated. In that case, Smith had been fired after a positive drug test and argued that he was entitled to unemployment benefits under the law because his dismissal had been due to testing positive for peyote, which is used in Native American religious ceremonies. The relevant state agencies had ruled that he was not entitled to benefits due to the fact that state law prohibited granting benefits in cases where the party's dismissal from employment was based on illegal activity. While these are obviously a different state of facts than what is at issue in the Washington State case, the legal principles are the same. In both cases, the party making the religious liberty claim is arguing that their right to freely exercise their religion should provide an exemption to a generally applicable law. In Smith, the Supreme Court rejected that claim, finding that the state's interest in enforcing the law outweighed the assertion that the defendant's religious liberty was being violated. The Washington Supreme Court reached essentially the same conclusion in this case, finding that the state's interest in enforcing laws against public discrimination outweighed the business owner's religious liberty laws.
Because of her assertion of a First Amendment defense in the courts below, the defendant does have the option of appealing this case to the United States Supreme Court. However, I suspect that she will most likely find this to be fruitless. First of all, the Court has rejected previous opportunities to review cases of this type, most recently with respect to a photographer in New Mexico who refused to provide services to a same-sex couple and was charged with a violation of an anti-discrimination ordinance as a result. There seems to me to be no reason that we won't see the same thing happen in this case, a sentiment with which Eugene Volokh agrees:
As to the future of this particular case, I doubt the U.S. Supreme Court will review the case further: It could only review the First Amendment issue (since the state supreme court is the final decision-maker on the state constitutional issue), and the compelled speech case here is weaker than in the New Mexico wedding photographer case, which the U.S. Supreme Court refused to hear. The other First Amendment arguments in the case also seem unlikely to interest that court.
On the chance the Court dic accept the case for appeal, though, my guess is that the Court would be far more likely to rule against the florist than rule in her favor. While we don't know how a future Justice Gorsuch might rule in this case, it seems likely that Justice Kennedy would rule consistently with his position in Smith, in which case we'd have a 5-4 majority in favor of sustaining the ruling of the Washington Supreme Court. As I stated, though, the most likely outcome is that the Court will simply decline to hear the case and this ruling will stand.
Here's the opinion:
Washington Et Al v. Arlene's Flowers Et Al by Doug Mataconis on Scribd