South Dakota Congresswoman Kristi Noem To Run For Governor In 2018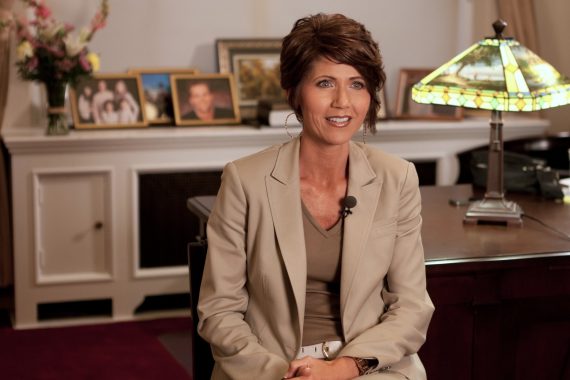 South Dakota's sole Representative in the House, Republican Kristi Noem, has announced that she will forego running for re-election in 2018 to run for Governor:
South Dakota Republican Rep. Kristi Noem announced Monday that she will run for governor in 2018 instead of seeking re-election to the House, according to the Argus Leader.

Noem's decision opens up the state's at-large congressional seat, which she has held since 2011. She was elected to a fourth term last week by an overwhelming 28-point margin.

"Today, I'm asking for your support to serve as the next governor of our great state," Noem said in a video message. "Our future depends on our ability to honestly evaluate where we are today and to make the tough choices necessary to create new opportunities for families and small businesses."

Noem said her campaign won't kick off officially until next year but noted, "I'm all in."

Although she's not running for re-election to the House, Noem said she looks forward to working with President-elect Donald Trump on priorities such as overhauling the tax code, repealing and replacing the 2010 health care law and enacting a new farm bill.

"I'm excited about the progress that we can make over the next two years," she said. "But I still believe in the spirit of citizen legislators whose temporary service helped found our nation. I ran for Congress in that spirit. I plan to work hard to push conservative solutions and to make a difference, not make a career out of Congress."

In pitching her run for governor, Noem said, "We could use some fresh ideas from someone who's had to hustle to make a dollar and pinch a penny to make it last. That's been my experience my whole life as a farmer, a rancher and a small business owner."
Noem has been considered one of the GOP's rising stars ever since she was first being elected to the House of Representatives in the 2010 Elections. Before this, she had served for four years in the South Dakota House of Representatives. Were she elected Governor, which would almost assuredly happen if she won the Republican nomination in 2018 given the fact that there have only been five Democratic Governors in the entire 127 years that South Dakota has been a state and the most recent Democrat in the Governor's Mansion served in the 1970s, she would no doubt enhance her political visibility considerably. In that case, she'd likely be on several short lists as a potential Vice-Presidential candidate, or even Presidential candidate, in the future.