SpaceX Begins Deployment Of Satellite-Based Internet
Earlier this week, SpaceX deployed the first 60 satellites in a network that could result in Internet access from virtually anywhere in the world.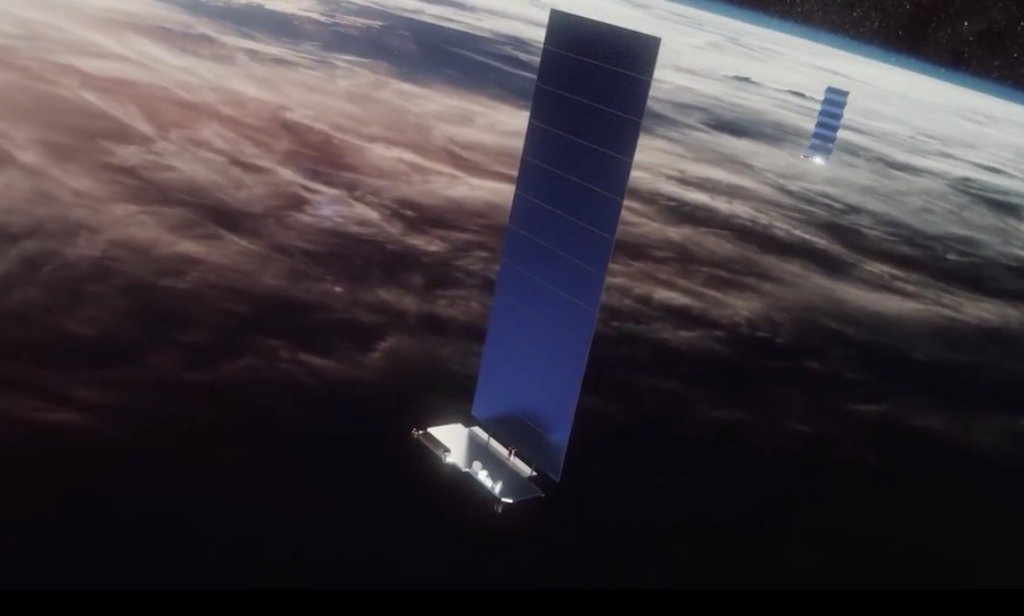 Late Thursday night, Elon Musk's SpaceX launched 60 satellites meant to be the beginnings of a service that would provide Internet access via satellite available around the world:
On Thursday night, SpaceX launched a batch of 60 internet communications satellites from Cape Canaveral Air Force Station in Florida.

More than one hour later, some 270 miles above Earth, the cluster of satellites — part of a system called Starlink — pushed off from the rocket that carried it to orbit. The individual satellites slowly began to drift toward their singular journeys above the planet.

Elon Musk, the company's founder and chief executive, said on Twitter early on Friday morning that all 60 satellites were "online."

By next year, SpaceX hopes that hundreds of the devices could be circling the planet, beaming high-speed internet service everywhere. It could allow SpaceX to enter a new business that might generate revenue to finance the dream of sending people to Mars.

It was the third attempt to launch the Starlink system, after two earlier postponements last week.

SpaceX — which usually ferries cargo to orbit for NASA or private companies — is its own customer this time. And the Falcon 9 rocket was not carrying just one satellite, but 60 identical ones.

The Starlink satellites will eventually form a constellation of satellites that are to offer internet to almost anywhere on Earth.


Last year, SpaceX launched two prototype satellites, called Tintin A and Tintin B.


The payload on this launch, at more than 30,000 pounds, was the heaviest ever launched by SpaceX, Mr. Musk said during a news conference last week ahead of the postponed launch attempts. He added that these satellites would be able to relay information by bouncing the data off a ground station. However, they lack a component planned for future versions: lasers that would allow the satellites to relay information to one another.


Each of the flat-panel satellites weighs about 500 pounds, powered by a single solar array. During their deployment, they moved steadily outward from a slowly spinning core. "It will almost seem like spreading a deck of cards on a table," Mr. Musk said.


Mr. Musk sounded a note of caution to tamp down expectations. "There is a lot of new technology here," he said. "It's possible that some of these satellites may not work. In fact, it's possible, a small possibility, that all of the satellites may not work."
As the article notes, there already are satellite-based Internet Service Providers, such as Hughes Net, that provide Internet access to people in rural and other areas that don't have access to broadband. Starlink is different, though:
The Starlink satellites will orbit much lower — between 210 and 710 miles above the surface. That reduces the lagginess, or latency. SpaceX has said performance should be comparable to ground-based cable and optical fiber networks that carry most internet traffic today. Starlink would provide high-speed internet to parts of the world that currently are largely cut off from the modern digital world.

Because the satellites are lower, they travel faster. Thus, Starlink must provide a constellation of satellites whizzing around the planet. When one satellite moves away from one of its customers, another one must come into view in order to provide a continuous internet connection.

Mark Juncosa, vice president for vehicle engineering at SpaceX, said that with 12 additional launches, SpaceX could provide good coverage over the United States; 24 launches would put enough satellites to cover most populated areas; and 30 would cover the entire world.
Assuming that these launches continue and are successful, Starlink could potentially be a revolutionary breakthrough in bringing Internet access to parts of the world where broadband access is currently lacking, largely due to the fact that they lack the infrastructure necessary for wired internet access. This includes not only rural areas and locations that lack appropriate infrastructure in places such as Africa but also at sea and other out-of-the-way places where lack of Internet access remains a serious problem that holds back national economies. Additionally, the possibility of being able to access the Internet wirelessly from anywhere in the world would arguably make it harder for nations that seek to keep their citizens in the dark about the outside world from doing so,
For those of us who live in areas where those things aren't an issue, such a service could provide an acceptable alternative to the state-created monopoly that is cable-based Internet access. That assumes, of course, that the speeds that a satellite-based system can offer become comparable with what is provided by other means of signal transmission. If that happens, then the whole idea of "cutting the cord" will become a more realistic possibility for many people, and it could also force land-based Internet Service Providers to reduce their prices and increase the quality of their services to attract and keep customers.
Once again, it appears that Elon Musk, for all his eccentricities, could be on to something big. Here's hoping he succeeds.