SpaceX Wants To Send Civilians To Orbit The Moon, By The End Of 2018
An ambitious plan to return men to the Moon in less than two years.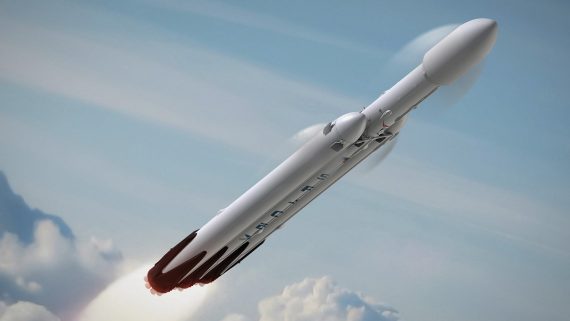 Elon Musk's SpaceX has announced some rather ambitious plans to send two private parties around the Moon by the end of next year:
SpaceX, the ambitious rocket company headed by Elon Musk, wants to send a couple of tourists around the moon and back to Earth before the end of next year. If they manage that feat, the passengers would be the first humans to venture that far into space in more than 40 years.

Mr. Musk made the announcement on Monday in a telephone news conference. He said two private individuals approached the company to see if SpaceX would be willing to send them on a weeklong cruise, which would fly past the surface of the moon — but not land — and continue outward before gravity turned the spacecraft around and brought it back to Earth for a landing.

"This would do a long loop around the moon," Mr. Musk said. The company is aiming to launch this moon mission in late 2018.

The two people would spend about a week inside one of SpaceX's Dragon 2 capsules, launched on SpaceX's Falcon Heavy rocket. The spacecraft would be automated, but the travelers would undergo training for emergencies.

Mr. Musk did not say how much the travelers would pay for the ride. "A little bit more than the cost of a crewed mission to the space station would be," he said.

The Falcon Heavy itself has a list price of $90 million.

While the trip appears to be within the technical capabilities of SpaceX, industry experts wondered whether the company could pull it off as quickly as Mr. Musk indicated. "Dates are not SpaceX's strong suit," said Mary Lynne Dittmar, executive director of the Coalition for Deep Space Exploration, a space advocacy group consisting of aerospace companies. The Dragon 2 and Falcon Heavy are years behind schedule and have yet to fly.

"It strikes me as risky," Dr. Dittmar said, adding that autonomous systems are not infallible. "I find it extraordinary that these sorts of announcements are being made when SpaceX has yet to get crew from the ground to low-Earth orbit."

Last week, a crewless Dragon capsule taking cargo to the International Space Station aborted its rendezvous because of a glitch. It successfully arrived a day later.

Mr. Musk said the two would-be private space travelers wished to remain anonymous for now. He declined to describe them, except to say they knew each other.

Seven space tourists have paid tens of millions of dollars to fly on Russian Soyuz rockets to visit the International Space Station, which is about 200 miles above the Earth's surface. This would be a much more distant trip. The moon is about a quarter million miles away, and the trajectory would take the capsule 300,000 to 400,000 miles from Earth.

No astronauts have ventured beyond low-Earth orbit since the last of NASA's Apollo moon landings in 1972. NASA is working on a rocket, the Space Launch System, and a capsule, Orion, that would be capable of taking astronauts to deep space once again.

But that first launch, without anyone on board, is scheduled for late next year, taking a path similar to what Mr. Musk has proposed for his space tourists.

This month, NASA announced it is looking at the possibility of putting astronauts on the first flight, but officials say that would probably delay the launch to 2019.

The rocket that SpaceX would use for the voyage is more powerful than its current Falcon 9 workhorse, but not as large as NASA's.

When Mr. Musk announced the Falcon Heavy in 2011, he said it would fly in 2013. The maiden flight is now scheduled for this summer.
If Musk is able to pull this off, it would be the first time humans ventured beyond the Earth orbit of the International Space Station since the last Apollo mission more than forty years ago, but whether or not it can be pulled off is the big uncertainty. So far, SpaceX has yet to test the heavy rocket that would be used to get them into orbit and beyond Earth's gravity to begin with and that project is already four years behind schedule. Additionally, we have yet to see any testing of actual human flight using the Dragon as a vehicle to transport astronauts anywhere. Obviously, there would need to be extensive testing of both aspects of this system before a flight around the Moon could even be considered. Ordinarily, that would include a combination of both manned and unmanned test flights that would test out the equipment to be used in much the same way that the early Gemini and Apollo flights were, ultimately, a dress rehearsal for the landing on the Moon that took place in 1969. That even, of course, took place some seven years after Gemini and Apollo began other limited flights, and while a SpaceX flight like the one that's conceived of here would not necessarily require as much pre-flight testing as the program did in the 1960s, it seems certain that there would have to be some testing of the systems and some accounting for the time taken up by setbacks that in this case could be life-threatening.
As a concept, this is something that certainly does stir the imagination. The idea of civilians being able to travel in space is one that has long captured the imagination of Americans and others interested in space, and the commercial space industry has come a long way in its ability to blaze trails where NASA has seemingly fallen behind. At the same time, though, it's worth remembering that space travel remains an inherently risky activity. Not only do the tragedies that happened to the Challenger and Columbia remind us of this fact, but there's also the fact that SpaceX and other private ventures have seen their rockets fail spectacularly in front of a live audience. In those cases, of course, we were only dealing with a resupply mission to the ISS and the equipment lost was easily replaceable. The same would not be true if a similar accident were to befall a manned mission, and a failure would set the cause of space travel back several years at least. So, while I'll cheer Musk on and hope that he's able to succeed even with all the doubters, I'll be hoping that he's cautious enough to proceed in a manner that doesn't risk the future of the cause that he cares so much about.
Illustration of Falcon Heavy Rocket via SpaceX