Speaking Ill of the Dead
This morning's unexpected death of Andrew Breitbart, the conservative muckraker, has sadly if unsurprisingly brought out a wave of nasty commentary.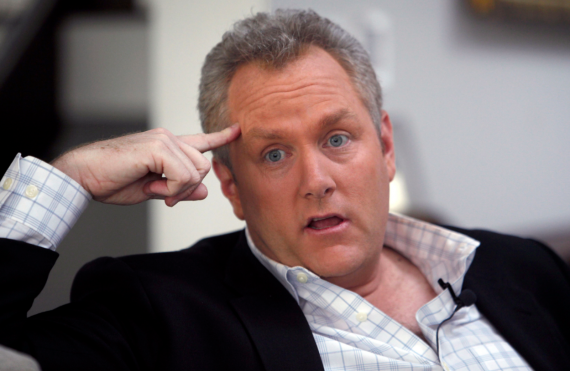 This morning's unexpected death of Andrew Breitbart, the conservative muckraker, has sadly if unsurprisingly brought out a wave of nasty commentary.
Matt Yglesias has sparked outrage with his tweet that "Conventions around dead people are ridiculous. The world outlook is slightly improved with @AndrewBrietbart dead." A bit later, in response to a wave of angry responses, he observed, "If you think @AndrewBrietbart's opponents shouldn't be glad he's dead, you're not taking his life's work seriously."
Because Yglesias has a big megaphone, his comments are getting a lot of attention. His were by no means the most mean-spirited reactions. Indeed, there are many more egregious examples in the comments section of OTB's Breitbart obituary post.
Despite my politics being much closer to Breitbart's than Yglesias', I was no fan of the former's work. At the very least, he was less concerned with the truth than a good story–with "good" defined as damaging to Democrats and their cause. I can't bring myself to shed a tear at the loss of more ginned up controversies. But, surely, we can mourn the sudden loss of a 43-year-old husband and father.
Many have defended their mean-spirited comments about Breitbart's passing by noting that Breitbart himself was less than charitable on the passing of Teddy Kennedy. But that's a petty excuse, indeed. Why would one simultaneously loathe an individual's actions and adopt exactly those very same actions?
Breitbart, like Kennedy, was a public figure who actively sought the limelight. Dying doesn't immunize them from criticism. But there's a fine line between an honest reflection on the recently departed's legacy and dancing on their grave. It's one thing to condemn the way someone lived their life; it's quite another to rejoice at their death. I tend to save the latter for the truly evil, not the merely annoying.
I was by no means a fan of Teddy Kennedy. But I nonetheless thought his diagnosis with a malignant brain tumor cause for sorrow and the mocking of same by conservative commentators like Michael Savage despicable. When Kennedy died more than a year later, I both remarked on the downplaying of the Chappaquiddick scandal in the newspaper obits and acknowledged that "Kennedy was obviously much more than his actions on the worst night of his life. While he could be incredibly partisan, even vitriolically so on some issues, he was almost universally acknowledged even by opponents as an honorable negotiating partner and an outstanding legislator."
While I didn't like Breitbart's brand of journalism, most who knew him talk about his "happy-warrior spirit" and what a good friend, husband, and father he was off stage. This extends to even hard-fought adversaries like Arianna Huffington and the Media Matters team.
The woman who loved him is suddenly and unexpectedly without a husband and four little kids are without a father. That's more important than Outrage of the Day politics.
UPDATE: A couple of commenters point to a characteristically excellent reflection on this matter by David Frum. It concludes:
In time, Andrew Breitbart might have aged into greater self-control and a higher concept of public service. Premature death deprived him of the chance at redemption often sought and sometimes found by people who have done wrong in their lives and work.And this is where it becomes difficult to honor the Roman injunction to speak no ill of the dead. It's difficult for me to assess Breitbart's impact upon American media and American politics as anything other than poisonous. When one of the leading media figures of the day achieves his success by his giddy disdain for truth and fairness—when one of our leading political figures offers to his admirers a politics inflamed by rage and devoid of ideas—how to withhold a profoundly negative judgment on his life and career?

Especially when that career was so representative of his times?

We live in a time of political and media demagoguery unparalleled since the 19th century. Many of our most important public figures have gained their influence and power by inciting and exploiting the ugliest of passions—by manipulating fears and prejudices—by serving up falsehoods as reported truth. In time these figures will one by one die. What are we to say of this cohort, this group, this generation? That their mothers loved them? That their families are bereaved? That their fans admired them and their employees treated generously by them? Public figures are inescapably judged by their public actions. When those public actions are poisonous, the obituary cannot be pleasant reading.
I don't disagree with a word of that. While he would surely have disagreed with the particulars, one presumes Breitbart himself would have agreed with the general sentiments. But note that Frum does here exactly what I say in my original posting is fair game: "an honest reflection on the recently departed's legacy" and stops well short of "dancing on [his] grave."
I fully agree that Breitbart's impact on the public discourse, both at The Drudge Report and later at his own mini-empire, was "poisonous." I just stop short of thinking the man was evil or that his death is a cause for celebration.