Speaking of Fidelity to the Constitution….
The constitutional purists in the Tea Party apparently do not understand either bicameralism nor separation of powers.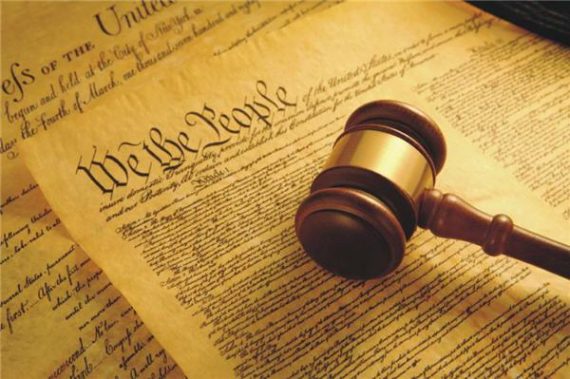 Another line that is worth noting from the Krauthammer piece that I noted in a previous post is the following:
Today's resurgent conservatism, with its fidelity to constitutionalism, should be particularly attuned to this constraint, imposed as it is by a system of deliberately separated — and mutually limiting — powers.
Without getting into the issue of whether, in fact, today's conservatism has a special fidelity to the constitution, Krauthammer has a key point here that bears consideration.  To wit:  we have a bicameral legislature and a  system of separation of powers.  This means, quite simply, that all legislation has to pass through the House and the Senate and then be signed by the president (or, at a minimum, allowed to become law sans a signature or veto).
This means that is it foolish to pass legislation that has no hope of making through this constitutional gauntlet if one is actually interesting is doing more than just making a statement.
As such, Krauthammer is correct:
Given this reality, trying to force the issue — trying to turn a blocking minority into a governing authority — is not just counter-constitutional in spirit but self-destructive in practice.
Given that the blocking minority is question is the Tea Party faction of the GOP, the group which claims a deep understanding of the US Constitution, is telling.  What it tells us is that they do not understand the most basic mechanics of the document they allegedly revere.   It also demonstrates that much of what they claim to understand is based in myth, not reality (yes, I know, a shocking revelation).
They can claim that they are driven by constitutional imperatives, but this is false.  There, for example, is a legitimate debate about things like what the Commerce Clause allows, but there is no debate about the way the laws are made.  When it comes to "constitutional fidelity" one has to first go with the certain.
At the moment, the Tea Party appears hell-bent on passing legislation (i.e., the re-inclusion of a Balanced Budget amendment) in the House that simply cannot pass in the Senate.  This is foolishness, especially given the deadline we face:
Republican lawmakers say the Boehner framework would still pave the way for the debt limit to be raised through the 2012 election in two chunks. But it would also mandate that the second hike of the ceiling could only occur after a balanced-budget amendment passed both chambers of Congress and went to the states for ratification.
As Stephen Bainbridge asked the other day:  Can't the House GOP count?
Apparently, the answer is:  no.  Either that, or they are as in denial about mathematics as they are about both the significance of the debt ceiling and the constitutional parameters of our government.